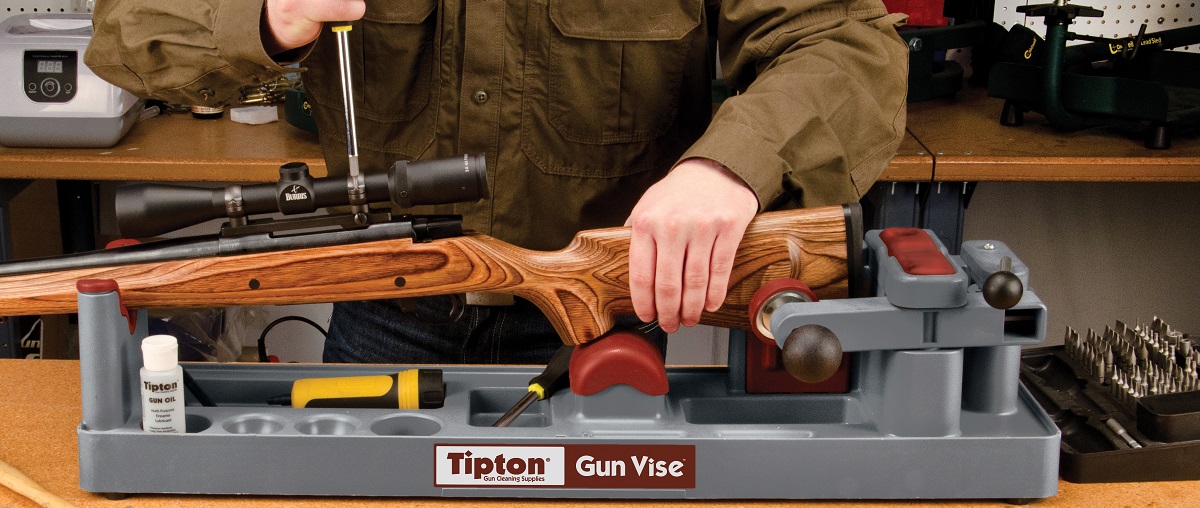 Top 7 Gun Vise Reviews in 2022
Shooters, hunters, or those who use their firearms frequently, must be aware of the importance of keeping their guns/rifles properly maintained and clean. Although the assistance of local gunsmiths sounds like a plan, a top-notch gun vise can be a more viable option as it allows you to clean your gun yourself.
And no, you don't have to be an expert in order to use a gun vise. All you need is a bit of practice, and you'll be able to clean, brush, and lubricate your weapon like a pro pretty quickly. The best gun vise allows you to maintain your precious weapon quickly, easily, safely, and with maximum stability.
If you are a first-time buyer interested in learning more about a gun vise, you are in the right place. We have tested over 20 gun vises and chosen the 7 best-quality solutions with all the necessary features a gunsmith or a firearm owner would find incredibly handy.
Let's dive into a complete gun vise buying guide and find the best tool that meets your needs.
Best Gun Vise – Top 7 Picks for 2022
Let's go through the features, strengths, and weaknesses of each gun vise on the list, and see which one is suitable for what purpose.
1. Best Heavy-Duty Gun Vise: Tipton Ultra Gun Vise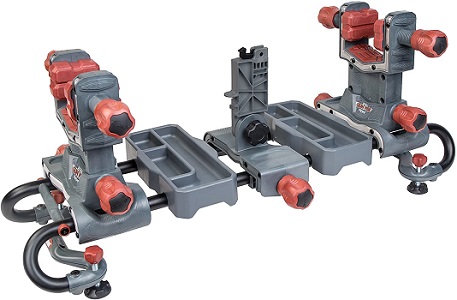 Weight: 13.6 pounds | Model number: 110011 | Dimensions: 32.5" x 11" x 10.5"
This Tipton Gun Vise is an excellent choice for firearm owners seeking versatility. It is suitable for conventional rifles, crossbows, break-open shotguns, modern sporting rifles, and many other weapon types.
Its heavy-duty construction and customizable design are the features that make it stand out from other gun vises. Besides, it features a solvent-resistant formula with over-molded rubber contact pads that protect your firearm from potential damages. Additionally, its dual clamp technology ensures your gun remains stable and secure.
While most customers are satisfied with the product, they agree that Tipton Ultra Gun Vise is pretty expensive compared to similar tools, especially since it's made of plastic.
PROS// Durable; Multi-functional gun vise; Easy to use; Exceptionally stable.
CONS// A hefty price tag considering its plastic construction.
2. Best Gun Vise for AR-15: Tipton Best Gun Vise

Weight: 10.6 pounds | Model number: 181181 | Dimensions: 33" x 9" x 6"
Tipton Best Gun Vise is a more cost-effective solution than some of its counterparts, which makes it a popular choice among AR-15 owners. It is made from polymer materials and has a sturdy construction that allows quick, easy, and stable cleaning.
This gun vise is incredibly suitable for handguns and ARs. It holds your gun's components firmly, allowing you to access all its parts easily. Thanks to its flexible mechanism, you can quickly find a custom fit while cleaning any firearm. Besides, it holds your weapon firmly and with stability.
Keep in mind that this gun vise is not suitable for professionals. Since it is made of plastic, it is not as durable as you might expect.
PROS// Solvent- and chemical-resistant; Incredibly versatile; Affordable, compared to similar products; Two adjustable offset clamps.
CONS// It is made of plastics, which affects its durability.
3. Best Gun Vise for Sighting In: Hyskore Cleaning & Sighting Vise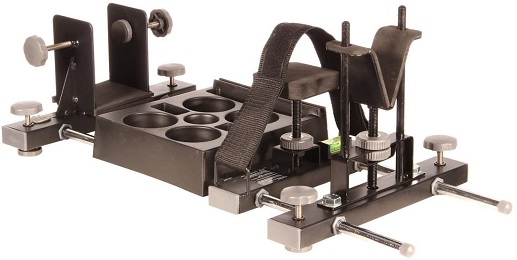 Weight: 9.81 pounds | Model number: 1003627 | Dimensions: 25" x 12" x 10"
A sturdy yet pretty simple Hyskore Cleaning & Sighting Vise is an ideal choice for true gun lovers. It features a powerful blend of steel and plastics that provides enhanced durability and a lightweight feeling for extra convenience.
This gun vise is also a popular choice for its broad set of features, including waterproof, fog proof, and shockproof capabilities. Its ultimate fog protection is its most distinguishing characteristic because the mist is one of the reasons why optics get damaged.
Some users complain about the overall product quality since some of the parts are cheaply made. But generally, this gun vise provides excellent performance for the price.
PROS// Sturdy construction; Decent durability; It can adjust to any length gun; Easy to assemble.
CONS// Some customers believe that they received a used product covered in dents and scratches.
4. Best Professional Gunsmithing Vise: Caldwell Lead Sled DFT 2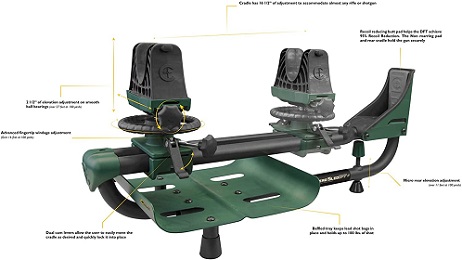 Weight: 24.00 pounds | Model number: 336677 | Dimensions: 30" x 12" x 16"
A professional-grade Caldwell Lead Sled DFT 2 features unmatched dual-frame technology that allows you to customize the shooting sled so that it fits your firearm. Besides, it provides an excellent length adjustment for maximum convenience.
This rifle vise has a sturdy lower cradle that can hold up to 100 pounds of lead shot. Besides, it is recognized for its excellent accuracy, ease of use, and versatility. You can use it for various purposes, whether to improve your shooting or clean your rifle like a pro.
Although the vise seems pretty sturdy, some customers are concerned about its durability. It is also pretty pricey.
PROS// Versatile and highly adjustable; Precise adjustments and flexibility; Minimizes vibrations; Non-marring material to avoid any kind of damage.
CONS// Although it fits different firearm types, it is not suitable for ARs.
5. Best Gun Vise for Cleaning: CTK PRECISION P3 Ultimate Gun Vise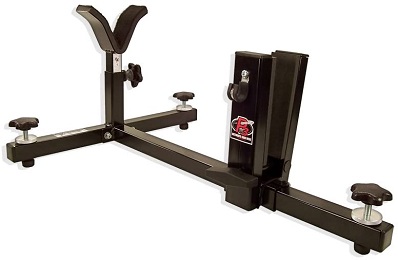 Weight: 9.15 pounds | Model number: – | Dimensions: 24.25" x 6.25" x 4.5"
CTK PRECISION P3 is a sturdy and stable gun vise for cleaning rifles and pistols. It is a pretty versatile piece you'll find convenient for regular firearm maintenance, cleaning, and bore sighting.
Firearm owners tend to choose this gunsmith vise because it fits both rifles and pistols. This is particularly convenient for those who own different gun types, meaning they don't need to purchase the vises separately. It is also highly adjustable and allows you to secure your weapon in place until you've finished cleaning.
Additionally, you can use CTK PRECISION P3 for shooting. It will lock your gun in place, allowing you to shoot precisely. However, you may find the manual pretty confusing, which might result in a time-consuming assembling process.
PROS// Fits pistols, shotguns, and rifles; Heavy-duty steel construction; Enhanced stability; Durable.
CONS// Adjusting this gun vise is a bit cumbersome.
6. Best Gun Vise for Shooting: Tipton Universal Gun Maintenance Stand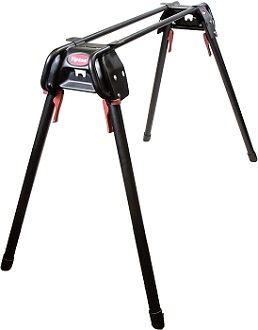 Weight: 20.00 pounds | Model number: 1093522 | Dimensions: 54" x 35" x 30"
Tipton Universal Gun Maintenance Stand is a next-level gun vise for cleaning, shooting, and gunsmithing. Its oversized leg levers allow effortless setup and ease of use, ensuring straightforward transport and storage.
This gun vise stand is made of sturdy materials, but its overall construction is quite lightweight. What most customers love about it is the 35-inch height that provides optimal comfort, as well as a built-in bottle opener. Overall, we are talking about a solid, heavy-duty stand that works with most firearm types.
Although the manufacturer claims that this vise fits the Tipton Best Gun Vise attachments, customers disagree.
PROS// Easy to use; 35-inch height; Highly portable; Lightweight and easy to transport.
CONS// Legs are not adjustable to level the stand.
7. Best Gun Vise for the Money: Tipton Gun Butler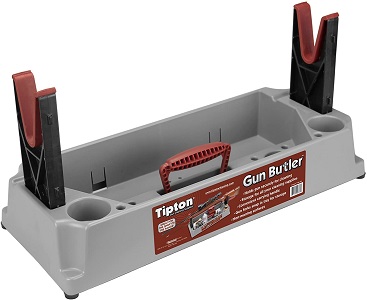 Weight: – | Model number: 100-333 | Dimensions: 23.50" x 4.25" x 9.50"
The Tipton Gun Butler is excellent for storing, organizing, and transporting your firearm and cleaning supplies. Thanks to its non-marring cleaning forks, it holds the gun securely, providing enhanced stability and precision.
Despite its lightweight and plastic structure, this gun vise is pretty durable. It is an item of choice for gunsmiths and firearm owners for its price and decent quality, and most of them claim that it helps them clean their weapons, mount optics, and store their cleaning supplies.
Tipton Gun Butler is heavier and sturdier than it looks, and it will help you get the job done pretty efficiently. However, most of them would like to see wider bottle pockets.
PROS// Cost-effective; Non-slip rubber feet; Durable and solvent-resistant; Excellent for storing, organizing, and transporting cleaning supplies.
CONS// Solvent holders are not big enough for a regular solvent bottle.
A Buyer's Guide to Gun Vise
Having a high-quality gun vise is quintessential to take your pistol's maintenance to the next level. Here are some of the features we considered for choosing the products we reviewed. Keep them in mind when shopping for a gun vise.
Materials
Gun vises are available in different materials, which directly impact the tool's performance and durability. The two most used materials include metal and plastics, and your final choice will depend on your needs and how you plan on using the gun vise.
While plastic vise tends to be more affordable, easier to set, and often fits all your firearms, their construction is generally lighter and less durable. Opt for metal gun vises if you seek sturdier construction that lasts longer. Let metal be your material of choice if you plan on using the vise for sighting your weapon, as it can distribute vibrations much better than plastics.
Versatility
The best gun vise is also versatile. It means that it can fit more than one particular gun type, which is suitable for those who own different weapons. In that case, go for a tool with adjustable parts to fit shotguns, handguns, and rifles.
Depending on your needs, you can choose between a fixed and a rotating vise. While a fixed gun vise is ideal for securing your weapon and keeping it steady, the rotating one allows you to access your gun from various angles and perform more precise adjustments.
Gun Vise's Surface
If you care about your gun's aesthetics, stay away from gun vises with rough surfaces since they can scratch your firearm while you're cleaning it. To lower the risk of damaging your weapon, go for vises with rubberized surfaces or foam paddings.
The Cost
Most gun vises available on the market are pretty expensive. You can find cost-effective solutions, as well, but investing in a high-quality tool tends to be a more viable choice. Still, don't forget to set your budget before you go shopping.
Main Features
Some gun vises are packed with a wide variety of features that can help you maintain multiple gun types more conveniently. If you want to receive a full set of characteristics, look for the following:
Solvent-resistant surface to withstand chemicals
Sturdy clamping mechanism with a solid frame and metal platform
Built-in maintenance center to organize brushes, snakes, rods, solvents, and other cleaning supplies.
Best Brands
You may want to consider only the most notable brands in the industry. In that case, look for the following names:
Tipton
HOPPE's
CTK
Lyman
Caldwell.
Essential Benefits of Gun Vise
A top-quality gun vise is an incredibly beneficial tool that can bring long-term advantages. For instance:
Extended firearm's lifespan: A gun vise promotes better weapon maintenance, prolonging its lifespan.
More money: By investing in a high-quality gun vise, you can save more money in the long run. A gun vise replaces the necessity to take your weapon to an armorer.
Enhanced stability: Cleaning your gun with the help of a gun vise ensures more stability and a safer cleaning process.
More time: Use a gun vise instead of taking your weapon to an armorer once in a while. That way, you will save more valuable time.
Is Wooden Gun Vise Worth Buying?
You must've heard about the wooden gun vise, which is another popular choice among gunsmiths and firearm owners. But is it worth trying?
Unlike plastic, metal, or steel gun vises, which tend to be packed with different features, wooden gun vises have limited functionality and the lack of available options. However, these gun stations are a go-to choice among people passionate about DIY projects and woodworking.
While wooden gun vise may not meet the needs f professional gun cleaners, they are a pretty affordable option for those who don't need to clean their weapons very frequently.