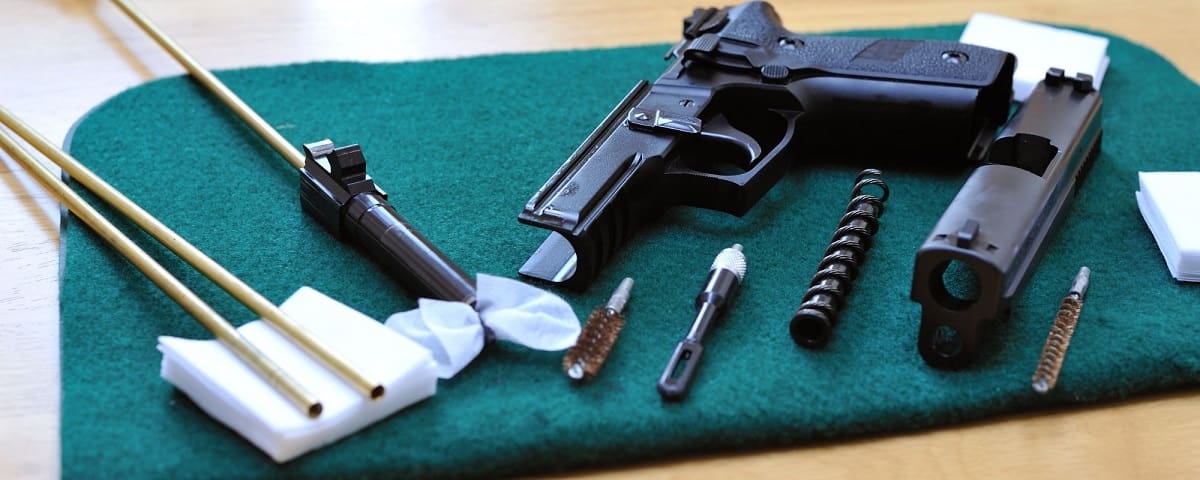 Best Gun Cleaner in 2022: How to Choose and 10 Top-Rated Gun Cleaning Products
If you don't take proper care of your firearm, it may betray you when you need it the most. To prevent potential gun failures, it is necessary to conduct regular maintenance and remove any dust, rust, or impurities that might affect its optimum performance. To do that, you need the best gun cleaner.
Gun cleaner will get into hard-to-access areas, ensuring each part of your gun is thoroughly cleaned, allowing you to use your firearm safely and efficiently. You can find many gun cleaners on the market, and most of them will meet your basic cleaning needs. Some gun cleaning kits include a gun cleaning solvent, lubricant, and protectors, and you won't need to purchase those separately.
We have put together a list of the 10 best gun cleaning solutions and their features. Keep reading to find the best choice for your needs.
Essential Gun Cleaner Types
Gun cleaner comes in different forms, and each one can be suitable for a particular purpose:
Gun Cleaning Solvent



Gun cleaning solvent is the first thing in your cleaning process. You can find many different solvent types out there, but all of them share the same goal – dissolve fouling.
Any gun owner should opt for a regular solvent as it is a staple in any gun cleaning kit. It is used for soaking patches to apply solvent to the bore later. When looking for solvent, it is essential to pay attention to what it dissolves. It is ideal to find a product that addresses at least two out of three contaminants left behind when you fire a gun – lead, copper, and carbon.
A foaming solvent comes in an aerosol or pump-type bottle that dispenses a foamy consistency of solvent. These gun cleaning products tend to be more expensive than their regular counterparts, but their foaming action is what makes them special. Namely, it removes fouling much easier and more efficiently.
The aerosol solvent is the third category worth mentioning. It is a thin, liquid solvent that breaks up fouling. It is pressurized, meaning that you can use it as a pressure washer to blast away fouling.
The best gun cleaning solvent is the one that evaporates quickly, leaving you with a clean metal part ready to be oiled.
Gun Cleaning Oil
Gun oil is a quintessential part of your gun cleaning process. You can choose between petroleum-based and synthetic oils, but it is vital to opt for those that provide good lubrication to all the gun parts, including hard-to-reach areas.



We suggest you go for "slippery" gun oils, which tend to provide better and more long-lasting protection to your firearm. Although motor oils are a popular choice among gun owners, we won't recommend them. They won't harm your gun, but they won't optimize it for specific weather conditions and other circumstances you expect your firearm to be at its highest.
CLP-Type Gun Lubricants
CLP stands for "Clean, Lubricate, Protect," and it is an acronym that refers to any chemical that cleans, lubricates, and protects your firearm. CLP products are usually a combination of chemicals containing solvent, lubricant, and corrosion inhibitors. Although it seems like a nice, all-in-one package, you cannot expect much from it.
CLP products work like a quick fix and are excellent when you don't have much time to dedicate to your gun cleaning. They are a good band-aid that fixes the problem immediately but are not recommended as a long-term solution.
LEARN MORE ABOUT GUN MAINTENANCE:
How to Choose the Best Gun Cleaner?
With so many gun cleaners and solvents on the market, it may be challenging to choose the best one, especially if you are a first-timer. Still, if you look at a set of features that make a product stand out, you will find the suitable cleaner in a blink of an eye.
Functions: While some cleaners are solvents, some are meant to lubricate and protect, and others are all-purpose products. Ensure you know what a particular cleaner does before you make a final decision.
The speed of action: Not all cleaners work fast, and we all want one that is quick. You can find lots of fast-acting solvents that remove dirt pretty efficiently, but you need to be careful with them as they tend to be toxic and abrasive.
Power: If you're dealing with stubborn dirt, you will want a powerful cleaner that can address dirt on old and rusty guns.
Materials it cleans: It is important to find a cleaner that works on the material your gun is made of. While some products work on all materials, others are designed for specific surfaces. If you choose an inadequate solvent, you are at risk of damaging your firearm.
The price: You will notice that some gun cleaners are more expensive than others. You will choose a product according to your budget and how frequently you'll need to use the cleaner in the future.
Reputation: You won't go wrong with choosing products from reputable brands or by reading the reviews. It is vital to understand that no cleaner is perfect. Each has its strengths and weaknesses, and you will go for one whose features meet your current needs.
The smell: While some cleaners produce a strong or unpleasant smell, others can be pretty neutral. However, if you keep your gun near the bed or live in a small apartment, this is a critical factor to consider.
10 Best Gun Cleaner Solutions in 2022
1. Best Overall: Hoppe's No.9 Gun Bore Cleaner


Key features: Ultra-effective, Powerful, 1-Ounce bottle
Hoppe's No. 9 has been widely used for removing powder, rust, and metal fouling. Hoppe's is one of the most reputable names in the industry, and you won't be disappointed with the results it brings.
This is the best gun solvent many users found better than most CLP products they have tried. Its regular use prevents wear and tear on your firearm, cleaning carbon and lead build-up in barrels. That way, it ensures your firearm's optimum performance in the long run.
We don't like the fact that Hoppe's No.9 packaging may vary. For that reason, the product itself may be different.
PROS// Safe and easy to use; Pleasant smell; Penetrates deeply and quickly; Childproof cap.
CONS// Toxic.
2. Best Value for Money: Pro-Shot Zero Friction Needle Oiler

Key features: Anti-wear features, Antioxidant-rich, Contains premium synthetic base
A budget-friendly Pro-Shot Zero Friction Needle Oiler is a go-to choice whenever you want to save money and get a great deal of effectiveness. This gun cleaning solution combines a premium synthetic base and antioxidants, including additives that clean and prevent dust and rust.
This product provides smooth performance and protection. It thoroughly cleans the gun's surface, leaving a layer of protection to keep your firearm safe and functional. Still, we noticed that it could produce some friction.
PROS// Smooth performance; Protects moving metal parts; Made in the USA; Refillable.
CONS// Doesn't deliver long-lasting results.
3. Best Premium: CLP by Sage & Braker

Key features: Protects firearms from failure, Non-hazardous, USA-made
The CLP by Sage & Braker is a professional-grade all-purpose gun cleaner with a bio-base and non-hazardous formula that makes it safe for you and your loved ones. It protects your firearms from rust, corrosion, and potential failures, providing smooth action and reliable performance.
It cleans all the firearm's components without missing an inch. It penetrates deeply into the gun's inner parts, improving its reliability and the accuracy of your shots. However, you may find the smell too strong.
PROS// Cleans all components of your gun; Free from toxic chemicals; Improves shooting accuracy; Makes your gun safe and more reliable.
CONS// Leaves strong odor behind.
4. Best Multi-Purpose: Ballistol Multi-Purpose Oil

Key features: Multi-purpose, Aerosol can, Suitable for metal, wood, plastics, and leather
If you are looking for a multi-purpose gun cleaner, we suggest you take a look at a Ballistol Multi-Purpose Oil. This product was developed to protect the German Army's firearms and gun stocks. Therefore, it has become one of the most popular gun cleaners on the market.
As its name suggests, this is the best gun cleaner and lube you can use for multiple purposes and on different surfaces. It features an eco-friendly and non-carcinogenic formula, meaning that you can use it with peace of mind. What we didn't like is the smell it leaves behind.
PROS// Multi-purpose; Protects metal, wood, and leather; Safe to use; Minimizes the effect of sweat and skin oils.
CONS// Leaves unpleasant smell.
5. Best Foam: Hoppe's Elite Foaming Gun Cleaner


Key features: Meets the needs of military, law enforcement, and professional shooters; Odorless, Spray-on foam
Hoppe's Elite Foaming Gun Cleaner is worth checking out if you prefer foam over other gun cleaner forms. It features advanced cleaning and lubrication technology suitable for law enforcement, military, and professional shooters.
This spray-on foam deeply cleans the firearms by penetrating the pore and removing fouling and carbon. What sets it apart from the majority of gin cleaners is that it is odorless, non-flammable, and biodegradable. Those who have never used the foam formula before may find this product too sticky and hard to apply.
PROS// Deep cleaning; Non-toxic; Non-flammable; Suitable for black powder shoots.
CONS// It leaves a sticky residue on the skin.
6. Best Gun Cleaner Spray: Break-Free CLP-2 Cleaner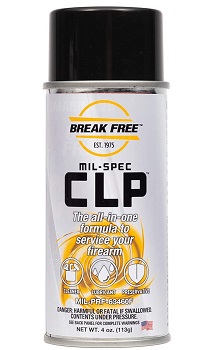 Key features: Gun cleaner spray, Long-lasting lubrication, Corrosion inhibitors
The Break-Free CLP-2 Cleaner is the best aerosol we have tested. It contains synthetic oil that preserves its viscosity, meaning it won't dry out even in extreme weather conditions. This product will clean, lubricate, and protect the metal, lifting away contaminants and residue.
This gun cleaner contains corrosion inhibitors that prevent rust, keeping the metal surfaces safe from moisture and other contaminants that could damage them. For the best results, you will need to apply this product with special brushes.
PROS// Versatile; Penetrates and spreads well on metal surfaces; Long-lasting protection; Keeps moisture and other contaminants away.
CONS// It could provide better lubrication.
7. Best Anti-Wear Gun Cleaner: Steel Shield Cleaning Solvent

Key features: Easy to apply, Eco-friendly and non-toxic, Helps to prevent corrosion
The Steel Shield Cleaning Solvent improves lubrication while keeping the gun clean and well-protected against corrosion. It is non-toxic and eco-friendly, which is one of the reasons for its popularity.
If you use this product regularly, you can prevent wear on the gun and reduce friction. That way, you can extend your firearm's lifespan and preserve its functionality for years to come. While it efficiently removes carbon, it is not the best solution for cleaning out copper.
PROS// Helps to lubricate the gun; Deep cleaning; Prevents corrosion; Non-toxic.
CONS// It may be a bit expensive.
8. Best Gun Cleaning Oil: G96 Synthetic Gun Oil

Key features: Excellent lubrication, Great additives for weather protection, Improves firing shots
The G96 Synthetic Gun Oil is the best gun cleaner and oil on our list. It will help you keep your firearm well lubricated and in excellent working condition, even in harsh environments. This gun oil contains a combination of essential additives to keep your gun safe from environmental issues and contaminants.
After using any gun solvent or cleaner, you can use the G96 for next-level protection and performance. It works great on Rem, M-pro 7, Remington, and other popular brands. Although the product is great, it is a bit expensive.
PROS// Oil and cleaner in one; Lubrication withstands harsh weather conditions; Great combination of additives; Safe for the environment.
CONS// The drop is too large for detailed use.
9. Best Odorless Gun Oil: Lucas Oil 10006

Key features: Great for long-term storage, Suitable for fishing reels, Household oil
The Lucas Oil 10006 is an excellent choice for hunters who want to keep their firearms at their peak performance. It prevents gun jamming and overheating, especially in high-caliber rifles and machine guns.
The best thing about this odorless gun oil is that you need a couple of drops for excellent results. It is quite an inexpensive option for gun owners, who can use it after they've cleaned their firearms thoroughly. It could be slightly slicker, though.
PROS// Cost-effective; Versatile; Thick; Odorless.
CONS// It is not the slickest gun oil.
10. Best Kit: Mil-Comm 3 Step Gun Care System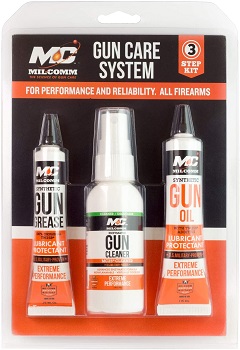 Key features: Excellent kit, Great results, Reputable brand
If you want an all-in-one product for the next-level care of your weapon, look no further than the Mil-Comm 3 Step Gun Care System. It contains a gun cleaner, synthetic gun grease, and synthetic gun oil. Therefore, you get complete gun care with a single product.
This is a biodegradable cleaner that is relatively easy to apply. Besides, it allows you to treat triggers and hard-to-access parts quickly and efficiently. Although it is an excellent kit, you might not be satisfied with the gun grease.
PROS// Pre-treatment cleaner; Synthetic gun oil for extra performance; Excellent gun care kit; Easy to apply.
CONS// The gun oil dispenser tends to leave too much lubricant.
How to Clean a Gun?
Follow the next steps to clean a gun like a pro:
Step 1: Get a cleaning kit, solvent, lubricant, or gun oil.
Step 2: Unload your gun every time you clean it. Since the weapon may still have a round ready to fire even after you've removed the magazine, ensure you check and remove the round.
Step 3: Disassemble your gun according to the manufacturer's recommendations. That way, you will be able to clean the gun's inner and hard-to-access parts.
Step 4: Ensure you clean your weapon in a well-ventilated area. Solvent fumes may make you sick due to their strong smell, which is why it is essential to keep you and your family safe while cleaning.
Step 5: Soak the bore or inside the barrel using a cleaning rod.
Step 6: Remove the patch holder and attach the bore brush. Run the bore brush along the full bore length 3 or 4 times to loosen debris.
Step 7: Apply a few drops of gun lubricant to the cotton mop and attach it to the cleaning rod. Run it through the bore to leave a light coating of oil on the inside.
Step 8: Apply solvent to the gun brush and address all parts of the action. Wipe them dry with a clean cloth.
Step 9: Use a cloth to wipe down the rest of your gun. It will eliminate any remaining dirt or debris and add a dose of shine.