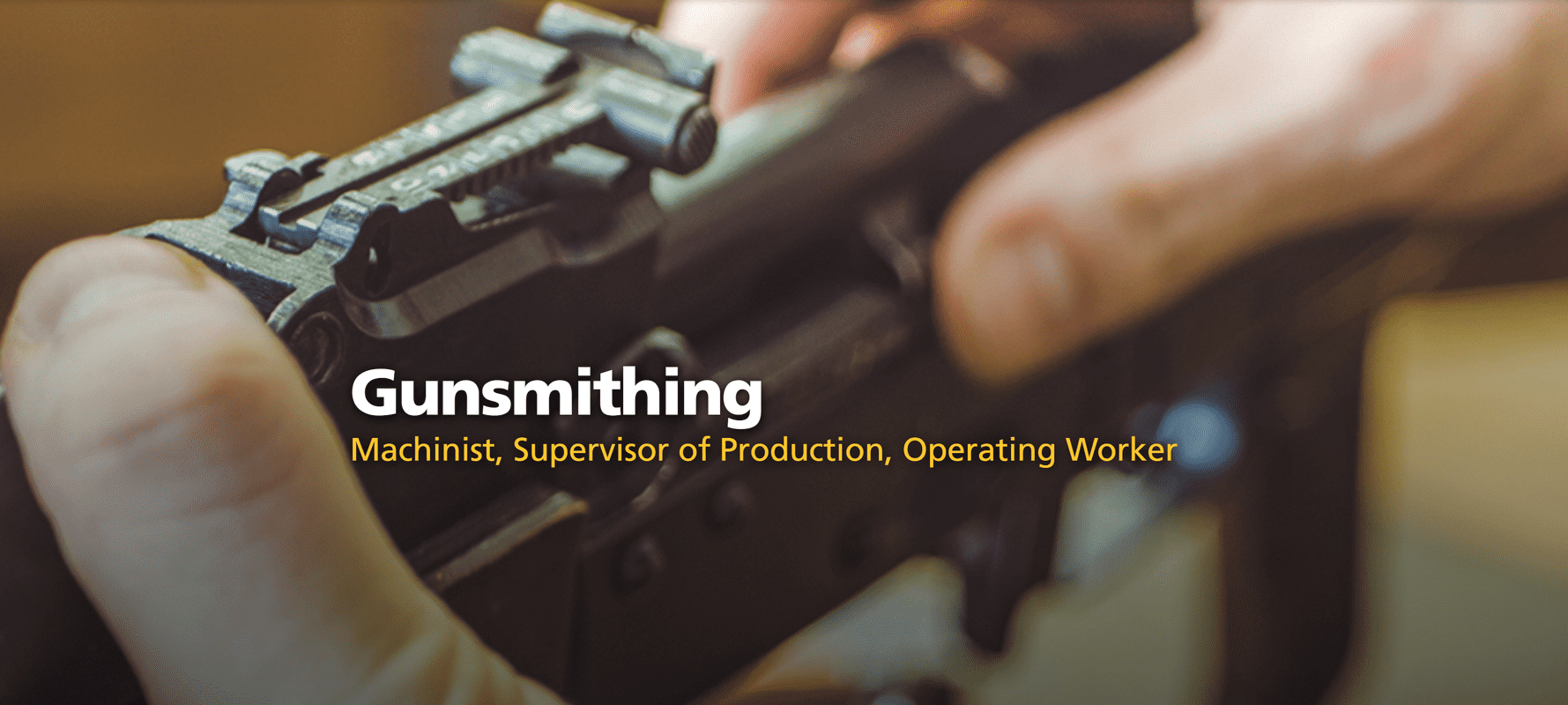 Top Gunsmith School Courses & Program Comparison
Choosing school or college can be very hard. Some even call it a lifetime decision. There are a lot of questions you need to answer that is for sure. One of them, maybe major one is – should I follow my heart or head? Society and surrounding have deep impact and influence on those who need to make this hard decision. With so many colleges in US young person can be really overwhelmed. Well, this is not the case if you like guns! Gun lovers don't have doubts. Gunsmithing is like an art, age is not important! If you are in love with rifles and revolvers there is no alternative or second option. You have already made your decisions –
you are going to gunsmith school!
In this chapter, you will find out all relevant info about
the best gunsmithing schools in the US
. We will cover school location, costs, certificates and degrees they offer or other requirements that are specific and mandatory just for
gunsmith education
. One of them is background check or prior military service.
According to
research from 2016
. The United States doubled the number of manufactured guns. With skyrocketed arms manufacturing and estimated overall number of 300 million guns in the US, there will always be a need for professional and educated gunsmith.
5 Top Gunsmithing Schools
Simply googling "gunsmithing schools near me" will not do the trick here. There are a lot of schools (private and public) with gunsmith programs but if you really want to be a master gunsmith capable to not just modify or repair but design and build custom guns you need to check those we stressed in lines below.

At the end of this chapter, you can download eBook with the full list of gunsmithing schools in the US along with complete contact information.
1. Yavapai College Gunsmithing School Arizona
Gunsmithing program at Yavapai College started back in 1969. Today this is one of the most trusted institutions when it comes to gunsmith education. It is located in Prescot, Arizona. The school has been accredited by Higher Learning Commission and according to online reviews is among top three nationwide gunsmithing schools. Graduates easily find a job after graduation. It is an important to admonish that all students who apply for certain programs must be 21 years old or more or have military service. This gunsmith school in Arizona will teach you how to: disassembly and assembly handguns and rifles, measure, metal shop (use different machines and tools), metal refinishing, engraving, ballistics, install optics and many more. After completing the program in 24 months students gain AAS degree in Gunsmithing. There are two levels of certification: Gunsmithing and Advanced Gunsmithing. To achieve gunsmith certificate at this college you need to accomplish following courses:
Apprentice gunsmithing,
Journeyman gunsmithing,
Professional gunsmithing and
Master gunsmithing.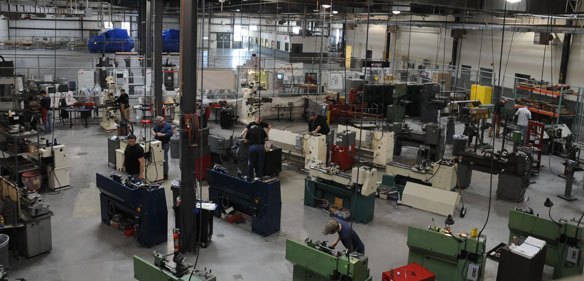 The advanced certificate requires accomplishing Guild firearm course, Competition firearms and CNC machining. To calculate tuition cost use
college calculator
. Students have to purchase tools used over the semester but there are many financial options available from colleges like loans, grants and scholarships. According to tuition data from
U.S. Department of Education
National Center for Education Statistics 2015/2016 cost for Arizona residents was
$15,256 or $21,880 for non-residents.
School Official Website
2. Lassen Community College Gunsmithing Program
Lassen Community College is one of the oldest gunsmithing schools in the US founded in 1945. It is located in Susanville, northeast California. Every academic year college welcome 22 new students for gunsmith programs. At Lassen College, you can earn gunsmith degree in 24 months or four semesters. At the program completion students can gain six Certificates of Achievement and Accomplishment:
General gunsmithing,
Firearms repair,
Gunsmith machinist and metal finishing,
Riflesmith,
Pistolsmith and long gun.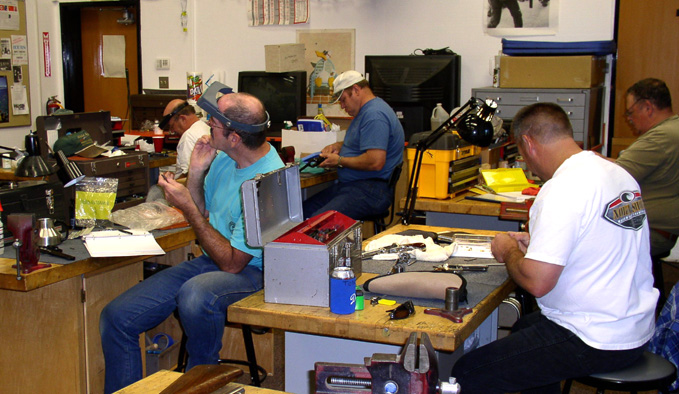 You can gain and two Associate in Science degrees – General Gunsmithing (
click here for program cost
) and Firearms repair (
click here for program cost
). Students are required to purchase their own gunsmith tools. The complete list of required tools can be found on this link. Students also need to provide guns for coursework for both semesters. List of guns required per year can be found at this here. Because students need to provide guns and tools for their gunsmithing education cost can be pretty high. That is the main drawback, basic gunsmith tools and guns for the second year can cost several thousand dollars. Financing is available for some students that meet requirements.
School Official Website
3. Trinidad State College Gunsmithing Program
Colorado gunsmith school was found in 1947. by well-known gunsmith and columnist Parker Otto Ackley. Parker was also responsible for many firearm patents we use even today. Over the years Trinidad State College became home of one of the most advanced two-year gunsmithing program in the US. Why is this program so popular? Employment rate after graduating from Trinidad gunsmithing school is more than 80%! But that is not all, well-balanced curriculum makes graduates prepared for every gunsmithing job. Program cover following gunsmith areas:
Stockmaking,
Repair,
Machine tools,
Hand tools, metal finishes and customization.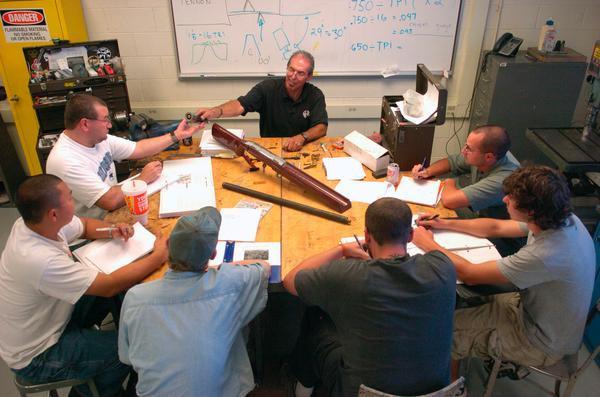 Students can choose between
AAS degree in Gunsmithing or Gunsmithing Certificate.
Students need 72 credit hours for A.A.S. degree and 57 credit hours for the certificate. Other certificates you can gain are Brownell's firearm tech instructor, NRA Safety instructor, Gunsmithing Technician and Gunsmithing Fine Arts. College is also a member of
National Rifle Association (NRA)
Summer Schools. Tuition fee for TSJC's Gunsmithing Degree Program is around $18K. The college offers different financial aids like loans and work-study programs.
School Official Website
4. Colorado School of Trades
Colorado Gunsmithing School deserved its place on our top 5 list of schools with fantastic gunsmith education program established 1947. College is located in Lakewood just a few miles from Denver. For more than seven decades this schools sets highest standards with the custom approach to every student. If guns are your passion and you want to progress beyond conventional educational limits this can be a perfect place for you. It is easy to find former school students in almost every reputable gun shop in the US. Upon program completion, graduates will receive an Associate of Occupational Studies Degree in Gunsmithing. The program is 14 months long. Colorado School of Trades gunsmithing program is divided into 4 main courses:
Basic course,
Machine shop course,
Stockmaking course,
Design and Function course.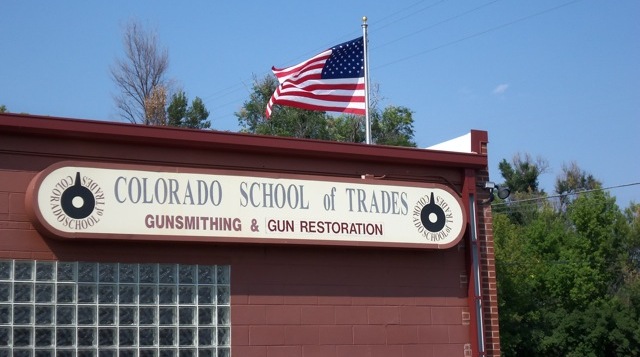 Students spent 350 hours for the Basic course to 800 hours for Design & Function course. A total number of hours is 1800. Most of the hours will be spent in 15.000 sq. ft. laboratory – 1505 hours. Other are utilized in classrooms. To estimate gunsmith course cost please visit school
net price calculator
. Average cost is around $10K. This school also offer financial aids as loans, scholarships and grants. School is not just gunsmith oriented. They value business aspects as well. All students learn how to succeed in gunsmithing career. School coordinators help students to prepare for job interview, write a CV and even start their own business.
School Official Website
5. Pennsylvania Gunsmith School
Pennsylvania Gunsmith School is located in Avalon, near Pittsburgh PA. This private school is accredited by ACCSC (Accrediting Commission of Schools and Colleges) and had been teaching gunsmithing since 1949. The
Master Gunsmithing program last for 16 months
and average annual cost for students receiving federal aid is $22,102. To get estimate training cost visit
school net price calculator
. Financial Aid is available for those who qualify - Pell Grants, Stafford Loans and PLUS Loans. Graduation rate according to data from 2014. is 88%. During 16 months students will be trained for entry-level gunsmithing jobs. Program evolves every year to follow latest gunsmithing trends but you should know that focus is on hands-on work. Instructors with vast experience in this field physically demonstrate skills and techniques that students need to repeat. Program cover rifles, handguns, shotguns and muzzle loading arms. The program at PGS is fully gunsmith focused, therefore, other courses (like writing and English) are not required for program completion.
School Official Website