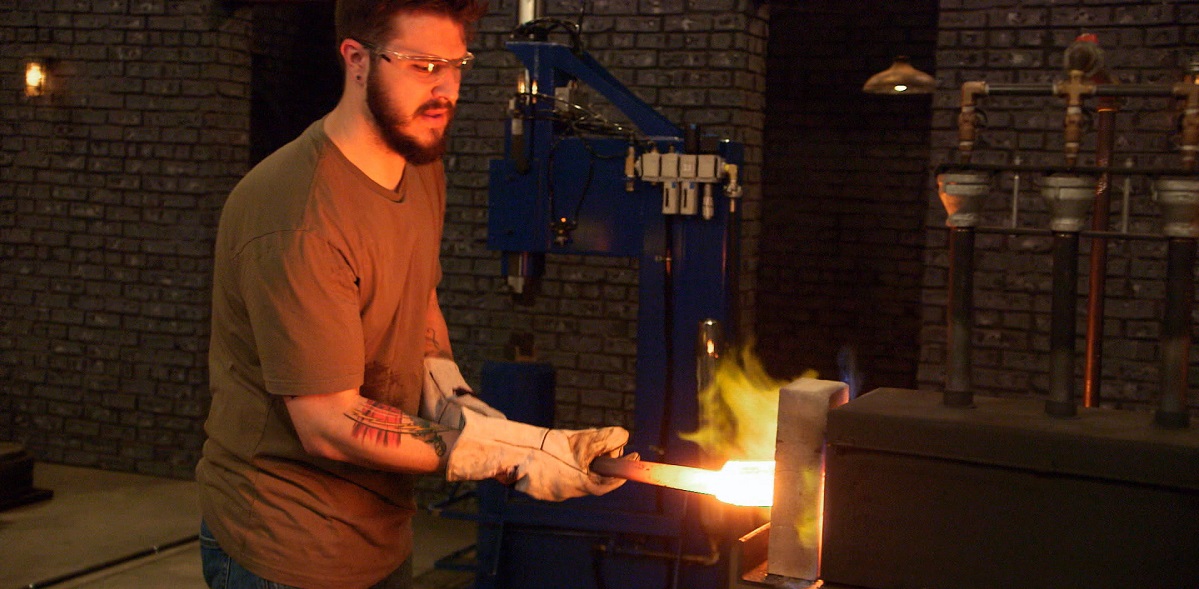 Best Knife-Making Forge in 2022 [Complete Buying Guide]
The blacksmith forge is one of the most critical parts of blacksmithing as it plays a vital role in the whole process. While beginners often find this item quite complex, it's very easy to use – all you need to do is heat the metal stock enough to hit it with your hammer.
With the development of the blacksmithing trade today, you can count on a broad range of forges and fuels suitable for both hobbyists and blacksmithing professionals. That said, you can find various knife-making forge models, from portable propane burners to industrial induction heaters.
To choose the best knife-making forge according to your skill level, it's essential to have some knowledge about the most appropriate fuels and forges that match your needs. To help you make your final decision, we have prepared a complete buying guide with the 5 best blacksmith forges in 2022.
Best Knife Making Forge in 2022: Top 5 Products for Beginners & Professionals
We have tested dozens of pre-built blacksmith forge items and chosen the 5 best solutions for both beginners and blacksmith pros looking for a next-level device for their blacksmithing projects.
1. Best Overall: Atlas Bladesmith Forge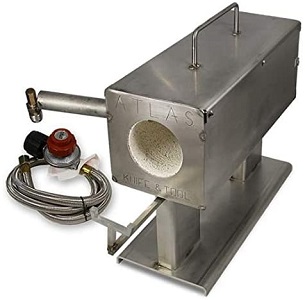 If you're looking for a viable and quite dependable forge for sale, we highly recommend the Atlas Bladesmith Forge. Unlike most of its competitors, this knife-making forge gets hotter, provides longer-lasting insulation, the utmost rust-resistance, and uses only $1 propane per hour. Overall, it's well-engineered and recognized for its durability.
The Atlas forge is ready to use right out of the box. It features Kastolite 50-25 Plus cast refractory, and it's hot enough to forge weld. However, you should use a fluxless method to do that since Borax may damage the refractory.
Overall, this is an excellent forge for knifemaking, heat treating, annealing, and similar uses. However, most users complain about the item being damaged during shipping.
PROS//
High-quality forge; Suitable for making regular-sized knives; Great customer service; Beginner-friendly; Uses little propane.
CONS//
Many customers received a faulty item damaged during shipping.
2. Best Forging Furnace: Hell's Forge Portable Knife and Tool Making Farrier Forge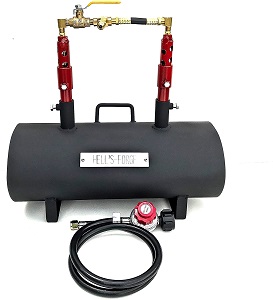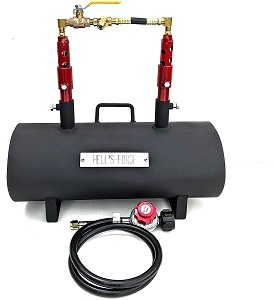 The Hell's Forge Portable Knife and Tool Making Farrier Forge has all the features a blacksmith needs to get the job done – it's fast, gets hot, has adequate capacity, and allows you to do anything you want.
This oval-shaped forge can reach a temperature of up to 2300°F, and it heats up pretty fast. In fact, it's possible to achieve an adequate working temperature within 5 minutes thanks to the forge's vertical firing system. Besides, the even fire distribution mechanism ensures the tool is convenient for a broad range of applications, whether you're making knives or jewelry.
The HELLCOTE 3000 coating comes with the tool, and it provides additional heat resistance and insulation protection. Besides, it's pretty easy to set up and use, which makes it a perfect choice for both beginners and professional blacksmiths.
PROS//
Made in the USA; A broad range of options for knifemakers; Portable; High-quality forge; Excellent for larger projects.
CONS//
According to users, this blacksmith furnace is too small.
3. Best Thermal Induction Forge: US Solid High-Frequency Induction Heater Furnace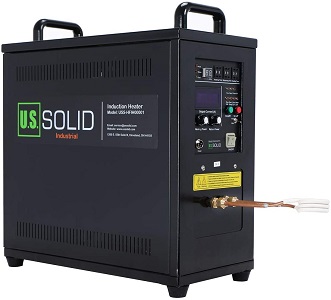 Those looking for a heavy-duty metal forge furnace will love the US Solid High-Frequency Induction Heater Furnace. While its price may repel you, remember that this furnace is cheaper than most products from the same category. However, it's a pretty heavy-duty and highly-efficient solution for experienced blacksmiths who can invest in such a tool and know how to use it appropriately.
This thermal induction forge comes with a built-in cooling water system and an alarm that goes off once the unit starts to overheat during the process. It can operate all day without any problems, and you can control the temperature by using its control panel.
The unit comes with a customizable heating coil and copper tube for your specific applications. In essence, this gun-making forge can save you money in the long run, thanks to its low operating costs.
PROS//
Melts gold, silver, copper, aluminum, and similar; Works for 24 hours straight; Infrared temperature detector; Suitable for heavy-duty tasks; Excellent price considering its functions.
CONS//
Despite the manufacturer's claim that the unit can do 15 kW, customers disagree.
4. Best Gas Forge: GJACK Propane Burner Forge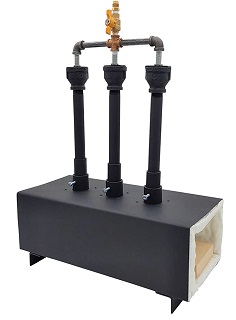 The GJACK Propane Burner Forge is a portable gas forge you can easily shift from one place to another and complete your projects with extra convenience. And unlike other portable forges, which tend to be double burners, this one goes a step further with its triple-burner feature. You can use one or two burners with separate shut-off valves at a time, depending on your needs and requirements. Of course, you can use the three burners simultaneously.
Thanks to its triple burner function, you can set the welding temperature fast. That way, it's possible to perform various blacksmith projects ranging from jewelry shaping to knife making. The rectangular shape provides you with enough space to work with your metal smoothly while enjoying the tool's lightweight construction.
This forge features the 1-inch thick insulation around the furnace to keep the temperature at an adequate level while you're working on your project. Besides, it provides great value for money.
PROS//
Individual shut-off valves for more control; Spacious rectangular furnace; Suitable for various applications; Triple burners to reach the desired temperature faster; Good insulation.
CONS//
It doesn't include a hose and regulator.
5. Best Mini Forge Kit: Simond Forge Kit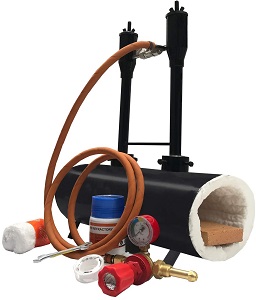 A double-burner Simond Forge Kit fits any metalworking requirements, and the oval shape allows you to heat your piece uniformly. Two vertical burners provide quick forge heating, while the 1-inch thick ceramic insulation allows the forge to reach a 2600°F whooping temperature.
The burner floor delivers an additional 1-inch ceramic insulation with refractory fire bricks that withstand higher temperatures. Besides, it prevents high-velocity firing. This blacksmith forge can easily achieve and preserve the optimal temperature due to the gas regulator and high-quality insulation.
Overall, this is an excellent small forge for beginners and simple projects. It provides the right amount of oxygen for combusting, minimizing oxidation scaling and more convenient performance.
PROS//
It quickly reaches the working temperature; Spacious oval design; Refractory fire bricks included; Extended durability; 2600°F capacity.
CONS//
Not enough refractory.
Blacksmith Forge Types & Fuel Used
The best type of fuel for blacksmithing is the one that matches your needs and skill level. Hence, you can choose among the following:
Lump Coal
Lump coal, also known as lump charcoal, is a slow-burning hardwood whose burning process takes place under pressure. That way, it eliminates the impurities of the wood or plant, leaving the carbon residue as the end product.
Lump coal is highly beneficial compared to other products, especially since it produces much less smoke when burning and can reach higher temperatures than wood. Thanks to its sensitivity to oxygen reactions, lump coal can reach high temperatures when burned for fuel. Because of this, it's possible to control the temperature of the forge fueled by lump coal by adjusting the airflow to the forge.
Lump charcoal is popular for its availability and great value for money. It's a much purer form of charcoal that burns at high temperatures, forms a steady flame, and leaves a little ash. Generally, lump charcoal is highly efficient and easily controllable when forging iron metals. For that reason, it's suitable for small and large-scale forging.
Charcoal Briquettes
Charcoal briquettes feature much smaller coal pieces than lump coal. While these two fuel types are very similar, charcoal briquettes contain more additives and cannot reach equally high temperatures as lump charcoal.
Charcoal briquettes don't look as natural as lump coal, mainly due to their small, manually formed, and compressed shapes. Besides, they take longer to start a fire and begin to burn at lower temperatures. Still, despite the low burning temperature, briquettes burn at a much steadier temperature than similar fuel types.
Overall, this fuel type is widely used for small-scale forging due to its reliability and low cost. On the other hand, it's not convenient for a large-scale setting as it might provoke high levels of air pollutants and unpleasant smells.
Propane Gas Forge
Propane gas is a three-carbon gas resulting from the alkylation process for refining petroleum. It is considered the best fuel for forging due to its ability to burn at higher temperatures than charcoal briquettes and lump coal. Besides, it's defined as a clean fuel, and it's more affordable than any charcoal.
Thermal Induction
Thermal induction is a way of heating items by using electromagnetic induction. It is quite modern compared to other fuels, and blacksmiths do not commonly use it as it requires more complex equipment and electrical knowledge than traditional methods.
Still, advanced blacksmiths can significantly benefit from induction heaters. Models that can reach temperatures up to 1000°C can melt and soften some metals for forging, suitable for heavy-duty tasks.
Should I Choose a Pre-Built or a Homemade Blacksmith Forge?
Blacksmiths are often unsure whether they should choose a pre-built or a homemade blacksmith forge. While both options have their benefits, one may be more suitable for your needs than another.
Building your blacksmith forge is more cost-efficient than purchasing a pre-built model. For that reason, many blacksmiths choose to make their forge out of materials they can find around their house or buy at home improvement stores.
On the other hand, beginners or those seeking something more appealing can go for a pre-built product. It can save you time and allow you to perform your tasks more conveniently and without purchasing additional attachments. Besides, professional forges come with warranties in case of equipment malfunction – that way, you can learn blacksmithing with peace of mind.
Who Needs a Blacksmith Forge?
Anyone who's into the blacksmith trade, whether apprentice or professional, can benefit from this essential tool. There are several types of forges you can choose depending on your skill level, but most of them perform more or less the same functions.
A high-quality forge can help you practice the trade and master your blacksmith skills. Besides, you won't be recognized as a professional blacksmith unless you have a forge!
That being said, the forge is not meant for professional blacksmiths. On the contrary, it's vital to purchase it for home use, especially if you're a hobbyist. Essentially, anyone who's interested in the blacksmithing process should consider getting a tool like this – it's a step forward to your success.
Features to Consider When Shopping for a Knife-Making Forge
Although most forges perform similar functions, they're not created equal. Some tools are better than others, and we're here to teach you how to recognize them – consider the following features when shopping for a knife-making forge for your professional or DIY purposes.
Size
Size is considered one of the most important factors when choosing the blacksmith hearth. Ensure your tool is not too small for your purposes or too large for your work area. It's always recommended to go for a product that's portable so that you can enjoy the maximum convenience.
Ease of Use
The best tool is the one that can be easily operated. Whether you're a professional or beginner, an easy-to-use forge will make your projects quicker and easier. Additionally, it will significantly help you improve your skills and master the art of blacksmithing much faster.
Type of Fuel
Each type of forge uses particular fuel – charcoal, briquettes, gas, or wood. The type of fuel may impact other factors, including maximum temperature, operational costs, and the overall neatness of the project. It's always recommended to choose the fuel that improves your work, and it's more cost-effective than other options.
Durability
Durability is another factor you shouldn't ignore. While cheaper tools may sound more attractive due to their low cost, they are more prone to damage when working with extremely high temperatures. On the other hand, sturdier models will run smoothly for years.
To get the best out of the tool, it's recommended to consider insulation, too. It refers to fire bricks, ceramic wool insulation, and castable refractory. That said, good insulation reflects better heat retention and extended durability.
Number of Burners
The more burners you have, the faster you heat the metal stock. However, tools with additional burners tend to be more expensive than regular ones.
Maximum Burning Temperature
The maximum burning temperature refers to the highest heat the forge can produce. Besides, it determines the types of materials the hearth can heat since materials often have different heating temperatures. Always look for forges that can provide temperatures from 2,300°F to 2,600°F as these are sufficient for forging iron and steel and welding metal.
Cost
The price doesn't always speak for the quality. For that reason, it's always recommended to go for cost-effective products and tools that offer a high value for money.
Maintenance
The best blacksmith forge should be easy to maintain. Hiring professionals to carry out the tool's regular maintenance may be expensive, especially if some parts require complete replacement.
Accessories Included
Accessories that come with the tool optimize its overall functionality and suit various applications. Some of these add-ons include extra pipes, frames, bricks, and a hand crank blower.
Useful Forge Care & Maintenance Tips
If you maintain your blacksmith forge regularly, you're more likely to enjoy its long-lasting performance and operational safety. Consider the following DIY care and maintenance tips for your forge to prevent problems that could result in severe and costly repairs.
Regularly check the valves, regulators, and gauge for wear and tear;
Repair/Replace any damaged part as soon as possible;
Use only compatible and manufacturer-certified replacement parts;
If you're using a gas forge, check for gas leakage when changing the gas tank;
Check all electric cords to make sure they're sound;
Keep the forge away from water and moisture;
Prevent dirt and dust accumulation on the forge's surface.
Blacksmith Forge FAQs
What is the Role of Blacksmith Forge?
The knife-making forge is useful for heating a piece of steel, iron, and other metals to a temperature where it becomes easy to shape them. Besides, it helps you heat the desired materials to a point where hardening is no longer possible.
Can I Use Any Fuel Type?
Any forge is designed for a specific type of fuel. For instance, a wood-fired forge allows you to choose between wood or charcoal, while the rest work with natural gas or propane.
Is It Better to Use Coal or Gas Forge?
An experienced blacksmith can benefit from a coal forge, which lets you heat odd-shaped materials and allows for selective heating. On the other hand, beginners and hobbyists are advised to buy a gas forge.
What are the Most Common Types of Forging Methods?
There are four most common forging methods useful for making different types of materials and based on unique operation techniques – open die forging, cold forging, impression die forging, and seamless rolled ring forging.
What Industries Use Forging?
Forging has various applications and is widely used by both industry owners and passionate DIYers. The automotive industry, hand and power tool manufacturing, machinery and equipment, weapon building, and home equipment production are some of the most common branches that use forging for daily operations.