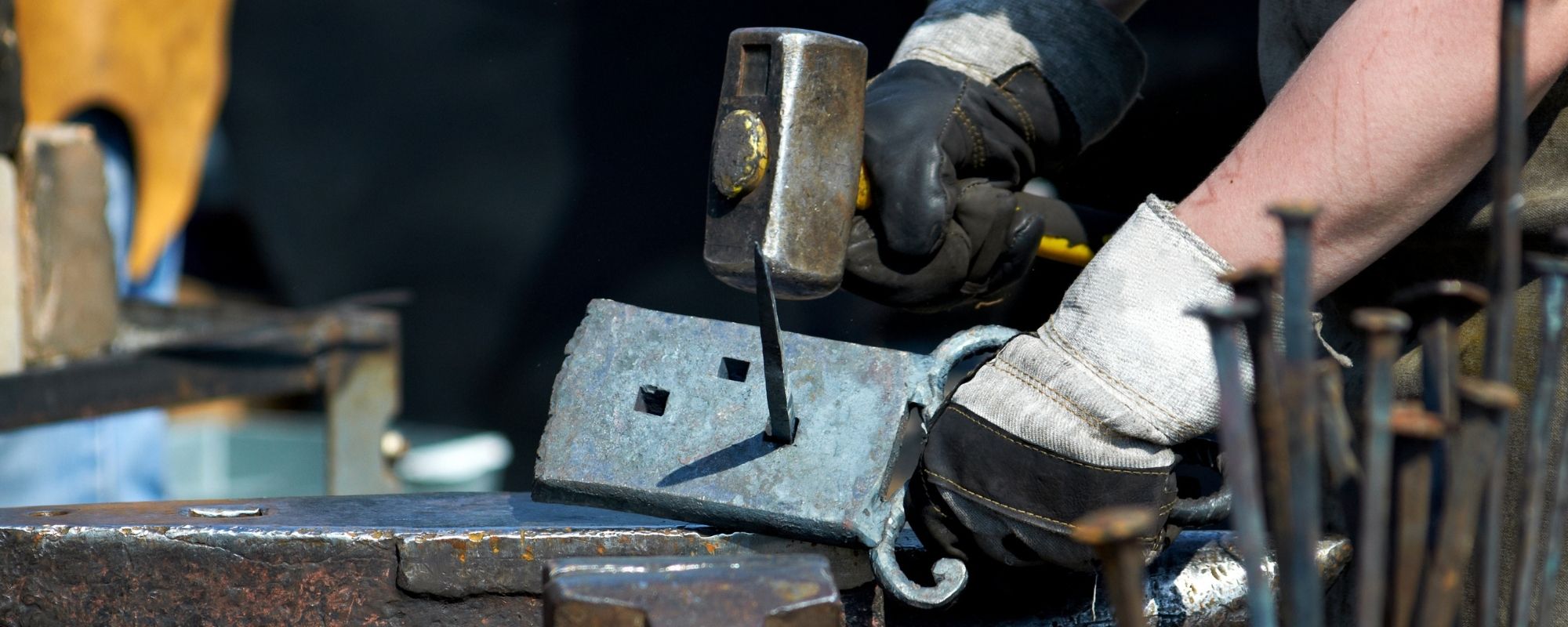 15 Blacksmithing Gloves for Your Protection and Safety [+ Buying Guide]
Your hands need to be safeguarded by a good pair of blacksmithing gloves to enjoy the craft. Safety should come first in order to derive maximum utility from your profession or hobby and to prevent any serious burns and injuries.
The apron covers your body, the glasses cover your eyes, and furnace gloves serve to protect your most valuable 'tool' – hands. Numerous tasks require you to wear gloves, while other tasks may not require this safety measure.
However, there is an ongoing debate among blacksmiths about the pros and cons of wearing gloves during blacksmithing work. Like many things, some people like to wear forging gloves, and some do not – it all comes down to personal preference. The best thing to do is to try it for a while and make your own choice.
We will present you with the best gloves for blacksmithing available on the market in this buying guide.
Although there are certain situations where wearing no gloves is better, having high temp welding gloves in your workshop is a must.
1.      Ironclad HEATWORX Fire Resistant Gloves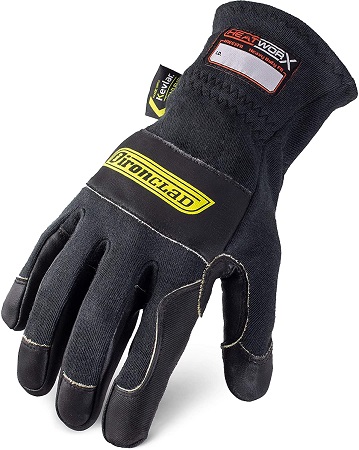 These gloves are the best fire gloves Amazon has to offer. They are NFPA2112:2018 Certified to protect from flash fire exposure; a molded silicone palm allows grasping objects up to 600oF.
100% DuPoint kevlar shell protects you against heat and cuts. Proprietary silicone-coated fabric protects knuckles, fingers, and wrist. It is a hugely advanced glove, offering protection against burns and radiant heat.
2.      Mechanix Wear: CarbonX Level 1 Work Gloves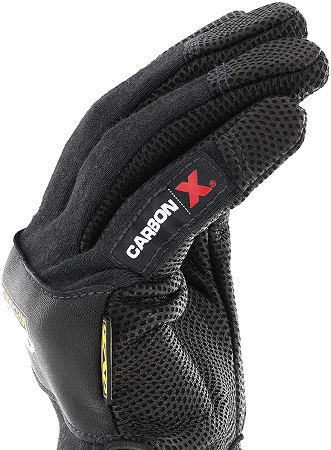 These gloves are fire retardant and feature a longer burning time made of Carbon-X material (oxidized polyacrylonitrile) and leather combination. The wide leather cuff allows easy entry and a fit you can trust when the heat is on.
Some customers notice that these smithing gloves are not overtly bulky, allowing them to pick up small objects, handle tools with them, and press small buttons. They are comfortable even on hot days and fit perfectly.
3.      RAPICCA Fire Resistant Gloves with Extra Long Sleeve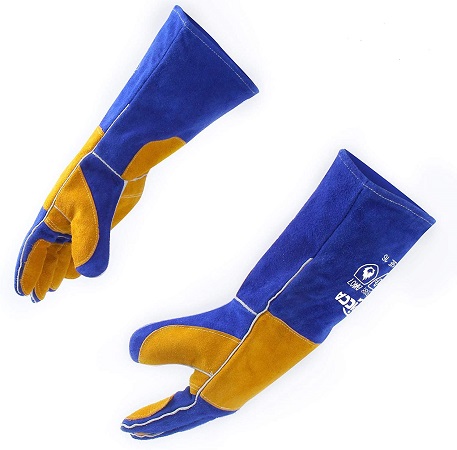 Made of genuine cowhide split leather, they also feature insulated cotton with air-isolated Aluminum foil. This brand offers reinforced double layer kevlar padding on the finger, palm, elbow, and back. 4 layers of heat resistant protection include:
Outermost layer: double layer kevlar.
Intermediate layer: a composite product by laminating a kind of high temperature resistant air-isolated Aluminum foil and a flame retardant cotton cloth.
Inner layer: a 100% soft insulated cotton lining
The forearms are also protected with a 7.5″ long sleeve; they offer adequate protection from welding sparks, grinding debris, hot coals, open flames, and hot steam. The entire glove is made of 1.5mm thick and soft shoulder split natural cowhide leather and guarantees to withstand extreme temperatures up to 932oF.
Some customers even bought them for heavy-duty gardening chores, usually for pruning shrubs packed with thorns, and they did an excellent job!
4.      Newtex Z-Flex Aluminized Leather Radiant Heat Protection High-Temperature Gloves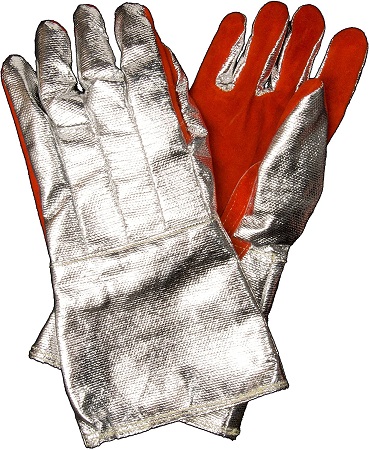 These one-sized aluminized leather gloves offer maximum protection from radiant heat while leather palm and thumb can tolerate direct contact with temperature up to 500oF. Aluminized backing reflects 95% of radiant heat and protects against intermittent contact with hot objects up to 350oF.
The length of the glove is 14″(measured from tip to cuff), and it has a modacrylic fleece and fire-resistant cotton lining with double-stitched, reinforced seams. The glove has an oversized designed to fling it off quickly if the hand gets too hot.
5.      WZQH Leather Forge Welding Gloves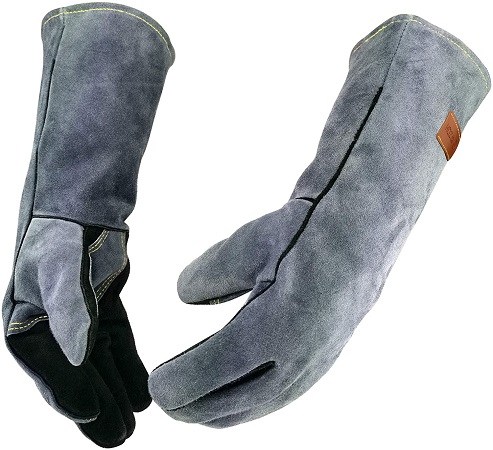 These genuine cowhide split leather gloves are 1.2mm thick. They offer heat resistance, wear resistance, puncture resistance, cut resistance, and oil resistance. They are designed to withstand extreme temperatures up to 932oF. They have the outer layer made of leather, the inner layer made of air-isolated aluminum foil and a fire retardant cotton cloth, and an inner layer made of 100% soft insulated cotton lining. Many welders and blacksmiths say they are as comfortable as blacksmithing gloves can be.
6.      Revco Black Stallion GM1611 Top Grain Welding Gloves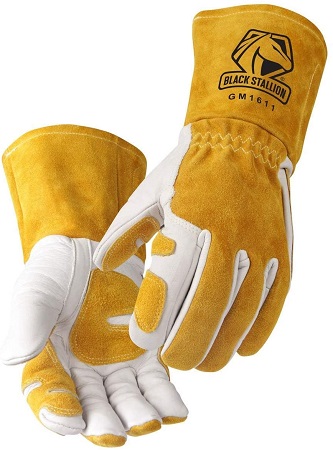 These are good gloves for blacksmithing because they are made of grain cowhide leather and the reinforcement patches where you need them most – in the palm, thumb, and index finger. The kevlar is stitched throughout for maximum durability and resistance from heat, sparks, and slag.
The soft cotton lining inside the glove adds comfort but without being too much bulky. They also feature a seamless index finger and include a proprietary drag patch on the side of the glove and a rest patch for the wrist.
Some female welders that have had a hard time finding gloves that fit and give good dexterity are very satisfied with these gloves.
7.      APEXSAFE High Heat/Fire Resistant Leather Forging Gloves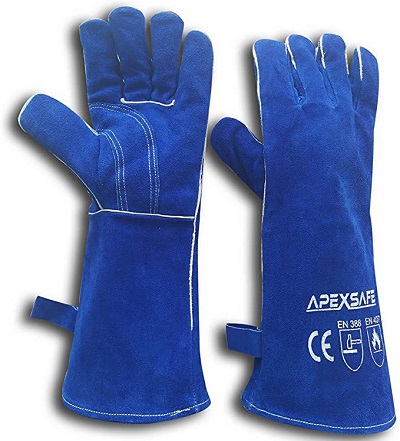 These 16" long sleeve gloves will protect blacksmith forearms from grinding debris, welding sparks, hot coals and open flames, and hot steam. They feature selected cow split shoulder leather minimum thickness of 1.2mm and 100% soft sweat absorbent cotton lining inside.
It also has a reinforced leather strap on the palm with Kevlar thread stitching, allowing you to withstand temperatures at least 662oF with those gloves on your hands. The flexible and comfortable design provides extreme heat protection to handle most of the high-temperature work.
8.      DEKOPRO Blacksmithing Gloves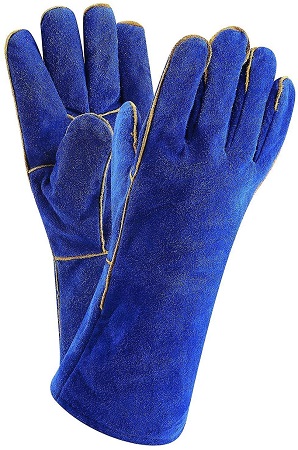 Unlike those heavy stick blacksmithing gloves, these are the best gloves for metal working. They are made of leather and offer flexibility and breathability. The soft, supple, top-grain leather offers protection from molten metal, as well as flexibility.
Reinforced frictional areas and an internal liner add to the durability of gloves. 14" long sleeve protects your forearm and hands from heat, sparks, open flames, or hot coals.
9.      BEETRO Blacksmithing/Welding Gloves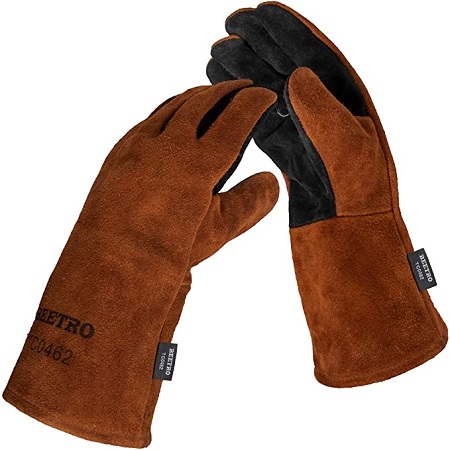 Made of premium cow split leather, those gloves ensure long service life. The wing design fits fingers better, offers more comfortability, and is easier to grasp and hold. The soft cotton inner protects the hands from sharp objects and absorbs sweat, keeping the hands snug and dry.
Beetro blacksmithing gloves offer puncture resistance, tear resistance, and cut resistance. With its edge-cover design, stitched with DP-KEV, the gloves are flame retardant. The glove is dark on the palm part, so this feature makes it stain-resistant and suitable for heavy-duty work.
10.         ToolMotive Multi-Purpose Leather Gloves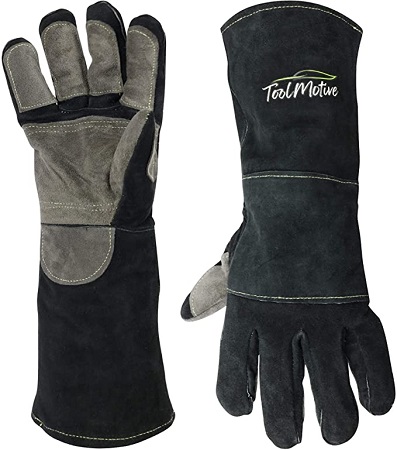 With your safety as the primary goal, the Toolmotive Company offer you a glove that guards you against extreme heat temperatures up to 932oF. The inner layer is made of 100% insulated cotton with heat-resistant aluminum.
The gloves are made from natural cowhide leather that is 1.2mm thick, allowing for easy bending and free unrestricted movement of the fingers. They come with extended forearms for premium protection, with one-for-all sizes.
11.      FOOWOO 16 inches Cowhide Leather Gloves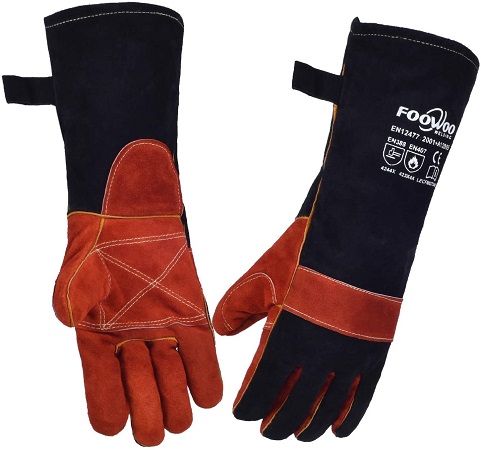 These blacksmithing and welding gloves are made of high-quality cowhide leather with a thickness of 1.35mm, with a soft cotton lining. They are heat and fire-resistant, up to 662oF, with flame retardant thread stitching for advanced heat resistance. They are also sweat-absorbent, breathable, and allergy-free.
FOOWOO gloves are all sewn with Kevlar thread, providing excellent protection against sparks and abrasion. A thumb full palm pad provides extra reinforcement in a key stress area. Leather reinforced seams provide durability, while a seamless index finger is ideal for sensitive work. They come with a convenient loop for more accessible storage.
12.      Youngstown Working Gloves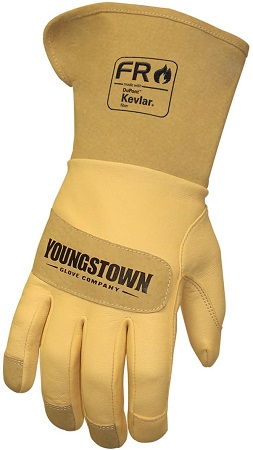 This extra quality gauntlet goatskin glove is lined with Kevlar throughout the entire glove and sewn into an ergonomic, 3D form-fit pattern. The high dexterity is maintained despite the second layer on the fingertips, palm, and knuckles that reinforces durability and protection.
Wide cuff (6"x4") fits oversleeves, adds protection, and promotes airflow. These blacksmithing Kevlar gloves have a cut-resistant liner made with Kevlar fiber throughout the entire glove for premium protection.
13.      TRULINE Staghorn Premium Deerskin Leather Work Gloves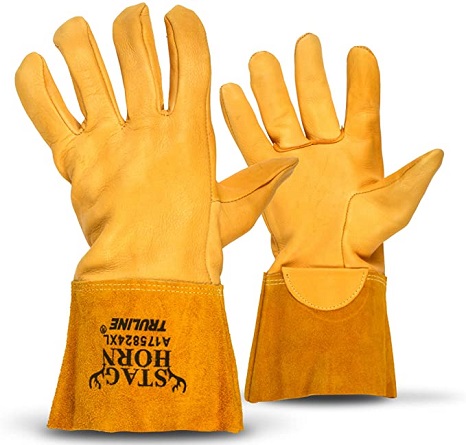 These gloves made by Truline offer maximum protection against heat, with an extended cuff that creates protection for the wrist and arm.
They are made of premium deerskin, which provides flexibility and softness to create a versatile and form-fitting glove that adapts to the shape of your hand. The thumb reinforcement is an excellent choice for blacksmithing, welding, and forging. The kevlar stitches add to the durability of the gloves.
14.      Caiman 1878 Welders Gloves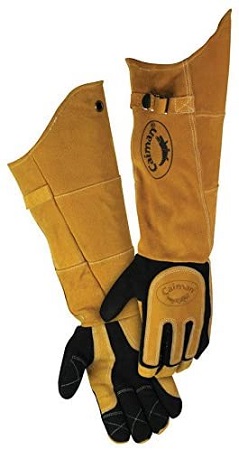 As Amazon's choice, Caiman gloves are a 21″ glove with heavy-duty padding on the forearm and elbow for comfort. Super supple Genuine American Deerskin is tanned in the U.S. The gloves are cotton fleece insulated, sewn with Kevlar thread with patches, padding, and reinforcements for comfort and protection.
15.      Cuwiny Heat/Fire Resistant/Leather Forge Gloves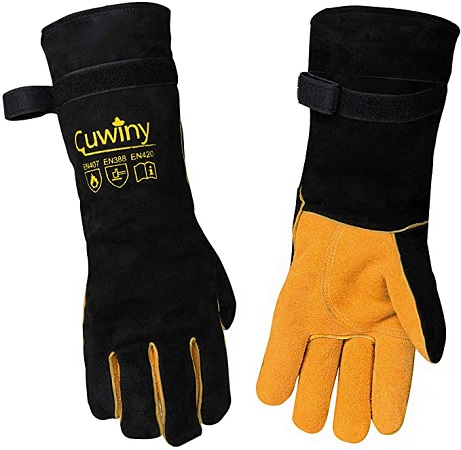 Cuwiny gloves offer great fire protection, keeping your hands and arms safe. The manufacturer used 1.5mm durable cowhide leather with insulated high-tech aluminum foil. Soft heat-resistant cotton offers these high temp work gloves superior fire resistance, heat resistance, flame resistance, puncture resistance, and cut resistance.
You maintain them by wiping them with a damp cloth and hang to dry. It is advisable to avoid machine washing.
Materials Used for Blacksmithing Gloves
Keeping you protected with a reliable pair of steel worker gloves is essential in your blacksmithing job. The most common materials used for blacksmithing gloves are leather and kevlar.
Leather
Leather is made of the tanned hides of various animals. The quality varies simply because it is a natural product. The leather includes the leather of several types of animals:
Cowhide is the most popular and cheapest type of leather for glove making. It offers a comfortable and durable glove with excellent abrasion resistance. There is a variation in quality depending on what part of the animal's body the hide comes from and what side of the skin is processed. The best quality is full or top-grain leather that comes from the outer side of the hide.
Pigskin offers the most extraordinary breathability due to its porous texture. It becomes softer with use and withstands moisture without becoming stiff; the material can be laundered without losing its shape and function.
Deerskin is soft, more comfortable, long-wearing, and more flexible than cowhide. It is also the warmest of leathers.
Goatskin is the most durable and most robust type of leather. The natural lanolin makes the glove very supple, waterproof, and abrasion-resistant. It is the perfect material for tasks involving fine dexterity.
Kevlar
Kevlar is a heat-resistant and strong synthetic polymer fiber. Its high tensile strength-to-weight ratio makes it five times more potent than steel when the weight is equal. It is incredibly lightweight but not waterproof and cannot be placed in direct sunlight because fibers lose their effectiveness. That is why you mostly see kevlar being used as an inner lining or core of a product.
How to Buy the Best Fire Gloves?
Finding the perfect glove may not always seem so easy. By understanding the main differences between available features, you can narrow down your choices and make an educated decision.
Materials
We elaborated on the materials above, so let's repeat – the most common materials used are leather of different animals and kevlar. Those materials can impact mobility and protection levels. It is highly advisable to avoid gloves made of plastic materials because they can melt quickly and stick to your skin, causing a severe burn.
Application
Wearing your gloves or not when blacksmithing is a matter of your personal preference. Sometimes blacksmiths prefer not to wear gloves when operating machinery or doing hammering work to prevent getting caught on something or fatiguing their arms.
But sometimes it is advisable to wear them, for example, while chiseling, punching, slitting, etc. Wearing a glove on your left hand is always good because of the proximity of the heated metal.
Another factor to consider when buying them is knowing how thick or long your glove needs to be for the intended use.
Heat Resistance
A particularly significant factor when choosing the blacksmithing gloves, so gloves must protect your hand and arms from heat and potential burns. Choosing gloves that are thick enough to mitigate heat is essential.
Also, a material that can alert you when something is hot is vital because it is a lot harder to tell if something is burning while wearing gloves. You can become too comfortable with the fact that they will always protect your skin, so it is a feeling you should avoid.
Sizing
In order to treat the glove as an extension of your arm, you need to choose the right size. It is crucial to have enough mobility and a good range of motion while wearing them, but they do not need to be so snug that they are challenging to move.
If you are exposed to a larger source of fire, it is advisable to have longer gloves that will protect the greater areas of your arms.