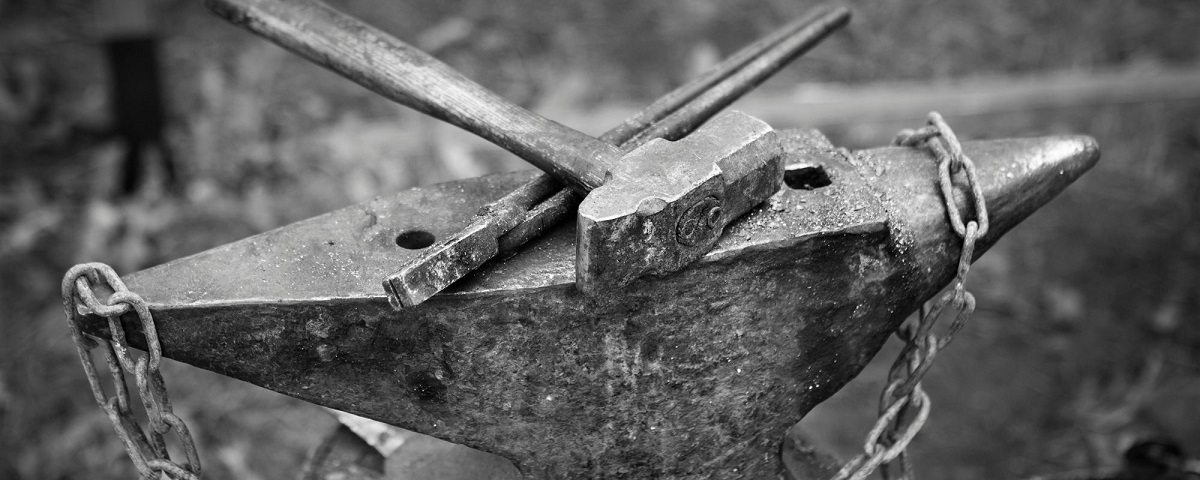 Best Blacksmith Anvil: 8 Anvils for Blacksmithing to Master the Art of Craftsmanship
Whether you want to learn blacksmithing for a hobby or want to make money from it, a blacksmithing anvil is an essential piece of equipment you need. Blacksmith anvil has been used for centuries as a strong and solid surface to process metal pieces.
Anvils are metal blocks with three different work faces that allow you to shape your workpiece in different ways. They have significantly evolved throughout centuries, especially in terms of materials, which are now sturdier and more stable.
A modern blacksmithing anvil is usually made of steel and can be used for various applications. In this article, you will learn more about the most common types of anvils, including the 8 best solutions for blacksmithing and metalwork.
Where to Buy a Blacksmith Anvil?
You can get a high-quality blacksmith's anvil for sale from certified retailers on Amazon and similar online stores that focus on forging equipment. While other stores mostly sell second-hand anvils, Amazon is packed with top-quality blacksmithing tools you can have at an excellent price and delivered quickly.
Although used anvils aren't bad, brand new ones have recently become pretty affordable. Note that new tools are always a better solution unless you look for worn-in equipment for aesthetic reasons.
A Brief Introduction to the Anatomy of Blacksmithing Anvils



A blacksmithing anvil consists of several parts, and each of them has a name and a specific purpose:
Anvil face
Anvil horn
Anvil table
A hardie hole
A pritchel hole.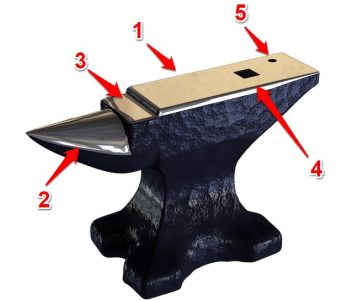 #1 The Anvil Face
The face of the anvil is placed on the top of its surface. It acts as a solid base for making workpieces, and it is the most frequently used part of the anvil. Although you won't strike it directly with the hammer, it is essential to look for a sturdy face material that will resist heavy blows without breaking or getting damaged.
#2 The Anvil Horn
You will recognize the anvil horn by its pointed cone-like end located on the front of the anvil. Its curvature is used to shape metal pieces into a rounded form, and it is not made of as hard materials as the anvil's face.
#3 The Anvil Table
The anvil table is also known as the step, and it is a narrow flat surface placed between the horn and the anvil's face. It is commonly used to cut workpieces on its edge, but it may wear out after some time. Therefore, we suggest you use adequate tools for metal cutting to achieve the same results.
#4 Hardie Hole
The hardie hole is placed inside the face's surface on the opposite end of the horn. It has square-shaped mouth blacksmiths use to hold tools such as swages or chisels. The hardie hole is an excellent feature that eases the bending of metal pieces and the hole-punching when forging.
#5 Pritchel Hole
The pritchel hole is located inside the face's surface, but unlike the hardie hole, its mouth is a circular shape. Therefore, it is convenient when punching rounded holes into your piece.
Blacksmithing Supplies
Get the Latest Deals on Blacksmithing Tools
unbeatable prices // fastest shipping // free delivery available
What to Consider When Buying Blacksmith's Anvil?
Despite the fact that most blacksmithing anvils have more or less the same features, they are not created equal. Therefore, your final choice depends primarily on your needs and the applications for which you consider using it.
To ensure the anvil's utmost durability and performance, look for the following aspects when buying this particular tool.
#1 Anvil Material
Most blacksmithing anvils are made of stone or bronze, but steel is a prevalent material due to its excellent properties and abilities. You may also consider cast iron anvils, which tend to be more brittle and with a lesser face rebound. Another popular choice worth considering is wrought iron-faced anvil.
Sturdier materials often have a greater face rebound, and these are essentially a better choice for anvil materials.
#2 Applications and Forging Intentions
Always consider the applications for which you'll use the anvil. For example, if you plan on using one for a hobby, a large and pricey anvil may not be the best choice for you. On the other hand, if you are a professional blacksmith and need a high-end tool for your purposes, choose from specialized anvils that meet your specific needs.
#3 Anvil's Size, Shape, and Weight
When looking for a blacksmiths anvil, pay attention to its size, shape, and weight. These aspects are critical because they imply the possible applications for which you can use the anvil. Ensure the anvil's size is in line with the material forged and the tools used to shape it. As for the weight, keep in mind that heavier models are often easier to use than lighter ones. The anvil shape will also depend on its applications.
#4 Blacksmith Anvil Price
The blacksmith's anvil cost depends on many factors, including those we have just mentioned. The material, as well as the size and weight, can impact the price, meaning that larger and heavier anvils are more expensive than the smaller and lighter ones. That said, smaller anvils may cost from$2 to $5 per pound, while large models are from $7 to $9 per pound.
Top 8 Blacksmithing Anvils to Buy in 2022 + Pros and Cons
Now that you know the anvil basics, it's time to dive into the 8 best tools for different purposes worth considering in 2022.
Best All-Purpose Blacksmith Anvil: Olympia Tools Cast Iron Anvil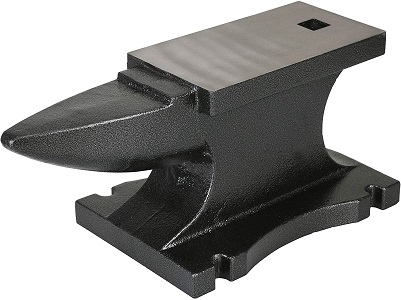 Olympia Tools 100-Pound Cast Iron Anvil features a polished surface and log-shaped horn. Its ergonomic design with security holes on all four sides allows you to mount it firmly to your workspace and use it safely. This professional-grade blacksmith anvil is incredibly durable, and you can use it for different purposes, including home and industrial projects.
Material: Cast iron
Weight: Olympia Tools Cast Iron Anvil is available in three weight options – 100 lb., 25 lb., and 9 lb.

Beginner-friendly
Fair price
Heavy enough to stay put, light enough to move it around
Solid and sturdy
Suitable for various applications.

It could have a better face rebound.
Good and Cheap Blacksmith Anvil: Pro Tools 59101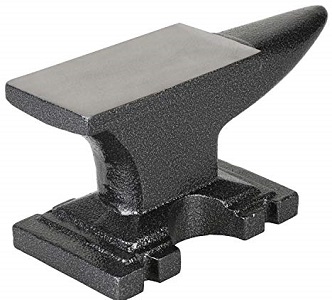 If you are looking for a product with great value for money, go for Pro Tools 59101 Heavy-Duty Anvil that can build up to the most demanding work conditions. It is suitable for various applications, from hammering on metal to jewelry making. It is relatively inexpensive given the fact that it's durable.
Material: Cast iron
Weight: 27 pounds.

Budget-friendly
Suitable for bracelet and jewelry making
Excellent for knife making
Good for children and beginners
High-quality cast iron material.

Best Metalworking Anvil: RIGID 69622 Peddinghaus Anvil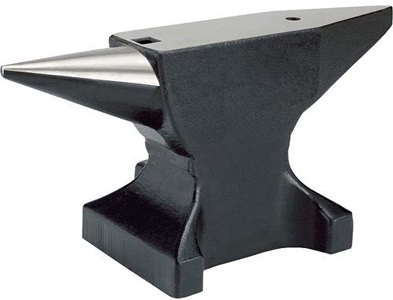 A professional-grade RIGID 69622 Peddinghaus Anvil is made of drop-forged and high-grade steel, delivering maximum strength and durability. Its hardened top face offers a lively work surface convenient for the most complex projects, including heavy blows. Since it comes with a pritchel hole, it can support multiple tools.
Material: Alloy steel, metal
Weight: 77 pounds.

Two different holes for cutting and punching
Two horns for various applications
Supports high-grade steel forging
Bend metals perfectly
Transfers maximum energy to the workpiece.

Not suitable for small projects.
Best Knife-Making Anvil: CO-Z 66lbs Single Round Horn Anvil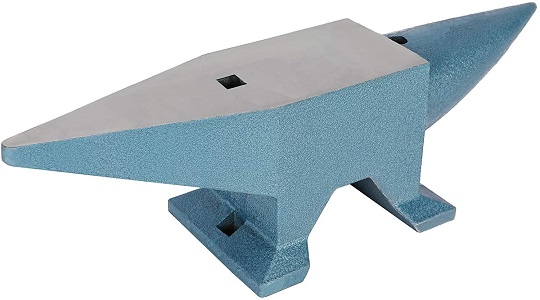 Knifemakers will enjoy a strong and durable CO-Z 66lbs Single Round Horn Anvil made from high-quality materials that handle heavy blows during the welding process. This fantastic blacksmith anvil for high hardness allows you to shape your tools the way you want. It is an excellent choice for building home hardware, including knives, blades, pommels, etc.
Material: Forged steel
Weight: 69.9 pounds.

High hardness
Rounded and flat horn
A broad range of applications
It can be a great starter anvil
Ideal for metal workers and blacksmiths at metal shops.

According to users, it requires a lot of clean up before use.
Best Stake Blacksmith Anvil: Jewelers T Anvil Stake Metalsmith Tool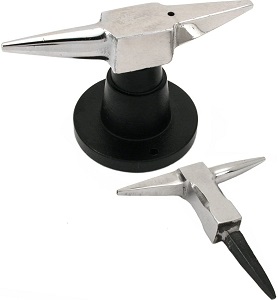 Stake anvils are suitable for small forging projects and jewelry making that weigh no more than 20 pounds. If you need such a tool, look no further than Jewelers T Anvil Stake Metalsmith Tool. This is a generally great tool for forming and shaping metal and comes at an affordable price.
Material: Stainless steel
Size: 53/16" x 13/16".

Inexpensive
Many different shapes
Excellent for light forging
Convenient for silversmith and jewelry work
A double-horn anvil for forming and shaping metal.

Stake anvils are rarely used today and are not convenient for heavy forging.
Best Heavy Blacksmith Anvil: Grizzly G8147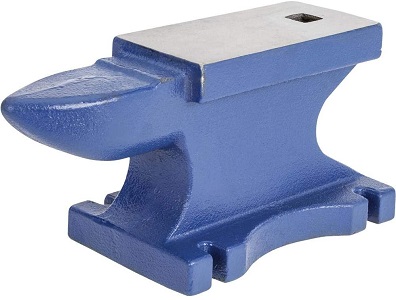 Grizzly G8147 is one of the heaviest blacksmithing anvils on the list. It is an excellent choice for beginners seeking a heavy tool for hammering the iron. It is relatively inexpensive considering its weight. Its soft face reminds you to be careful with the hammer while helping you build up endurance as you're starting. That way, it will be much easier for you to switch to a full-size anvil.
Material: Cast iron
Weight: 57 pounds.

Budget-friendly
Good anvil for starters
Heavy
Suitable for jewelry making
Great for making knives.

Best Steel-Faced Blacksmith Anvil: SE Steel Bench Block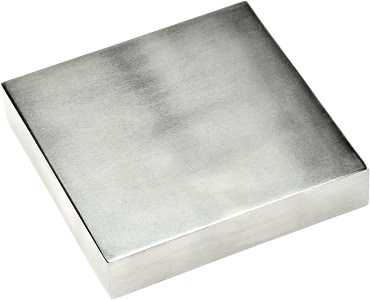 Steel-faced anvils are a popular choice among jewelry makers working with soft metals and soft hammers. You won't go wrong with SE Steel Bench Block, which comes in handy when dealing with the silversmith. Although not perfect, especially for blacksmithing, this steel block is an affordable alternative for beginners seeking a hard surface for their starter projects.
Material: Solid hard carbon steel
Size: 4" x 3/4" x 4"

Ground flat, hardened, and smoothly polished surface
Excellent for chasing, flattening, shaping, and stamping metal
Scratch and dent resistant
Wide enough to provide a substantial base; small enough to move it around
Heavy for the size.

It requires a lot of clean up before use.
Best Small Smithing Anvil: PMC Blacksmith Work Surface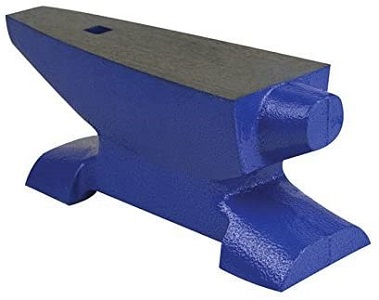 The PMC Blacksmith Work Surface is an excellent choice for those seeking a smaller anvil for their projects. It is made of solid cast iron, and it is suitable for jewelry making and similar crafts that don't require heavy-duty blacksmithing. You can use it to create, flatten, or repair jewelry or metals.
Material: Cast iron
Size: 8-1/2" x 3-13/16"

Tiny and heavy
All-purpose anvil
9/16" hardie hole to secure tools
Excellent for most home improvement projects
Great for sword crafting.

A hardie hole comes with a small taper.
FAQs
Anvils come in various sizes, shapes, and materials, and each of them often serves different purposes. Depending on what you'll use the anvil for, you may choose between the following:
Stake anvil
Bench anvil
Farrier anvil
Forge anvil
Swage blocks
Anvils made of cast iron, steel, etc.
In essence, heavier anvils are a better option. A general rule of thumb says that an anvil should be at least 20 times the weight of the hammer you're using. Still, it is essential to find the mass of metal that's hard enough and securely fastened.
The square hole, or the hardie hole, is used for fitting hardy tools into the blacksmith anvil. Additionally, it can be used for bending stock or punching holes.