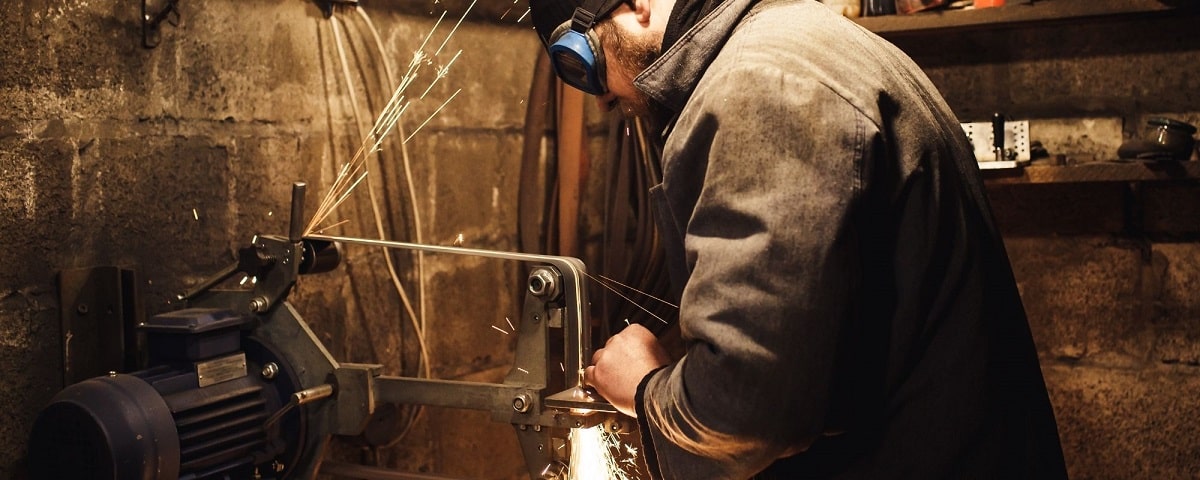 10 Best Belt Grinder for Knife Making [Buying Guide for 2022]
A belt grinder for knife making is an effective and powerful tool in sharpening and shaping different kinds of metal. Without it, the art of bladesmithing can be really a challenging task.


Finding an adequate-sized belt grinder for the consistent output makes a difference between a garbage knife and a beautiful product. In addition, a good belt sander for knife making will serve you for sharpening other tools like axes, gardening trowels, and circular saw blades.


In this article, you will find reliable and valuable info about the best belt grinder for knives from a wide range of different models. All the models are unique in their performance and will help you to boost your creativity level and improve knife making skills like grinding, deburring, flashing, polishing, shaping and sharpening. Before we jump to best models, let's get familiar with belt sizes, since it's the crucial factor in purchasing process.
Types of Belt Sander for Knife Making
Buying a good belt grinder is a considerable investment, so choosing the right one for your needs and budget is essential. The most important types take into consideration the belt size.


The best size of the belt for knife making and sharpening is undoubtedly the most common 2″x 72". The first number represents the width of the belt, and the second one is the length in circumference. There are different belt dimensions, and a general rule says – the bigger the belt, the more useful it is for heavy stock removal.
1"x 30" Belt Grinder – suitable for DIY and light-duty projects. They are the cheapest option available with the less powerful motor. With this machine, it is pretty challenging to get a rough surface.
1"x 42" Belt Grinder – not so recommended type because its performance is similar to those of the 1"x 30" type. For a comparable price, you can get a much better 2"x 42" type.
2"x 42" Belt Grinder – one of the most popular types. They often come with a 6" disc sander on the side, which is usually convenient for smaller jobs like beveling the front of knife handle scales. It is usually an entry-level grinder, popular with hobbyists knife makers just starting out.
2"x 48" Belt Grinder – can be a great alternative to 2"x 72" grinders. These types of grinders usually have larger motors than many of the small grinding machines. Also, they can be pretty affordable, and their compact size allows them to fit nicely into a small workshop.
4"x 36" Belt Grinder – you can see them in most hardware stores, but they cannot offer you the best results simply because they are designed for woodworking projects. Because the wide belt and weak motor will slow down the grinder, so it is not ideal for knife making by any means.
2"x 72" Belt Grinder – the most standardized belt configuration. This type accounts for over 90% of belt grinders manufactured in the U.S. These machines are considered ideal for professional knife making.
10 Best Knife Making Belt Grinders for Sale in 2022
Among the ton of options, we have come up with a list of 10 best grinders to give you more of an idea of what is out there for you to use.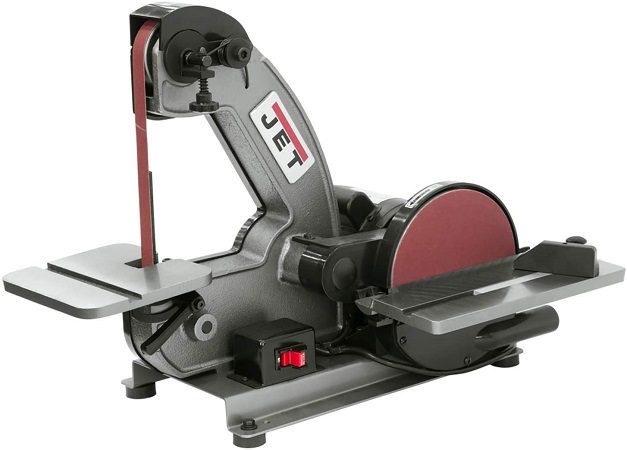 This combination of the bench belt sander and disc sander is designed to deliver a superior finish. The design of this machine permits sanding, grinding, and finishing of outside curves or odd-shaped pieces. Heavy-duty base, cast construction, and cast iron tilting table mean you are getting the very best JET has to offer.
The deluxe miter gauge turns and locks for standard angles, both left and right. It also features a heavy-duty steel base and rubber feet.
Spec:
Disc Diameter: 8"
Belt Size: 1" x 42"
Belt Table Tilt: 45° Out
Table Slots: 5/8"
Weight: 62 lbs.
Belt Table Size: 6-1/8" x 7-1/8"
Motor: 1/3 HP, 115V, 1Ph
Overall Dimensions: 21"L x 22"W x 14"H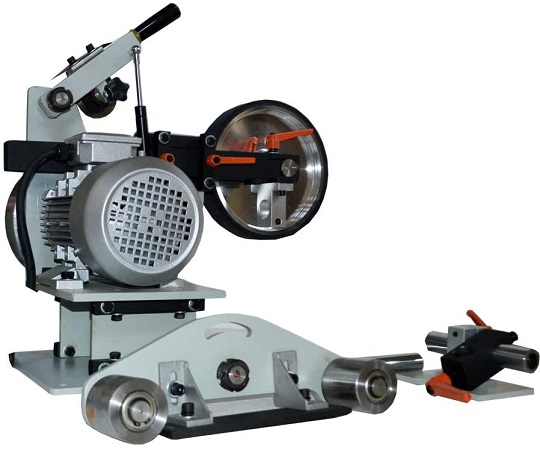 This product is designed for professional knives, other cutting tools, and machine makers. The set is straightforward for maintenance, does not require any special skills, and can be built at your workshop. You have to place the motor and the pulley additionally.
The machine applies inverter speed regulation, and you can adjust the speed according to your needs. The copper wire motor is durable and much more potent than other motor types. The machine's surface is under polishing and spray treatment, so the machine has pleasing aesthetics as well.
It is the best 2"x 72" belt grinder for knife making on this list.
Electrics: 220V/50hz, single phase
Belt Dimensions: 2"x72"
Weight: 152 lbs.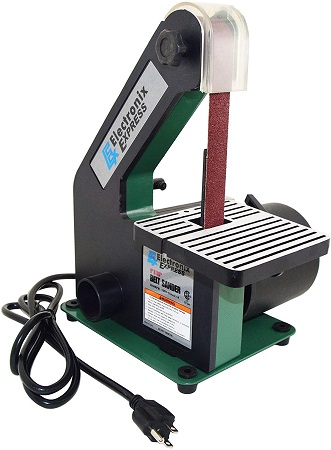 When you want your knives to be so sharp that it melts through nearly everything they cut, then it is time to get this little monster. You can easily adjust the belt tension, which can accommodate a bit of the difference in the belt length; also, they are effortless to change.
Overall Dimensions: 9"L x 11"W x 13-1/2"H
Belt Sander Size: 1" x 30"
Vacuum Diameter: 1-3/4"
Power: 120 VAC, 60Hz, 3.0 AMP, 360 Watts
Motor: 1/3 HP @ 3400 RPM
Table Size: 5" x 5"; Table Tilt: 0 ~ 45º
Weight: 1.11 Pounds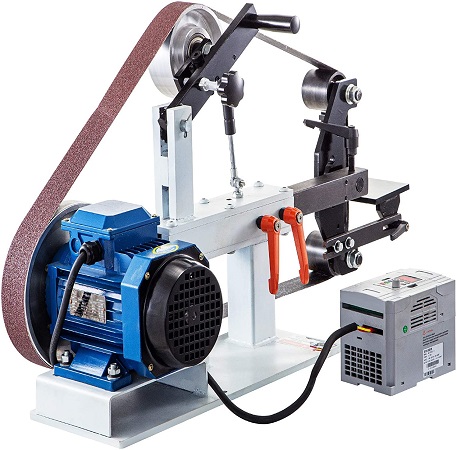 This sander is equipped with a high-quality abrasive belt with durable wheels, which features a non-slip design and a fast grinding speed, saving time and effort. In addition, it comes with three different grinding wheels and three extra abrasive belts.
The belt size is 2" X 82". It is easy to change and adjust with a belt adjustment handle. Three different wheels are also easy to disassemble and assemble. It is very convenient to do your work because the speed is variable with a frequency converter.
Specs
Rubber Contact Wheel: PH 427 x 12"
Rotating Speed: 0-2800r/min
Aluminum Flat Platen: 2.5" x 2.5" (Big Wheels)
Variable Speed: 1 Phase Into 3 Phase
Belt: 2" x 82"
Motor: 110V, 2 Hp/ 1.5KW
Aluminum Contact Wheels: 2.5" x 2"
Aluminum Tracking Wheel: 4" x 2"
Aluminum Drive Wheel: 4" x 2"
Toothed Rubber Tire: 11.8"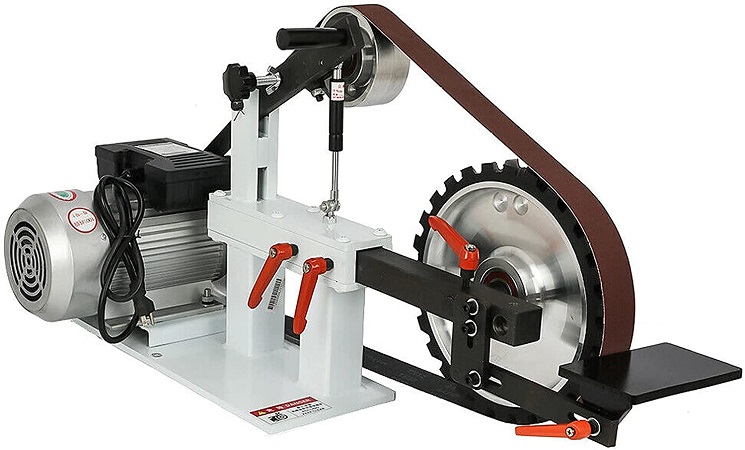 Every detail of this belt grinder is fabricated for maximum performance and precision. It is suitable for polishing furniture, wood, metal, knife blades, scissors, and other metal processing work.
This machine is equipped with three sets of grinding wheels, and all with a movable bar can adjust the length of the belt 72"-82". The worktable angle can be adjusted with the most suitable angle you want; you can even remove the work table to find the most comfortable position.
With a pure copper motor, this electric belt sander features high efficiency and low noise. Equipped with a radiator fan, it can continuously work for a long time.
Specs
Power: 110V
Motor power: 1.5 KW, 2HP
Rotating Speed:2800r/min
Belt specification: 2"× 82"
Flat Platen: 2.5" × 2.5"
Aluminum Contact Wheels: 2.5" × 2"
Aluminum Drive Wheel: 4" × 2"
Toothed Rubber Tire: 300mm
Weight: 51.5kg+26.4kg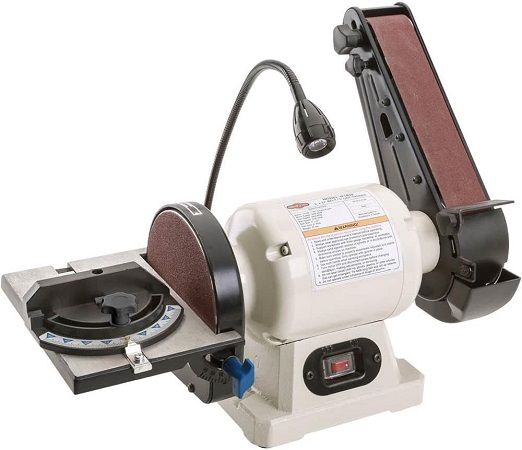 It features two tilting cast-iron tables with miter slots, two 2" dust ports, and the convenience of a single knob for belt tracking. Both tables tilt to 45° for various sanding and sharpening applications, and the adjustable miter gauge ensures accurate angle settings. When it comes to versatility in a benchtop sander, this machine does everything you imagine.
Specs
Motor: 1/3 HP, 110V, 1725 RPM, 4A
Belt size: 1" x 42"
Belt speed: 3000 FPM
Belt platen size: 4"L x 1"W
Belt table size: 7"L x 6"W
Disc diameter: 8"
Disc table size: 10"L x 4"W
Table tilt: 0-45°
Dust port size: 2"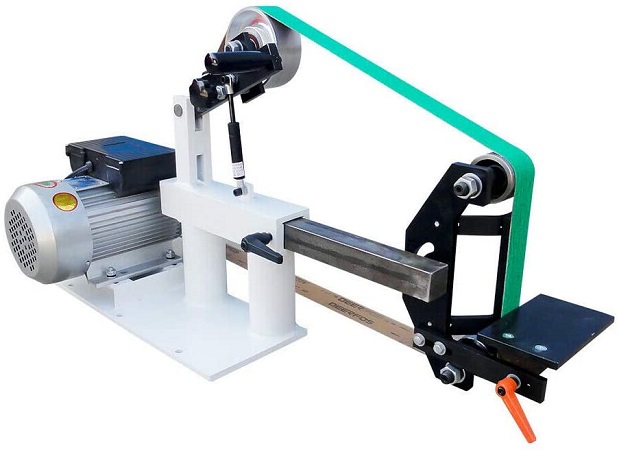 This belt machine represents a new processing technology with a wide range of applications, such as grinding, deburring, flashing, polishing, and sharpening.
The motor features plenty of power to run heavy grit belts. This machine is equipped with three sets of grinding wheels, and all with a movable bar can adjust the length of the belt from 72″ to 82".
Specs
Voltage: 110V
Motor power: 1.5 KW, 2HP
Belt specification: 2"× 82"
Abrasive belt use range: 72"-82"
Rubber Contact Wheel: PH 427 × 12"
Rotating Speed:2800r/min
Flat Platen: 2.5" × 2.5" (Big Wheels) Solid Aluminum Wheels
Aluminum Contact Wheels: 2.5" × 2"
Aluminum Tracking Wheel and Aluminum Drive Wheel: 4" × 2"
Toothed Rubber Tire: 300mm
Concave Wheel: 25mm Diameter And 40mm Diameter
Belt machine standard: 3 sets of grinding wheels + independent movable rod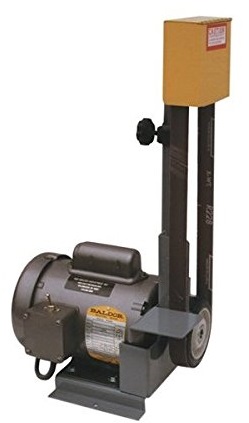 This 1" x 42" belt sander is an excellent power tool for general deburring, lite metal removal, sanding wood, and cleanup work. What is great about this benchtop sander is the size of the unit can fit on any workbench. Kalamazoo 1SM is one of the fastest knifemaking senders on the market. However, it features a less-than-ideal 1″ belt surface. It can be utilized as a portable sander or bolted onto a solid tabletop for heavy-duty working.
This unit comes with a standard 1/3rd hp motor, which has an SFPM of 1800. This makes it a handy tool in a fabrication shop and/or woodworking shop.
Specs
Dimensions of machine: 12.5" x 16.7" x 11.5"
Motor: 1/3 HP (115v), 1 PH, 1725 RPM.
Belt size: 1″ x 42″
Drive Wheel Size: 4″
Weight: 35 lbs.
Table size: 3″ W x 3″ D (table can tilt approximate 20o up and 45o down)
Platen size: 1-7/8″ W x 5-7/8″ H
Belt Speed: 1800 SFPM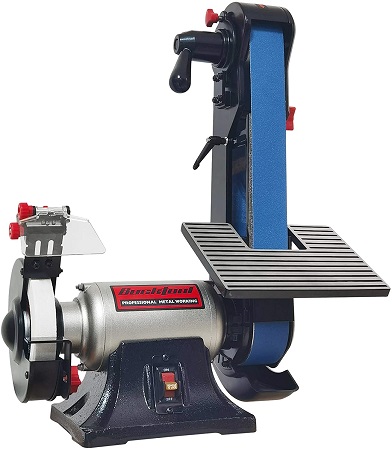 When you are looking for a good 2×42 craftsman belt grinder with a couple of simple mods, this machine is the right thing for you. This sander meets CSA standards, with heavy-duty construction that will undoubtedly extend using life, equipped with an induction motor that supplies the needed power running under load.
The belt can tilt from 0 to 90o for sanding to meet your project; the belt housing can swivel from horizontal to vertical for grinding long workpieces. In addition, this unit features a cast iron belt sanding work table which can give better support when sharpening.
Specs
Motor: 120V, 60Hz , 3.5A, 1/3 HP
Belt size: 2" x 42"
Belt speed: 4480 FPM
Belt grit: 120 #
Wheel grit: 60 #
Wheel speed: 3450RPM
Wheel size: 6" x 1" x ½"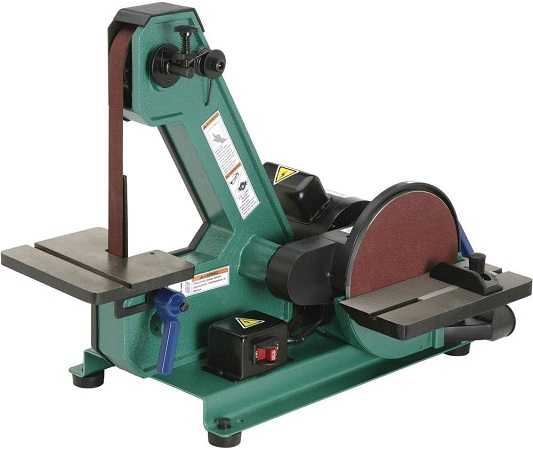 This combination of the belt and disc sander will shape and smooth right to the line. Capacitor-start induction motor of 1/3HP powers the 1"x 42" belt and 8" disc through any sanding chore. Cast iron tilting tables are giving you the flexibility you need. It includes single-knob tracking and two 2" dust port.
Grizzly is built of cast iron and is solid as a rock, so some customers note it does not produce much vibration.
Specs
Motor: 1/3 HP, 110V, single-phase, 1725 RPM
Tables tilt: Left 0°, Right 45°
Belt sander table size: 6" x 7"
Disc sander table size: 4" x 10"
Platen size: 1" x 4"
Tracking adjustment
Direct drive
Two dust ports: 2"
Takes standard 1" x 42" belts and 8" PSA discs
How to Choose the Best Knife Grinder
There are some points to check before you make your decision on buying the perfect knife makers grinder, so we are offering you a great starting place.
Belt Dimensions
Belt size plays a crucial role in the use of a grinder. We already explained everything concerning the belt sizes.
A wider belt exerts more friction on the flat platen of the machine, so a more powerful motor is needed. The longer belt allows for less time between belt changes, but it will also demand extra power.
Motor Power
One of the most important factors when deciding which grinder to buy. For effective steel grinding, you need a high belt speed to exert increased pressure on the belt. A general rule says that you need at least 1 HP for every inch of belt width at 72" in length. So, a smaller belt length requires less motor power.
2x 72 belt grinder for knife making needs at least 2HP, while on the other hand, 2×48 grinder can work well with 1.5 HP because the belt is shorter.
Belt Speed
The belt speed is measured in surface per minute, with the following formula:
SFPM=(π x drive wheel diameter) x motor rpm
The belt speed needs to be somewhere in the range of 4100 to 7000, depending on the type of metal. If the speed is slow, you will need a lot of time to complete the knife. On the other hand, if the speed is high, the possibility of wearing the belt out sooner is high. So, the sander with the variable speed can be the perfect solution.
Leading Brands
Jet Tools was born in 1958 and is committed to being the supplier you can depend on for the epitome of quality, innovation, and service. Jet Tools has worked hard to make this a reality that has been ongoing since we introduced our products more than 50 years ago.
Grizzly Industrial is founded in 1983 and is national retail, mail order, and e-commerce company in the U.S.A. providing high-quality woodworking and metalworking machinery and accessories. With an intense focus on providing excellent customer service and products that will last a long time, their goal has always been to sell the best quality products at the best price.
Kalamazoo Industries, Inc. manufactures abrasive cut-off saws, belt sanders, 5C fixtures, and vibratory finishers in Michigan since 1960. The company can modify the standard products to suit your specific needs; they can also make special machines according to your specifications.
Bucktool is a trustworthy brand that provides top-of-the-line power tools to people who need them. They bring conventional estimations of hard work, obligation, and great tools to work admirably with; they are doing this through very high-quality power tools.