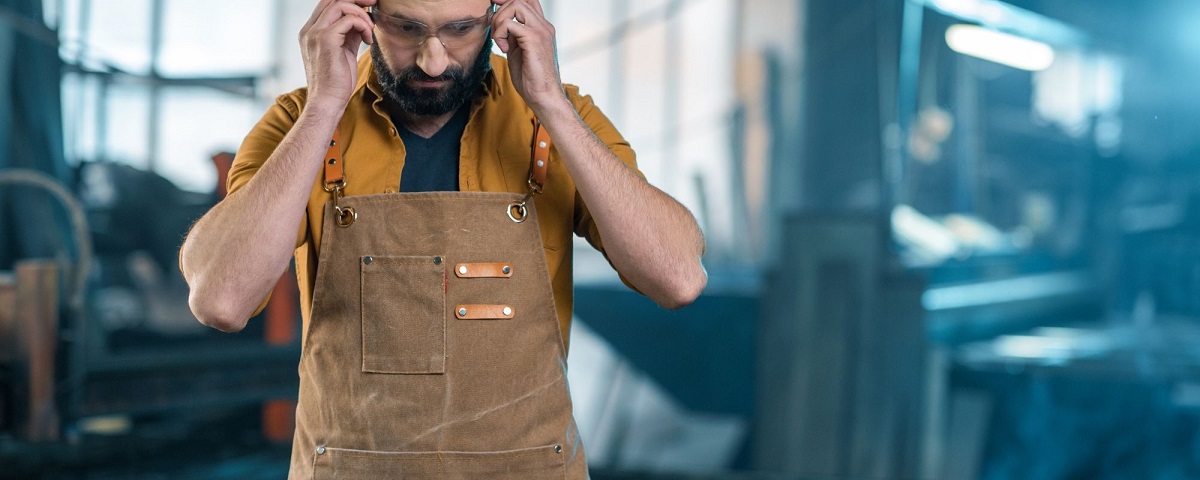 Top 8 Blacksmith Apron Types & Best Models in 2022 (+Buying Guide)
Appropriate blacksmithing tools are an integral part of both professional and amateur blacksmiths. But one of the most critical pieces blacksmiths need to ensure their safety is the blacksmith apron.
Although these might seem insignificant compared to other heavy-duty equipment, blacksmith aprons can protect you from hazardous situations caused by the blazing furnace and sparks. Therefore, it is essential to have one before you start knife making, farrier work, or similar tasks that involve working near a furnace.
No matter if you are a professional blacksmith or a young padawan who wants to master the art of craftsmanship, a blacksmithing apron is a must-have item. In this article, we'll show you the 8 best forge apron styles worth purchasing in 2022, including a brief buying guide to picking the best-in-class blacksmithing ally.
Do I Need a Blacksmith Apron?
Blacksmithing is an ancient profession dating back to 1500 B.C. It has remained popular today when more and more people decide to learn it for a hobby or more profitable reasons. Even the Medieval blacksmiths wore leather aprons to protect themselves from the furnace, which speaks a lot about its role in modern blacksmithing.
Therefore, you do need a blacksmith apron. Like blacksmithing gloves, aprons are critical protective gear that safeguards your skin from cuts, burns, sparks, and other potentially severe injuries this activity might cause.
How to Choose the Best Blacksmith Apron?
The best blacksmith apron must be comfortable, protective, and with room to keep your necessary equipment close at hand. Although not wearing an apron gives you more freedom of movement, it is not the best option unless you want to end up with burns and scars.
Here are the 5 firsthand tips for picking the best blacksmith apron to get the ultimate protection from fire and sparks.
#1 Choose Between X and Y-Strap System
X and Y refer to the strap system responsible for holding the apron on. While an X-strap system places the apron weight on your shoulders, a Y-strap system ensures your hips bear a bigger portion of the weight. Both strap systems are pretty convenient for those who work in the shop, delivering the utmost comfort without causing strain or neck pain.
#2 Consider the Type of Leather
Blacksmith aprons go beyond an aesthetic detail that prevents your clothes from getting dirty. Since they are designed to handle dangerous situations, always consider leather material when shopping for one.
Note that not all leathers are created equal. Here are the things worth considering:
Chrome-tanned leather: Chrome-tanned leather is tanned with chromium salts, resulting in softer leather. These aprons are often oiled to achieve a super-soft feel.
Oil-tanned hides: These are also tanned using chromium salts but are infused with oils. They are slightly stiffer than and heavier than the previous type.
Top-grain leather: This leather type features a denser and more fibrous epidermis layer for greater protection and increased apron longevity.
#3 Pay Attention to the Apron Thickness
A blacksmith leather apron shouldn't be too firm or heavy – that way, it will be too uncomfortable. On the other hand, a 2-3-ounce-thick leather apron might be too soft. Therefore, always look for an apron that's 5-6 ounces thick – such a level of thickness provides excellent protection, flexibility, and comfort.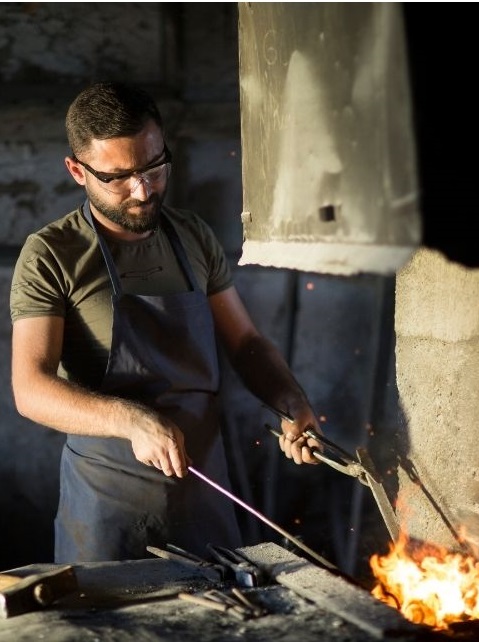 #4 Ensure the Apron Fits Well
The most comfortable apron is the one that fits you well. To ensure you're getting the best fit, go for the apron with adjustable and fully removable straps based on your shirt size. If you buy a blacksmith apron that doesn't suit you, you're less likely to wear it. Therefore, you are at a higher risk of getting injured.
#5 Consider Ergonomics
The overall apron feeling should be pleasant. To make sure you've chosen the right one, consider the following:
Straps: Wider straps allow to disburse the weight over a larger area, but if you prefer thinner ones, ensure they have paddings that cushion the pressure, relieving pinching.
Pockets: Pocket and tool loops are pretty convenient for keeping your tools and equipment close.
Features: Leg splits, quick release snaps, fully adjustable and removable straps, and other special characteristics contribute to the apron's overall ergonomics and convenience.
Let's take a look at the 8 best leather blacksmith aprons for the utmost performance and protection, whether you're working at a shop or learning how to blacksmith.
1. Hudson Durable Goods Work Apron
The Hudson Durable Goods Work Apron is designed to withstand even the roughest blacksmith tasks. It is made from waxed canvas and heavy metals grommets and rivets. It also features double-stitched pockets to enhance the apron's overall utility. It has cross-back straps that allow extended usage without neck cramps or strain.
Supports heavy-duty projects
Has pockets for tools and forging equipment
Cross-back straps for enhanced comfort and adequate weight distribution
Suitable for blacksmiths, gunsmiths, carpenters, etc.
Available in different colors and sizes to choose from.

Requires occasional re-waxing, which can be costly
Pockets need regular cleaning.
2. QeeLink Leather Work Shop Apron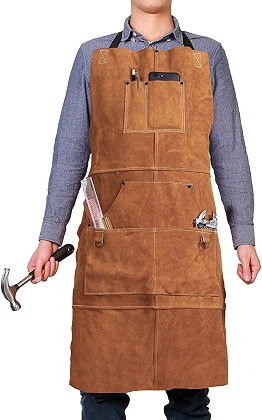 QeeLink Leather Work Shop Apron provides superior protection from heat, sparks, and other potentially dangerous situations caused by excess flame. It is made from cowhide leather, which delivers extended durability and comfort. It is suitable for everyone dedicated to welding, blacksmithing, gardening, and other work and home tasks.
100% leather for superior heat-resistance
Enhanced comfort thanks to cross-back straps
6 pockets for tools, accessories, cell phone, pencil, and other work equipment
Modern design suitable for men and women
It can be used for different purposes – from heavy-duty welding to gardening.

It's heavier than other models, affecting the freedom of movement
Pockets require frequent cleaning.
3. Safety Shop Leather Welding Apron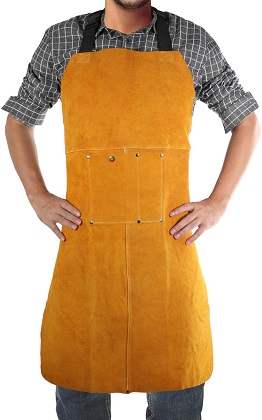 If you're shopping for mid-range blacksmith aprons, the Safety Shop Leather Welding Apron may be the best option for you. This affordable apron is suitable for different activities, including welding, gardening, grilling, and similar tasks that bring the risk of burns. You will love its unique design and color that fit most individuals.
Pockets with buttons
Adjustable, cross-back straps for maximum fit
Excellent price
Sleek design
The utmost protection from dust and metal pieces.

It's a bit heavy
One-size-fits-all design, which may not be convenient for everyone.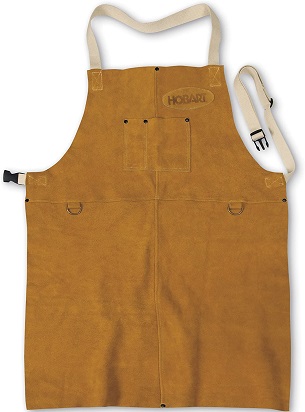 The Hobart 770548 is a small and light blacksmith apron that allows seamless movement and enhanced maneuverability. Besides, it is incredibly budget-friendly considering its quality and durable material. Due to its lightweight design, there is much less stress on your neck.
Lightweight and practical
Decent protection from dust and metal pieces
Two metal rings for tools
Cowhide split leather material with heavy-duty stitching for extended durability
Excellent choice for people on a tight budget.

It doesn't have adjustable or cross-straps
Not suitable for tall people.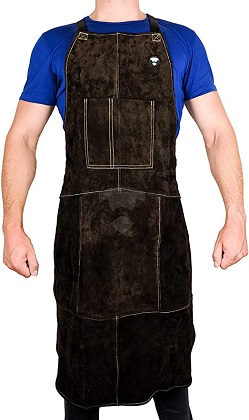 To get absolute protection from sparks and metal pieces, go for the Waylander Full-Length Welding Apron. Apart from being an incredibly protective piece of equipment, this blacksmith apron is quite stylish. This heat-resistant item is made from split cow leather that delivers high amounts of comfort and safety. It supports a broad range of heavy-duty tasks you can complete with peace of mind.
Ergonomic design for enhanced utility
Hemmed Kevlar material for added strength and flame resistance
Strong yet lightweight
Luxurious look
Large bib pockets to keep your welding equipment.

Straps are not as durable
Pricey.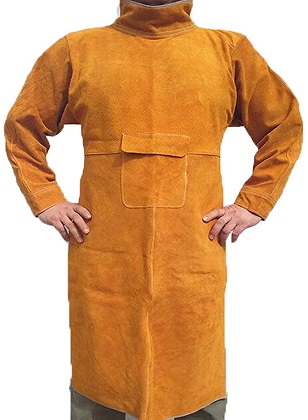 To make sure you're 100% safe from flame and sparks, go for Jewboer Heavy-Duty Blacksmith Attire, which goes beyond a typical blacksmith apron. Its long neck sleeves and the collar with a Velcro strap ensure ultimate comfort and protection while performing the most demanding welding tasks.
Full sleeves for more advanced arm and torso protection
Suitable for makers, welders, handymen, carpenters, gardeners, etc.
High-quality, heat-resistant cowhide split leather
Easy to take it on and off
Great value for money.

Strong leather smell
The sleeves are too long.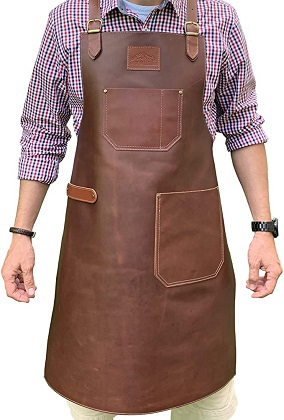 If you are looking for a durable, full-grain leather apron you can use for various purposes, the Andean Leather Apron may be your go-to choice. It is heat-resistant, allowing you to use it for grilling, welding, and other activities involving working with fire. It features a special coating that keeps the material safe from scratches and stains.
Luxurious, high-quality material
Enhanced durability
Plenty of pockets to keep your equipment close
Suitable for many different tasks – from BBQ to welding and blacksmithing
Perfect gift for men and women.

Poor quality straps
One size available.
8. Under NY Sky Cargo Ink Black Apron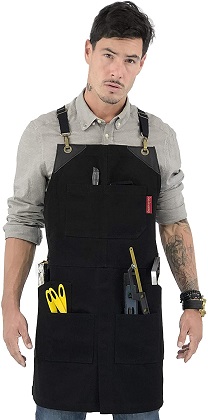 A handmade Under NY Sky Cargo Ink Black Apron is an excellent choice for both ladies and gentlemen devoted to the art of welding and blacksmithing. It is highly adjustable and adapts to your body as soon as you wear it. It gives a dose of a professional look to everyone who wears it, whether you use it for blacksmithing, bartending, tattooing, or similar.
Dry-waxed canvas for extended durability
Cross back strap design for comfort and adjustability
Extra pockets for your equipment
Professional and sleek design
Excellent for men and women.

Straps are too long and flimsy
It can be too long for someone.
FAQs
A blacksmith leather apron is a protective gear that covers the front of the body. It is usually secured around the neck and behind the waist. It provides an extra layer of security to the wearers devoted to welding, knife smithing, blacksmithing, and similar tasks. In addition, blacksmith aprons are often flame-resistant to protect from sparks and flames.
An apron is an essential part of the blacksmith protective equipment because it safeguards the wearer, preventing injuries, burns, cuts, or stains that could damage the clothing.
Anyone who works with heat, metals, steel, forges, sharp tools and objects, and similar potentially dangerous equipment should consider a leather apron. Whether you perform these tasks for a hobby or a professional purpose, you are at risk of getting injured.
Consider wearing an apron if you do the following jobs:
Welding
Blacksmithing
Bartending
Barbering
Woodworking
Metal fabrication
Carpentering
And more.