8 Best Blacksmith Hammer Options for All Your Forging Needs [2022 Buying Guide]
The blacksmith hammer is one of the basic tools for professional and beginner blacksmiths. It provides leverage and strength to shape, form, clip, and drive – enabling metal manipulation. However, not every hammer is made to fulfill all your forging needs, so it can sometimes be difficult to choose the best forging hammer.
With many shapes and styles, the most important things to consider when purchasing blacksmith's hammers are your blacksmithing needs – different types of hammers have different uses, and each style is perfectly suited for its intended use. In this text, we will explain everything about blacksmiths' hammers and the application for which the hammer will be used. Our buying guide will deal with different shapes, styles, and weights, and, hopefully, we will help you choose the best blacksmith hammer for sale.
We will provide in-depth analysis and reviews of several different hammer types available on Amazon – it offers an array of different blacksmithing hammers and the best prices.
Blacksmith Hammer Types and Anatomy
Hammer consists of the handle and the head. The head is the part of the hammer that does most of the work. This is the weighted piece that rests on the top of the hammer's handle – it gives an impact.
The face is the front part of the head (the striking part). The opposite part is called peen (or pein) and is used for shaping metal because of its reduced surface area of contact. Peen can have many different styles, so we have various types, including:
Cross Peen Hammer
They got their name from the peen that runs horizontal to the handle. The face is used for general forging, and the peen is designed for aggressive spreading operations to widen material.
Swedish Hammer
It is a local variation of the cross peen hammer – it has a more dramatic, narrower wedge. It helps create a deep, smooth cut in metals while putting a lot of weight behind the flat face.
French Hammer
Another local variant of cross peen hammers with a distinctive offset on the wedge side. It is said that this shape of the hammer was specifically invented for working on the unique metals and construction of the Eiffel tower.
Japanese Hammer
Japanese blacksmith hammer is a favorite hammer of knife makers worldwide. This type of hammer has most of its weight thrust forward to a smaller surface area than the various European styles. This shape has been used for centuries to concentrate the downward force of each hammer blow.
Ball Peen Hammer
The ball-peen hammer has a peen end rounded and is used for rounding off edged metal pins and fasteners, such as rivets. The ball face of the hammer can also be used to make gaskets for mating surfaces.
Straight Peen Hammer
These hammers have the wedge shape of the peen running vertically, parallel to the line of the handle. It is used for shaping and drawing metals in precise, specific areas that are tighter than allowed by the flat head of the hammer.
Rounding Hammer
It has one flat and one round face, as the name implies. The round face allows for drawing steel much faster than with a flat-faced hammer, so you can use it for drawing and smoothing.
8 Best Blacksmith Hammers Reviews for 2022
Now let us plunge into the world of the best blacksmith hammers.
1. Graintex CH1693 Cross Pein Hammer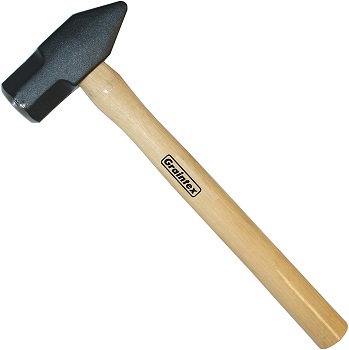 This hammer features a 16″ hickory handle and a drop forged high carbon steelhead. It is epoxy bonded, heat-treated, and tempered head.
Graintex CH1693 Cross Pein Hammer is one of the most versatile blacksmith hammers for sale on Amazon because of it is lightweight and easy to use. Finding the hammer between 2 and 3 lbs. range is ideal for beginners because you will need time to become accustomed to using it.
WHAT WE LIKED // Easy usage, Lightweight, Multipurpose
WHAT WE DIDN'T LIKE // Average driving force
2. Mustad Rounding Hammer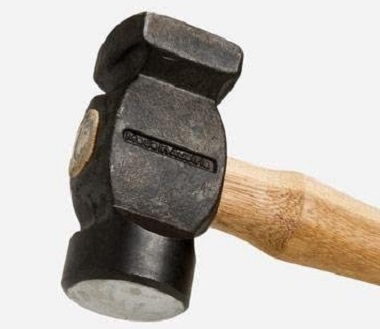 This blacksmith rounding hammer is a popular choice of the hammer to shape and tweak metal. Due to its rounded faces, it can draw out steel faster than most flat-faced hammers. Many blacksmiths consider this type a great all-purpose tool.
Mustad Rounding Hammer weighs 2 lbs. and is considered a good alternative to regular peen hammers if you want something different in your hands. After all, it all comes down to personal preference.
WHAT WE LIKED // It can create various shapes, Easy to use, Smooths
WHAT WE DIDN'T LIKE // Expensive
3. Picard Hammer – Blacksmiths' Hammer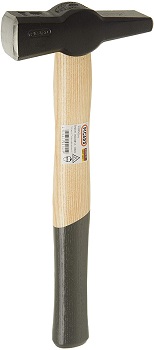 Picard Blacksmith's Hammer is designed with the user in mind, using quality material and world-class craftsmanship. It is made to withstand even the toughest jobs. It has a hardened face and cross peen, hickory handle – it is a German-made professional-grade tool.
WHAT WE LIKED // Peen is excellent at detailed work, Comfortable handle
WHAT WE DIDN'T LIKE // Lacquer handle makes it unsafely slippery
4. KSEIBI 271450 Blacksmith Machinist Cross Pein Hammer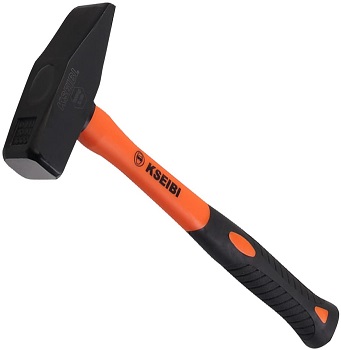 This amazing Kseibi 271450 Blacksmith Cross Pein Hammer is ideal for metal fabrication, especially if you work with angled sheet metal. It has a polished face, bevel, and pein. Fiberglass handles provide superior tolerance and breaking stress for adverse environmental conditions.
WHAT WE LIKED // Long handles enables powerful swings, Balanced and comfortable handles, No need for reshaping
WHAT WE DIDN'T LIKE // We prefer wooden handles
5. Real Steel 0506 Forged Ball Pein Hammer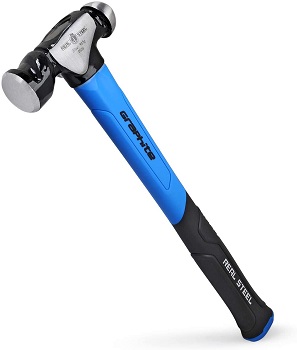 The polished head and ball pein of the Real Steel 0506 eliminates rebound and reduces hand fatigue. What is more, with exclusively profiled drop forged and heat-treated high carbon steel, it has a long lifetime to use.
Graphite core offers more strength and durability than fiberglass handle. In addition, it features a soft and comfortable non-slip textured cushion-grip for secure handling, so this makes it an amazing blacksmith auto hammer.
WHAT WE LIKED // Affordable, Funky design, Available in different sizes, Comfortable to swing
WHAT WE DIDN'T LIKE // Nothing we could think of
6. Estwing MRF4OBS Sure Strike Blacksmith's Hammer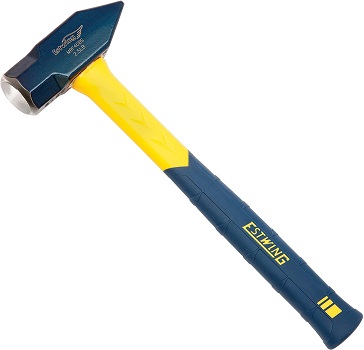 Estwing MRF4OBS is a well-balanced hammer that will never require any maintenance thanks to its fiberglass handle. The forged steel head offers maximum strength and durability for a lifetime of hard work. In addition, it is lightweight (3 lbs.), and the durable handle offers a shock-absorbency and comfortable, controlled swing.
WHAT WE LIKED // Easy to handle in a small space, Solid handle and head connection, Convenient size
WHAT WE DIDN'T LIKE // thing we could think of
7. STEELHEAD 5-Piece Fiberglass Handle Hammer & Mallet Set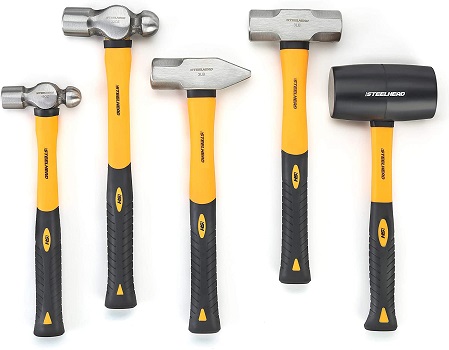 This blacksmith hammer set includes:
16oz Ball-Peen Hammer;
32oz Ball-Peen Hammer;
32oz Rubber Mallet;
3 lbs. Sledge Hammer;
3 lbs. Cross-Peen Hammer.
You will have a hammer for every job – Steelhead 5-Piece Fiberglass Handle Hammer & Mallet Set is great for demolition, metalworking, and more. Handles include ergonomic comfort-fit contoured DURAGRIP over-mold – reduces fatigue and increases leverage. This heavy-duty construction will surely stand the test of time.
WHAT WE LIKED // Just the right weights to perform a broad range of tasks, Great value for the price, Solid handles, High-quality steel
WHAT WE DIDN'T LIKE // Nothing we could think of
8. STANLEY FATMAX Hammer for Blacksmith (56-003)

This forging hammer for sale features a patented tuning fork design that reduces harmful vibration that can cause wrist and arm injuries. The ergonomic handle of the STANLEY FATMAX Hammer for Blacksmith (56-003) has a rubber grip for increased comfort and performance. It is forged and constructed from one-piece steel for increased strength and durability.
WHAT WE LIKED // Great price-to-quality ratio, Good weight, Easy grip, Excellent flat head
WHAT WE DIDN'T LIKE // Steel handle can cause elbow pain to some blacksmiths
Blacksmith Hammer Buying Guide
Here are some features you need to take into consideration when looking for forging hammer:
Hammer Type
The type of the hammer and its intended use are closely connected. For example, bladesmithing, farrier work, or decorative work will require different core types of the hammer and its function like cross peen, straight peen, ball peen, and many others. Just ensure you select the right type for whatever purpose you intend to focus on because the peen shape directly affects the final shape of the forging.
Hammer Style
Style is an advancement of the classic type with little drawbacks, so we have Swedish, Japanese, German, French ball-peen hammers, and many other styles. You may ask which style is the best? Well, we recommend that you choose whatever style you find most comfortable, easy to use, appealing, or economical. Find out how comfortable and how well a hammer fits and works in your hands – at the end of the day, it is the most important factor.
Hammer Weight
Most popular hammers are lighter; for example, if weighing between 2-3 lbs. they will not stress your arms or affect your movement. In addition, you will have a sense of control – novices will be allowed to hone their hammering skills without being limited with the hammer weight.
Although lighter hammers will typically have a lesser driving force than that of the heavier hammer, they are more popular "all-purposes" forging power hammer.
Blacksmith giant hammer will serve when you need to flatten a larger amount of material and have a professional-level skill.
Easy Usage
Another factor to consider before buying the best hammer blacksmith needs is its easy usability. Depending on the strength and the level of skill of the individual, some types and styles can be more difficult to use.
An ergonomic handle can add a lot to the easier usability and also prevent injuries. We also recommend a wooden handle because they provide great heat protection. In contrast, fiberglass or plastic handle do not tolerate proximity to the fire.
The handle length plays a significant role in comfortability during forging. Some blacksmiths prefer longer handles; others prefer shorter ones. The best way to figure it out is to test it – so we will not dwell on it too much.
Hammer Price
High-quality hammers can be really expensive, but they will certainly last longer. This is because they are made of high-quality materials, and their manufacturers do their best to make up for the expense by providing the best quality hammer. But, unfortunately, they are also much harder to find than their affordable counterparts.
Lower quality hammers are usually a lot cheaper; however, they can easily wear off or damage. In that case, the return of an investment will certainly be lower.
Leading Brands
Estwing Manufacturing Company is an American manufacturer of hammers, axes, and other tools, founded by Swedish immigrant Ernest O. Estwing in 1923. The company is headquartered in Rockford, Illinois. It makes products that are constructed of a single piece of hardened tool steel.
Picard Hammer is a German company founded in 1857 by Johann Hermann Picard. The experience is gathered over many decades to fulfill every customer requirement. The company tries to satisfy the users of Picard tools with the aim to become their long-term partner.
Ernst Enders founded Nordic Forge Inc. in 1885 under the name Original Enderes. The company was renamed Nordic Forge Inc. in 1976. A year later, they began experimenting with horseshoes, adding to their line of a puncher, nail pullers, wrecking bars, blacksmith hammers, and many other tools.
Stanley is a company founded in 1843 by Frederick Stanley. For more than 175 years, they continue to introduce new and innovative products trusted worldwide for accuracy and dependability. Their most popular product is FatMax Anti-Vibe Hammer.