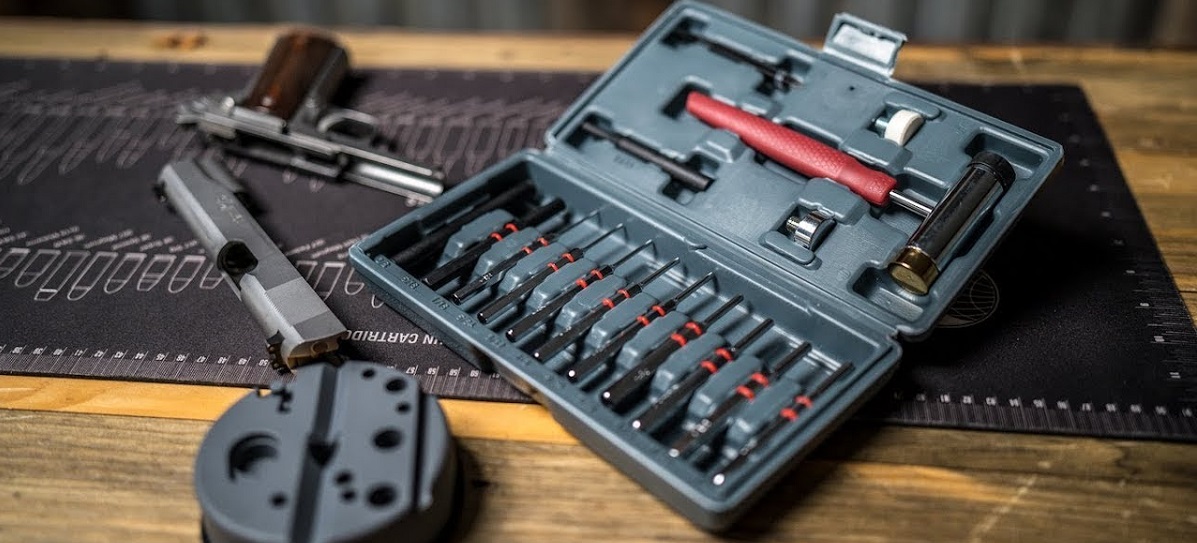 Gunsmith Punch Set: A Complete Buying Guide + 5 Top-Flight Kits to Buy in 2022
Passionate gun lovers and those working with firearms on a daily basis need the best gunsmith punch set to remove various types of pins. Thanks to a wide variety of choices available on the market, you can choose the gun punch set for your unique needs and budget.
Gunsmithing punches can help you extend your firearm's lifespan and prevent potential damages to your gun. These kits are available in different materials and types and are suitable for various purposes. Although you're not a professional gunsmith, you'll need a tool like this one to keep your gun at its peak performance in the long run.
We have prepared a comprehensive buying guide to help you choose the best gunsmith punch set for your particular needs. Besides, we've chosen the top 5 kits you can buy on Amazon.
Gunsmith Punch Set Materials
Gunsmith punch sets come in different materials. That said, you can find a broad range of steel, plastic, or brass items that can help you with different types of pins.
Steel Punches
Most punches for gunsmithing are made of steel, and such items are excellent for taper pins and roll pins. However, you need to use them carefully as harsh movements may scratch your firearm. To prevent any damage to your gun, it's recommended to cover the area around the pin with masking tape. That way, you're less likely to scratch the gun's surface even if the punch slips.
You can use steel gunsmithing punches for the following pin types:
Taper pins: Since these pins are difficult to remove, steel punches are the best choice to address them. Taper pins are commonly found in AR-pattern rifles, as they hold the front sight block into place.
Stubborn/Long pins: Some pins won't move when using a brass punch, meaning that they require steel punch in order to be removed efficiently.
Roll pins: Roll pins look like a tiny cylinder that has a small gap in the middle. To remove or reinsert these pins, you'll need a specialized steel punch.
Plastic Punches
Plastic punches come in handy when you're working with takedown pins, similar to those found on AR-style rifles. You can also use them on drift sights if they aren't too stubborn. Unlike steel punches, which may damage your gun, the plastic kits are less likely to scratch the firearm's surface. However, plastic items cannot withstand heavy-duty tasks.
Most plastic gunsmith punches are made of Delrin or nylon. While these materials are durable, they are prone to dirt buildup, which could scratch the firearm's surface if not cleaned properly. To avoid that, make sure the ends of your punches are clean.
Brass Punches
Brass punches are the most versatile, and therefore the most commonly used items for repairing or modifying firearms. They are softer than their steel counterparts, meaning that they're less likely to damage your gun.
However, brass punches usually can't remove stubborn pins due to their overall soft design. For that reason, they tend to deform once they come into contact with a stuck pin. While this won't damage your gun, you may lose a lot of money trying to address stubborn pins with brass punches. To avoid unnecessary costs and time-consuming activities, opt for steel punches.
Brass punches are commonly used for:
Antique/valuable firearms: Brass punches come in handy when you need to remove pins from high-value or heirloom guns because they are less likely to damage the firearm's finish.
Drifting sights: It's recommended to use brass punches when installing or adjusting iron sights since they won't cause dents or scratches.
Gunsmith Punch Set Types
There are several types of gunsmithing punches suitable for different uses and expertise levels. The most common are:
Drive Pin Punches
Drive pin punches are among the most commonly used gunsmithing punches. They are made of solid pieces of metal with a handle that tapers into a shaft. Drive pin punches are available in different lengths and diameters to match pins of various sizes, and you'll notice that most of them are made of either steel or brass.
Roll Pin Drive Punches
The gunsmith roll pin punch set has a round ball-shaped end that ensures that the roll pin doesn't cave in when driven in and out of a gun. These punches come in steel and brass materials, but we highly recommend using steel ones.
Roll Pin Starter Punches
Roll pin starter punches are much shorter than their drive counterparts. They also have a round ball-shaped end that prevents damage to the pin, and their shorter design makes them harder to bend. It comes in handy when dealing with a stubborn roll pin.
Roll Pin Holders
Roll pin holders can make it much easier to reinsert roll pins. Thanks to their concave end, you can insert the roll pin into the firearm without using pliers to squeeze it.
Starter (Solid) Punches
Starter punches, also known as solid punches, are spike-shaped items with a wide striking point on one end and a blunt point on another. Their strong design makes them highly efficient at eliminating stubborn pins. They can be made of either brass or steel, but the latter option provides better results.
Center Punches
Center punches are slightly different than drive punches, especially since they're commonly used to perform staking operations or mark where the hole's center should be. Center punches are a go-to choice on AR-style firearms as they stake the castle nut and prevent it from loosening when firing.
Gunsmith Punch Set: Buying Tips & Considerations
Purchase Pistol Punch from Reputable Brands
Whenever you're unsure about your choices, go for reputable brands in the industry. For instance, users recommend names like Grace USA, Starrett, Mayhew, Brownells, etc.
Distinguish Between Cheap and Heavy-Duty Punches
While trustworthy manufacturers offer high-quality products made of steel or brass, some lower-grade gun punches are made from cast metal. Although they can be strong and durable, punches made from cast metal aren't usually produced using the best manufacturing techniques. As a result, they are cheap and prone to premature breaking.
Purchase Duplicates
Punches are generally prone to breaking, especially the tiny ones. For that reason, it's recommended to keep a backup choice on hand in case your primary tool breaks. That way, your workflow won't be disrupted.
Keep Your Punches' Ends Functional
After you've used your gun punches for a long time, their ends may start to deform. Therefore, they won't perform as well as they used to, which is why you might not be satisfied with the result. To prevent premature end damage, try to keep the punches straight when you're using them.
Utilize a Bench Block
A bench block can make it easier to use gunsmithing punches as they hold your workplace stable. If you don't have a bench block, you can use a thick roll of duct tape. The tape's adhesiveness will prevent slippage, allowing you to do your work smoothly.
Work on a Steady Surface
Working on a steady surface is of vital importance when using gunsmithing punches. If your workspace is wobbly, you won't be able to transfer enough energy to what you're doing, losing the chance to complete your task successfully.
Best Gun Punch Kit in 2022: Top 5 Choices Worth Considering
1. TEKTON Gunsmith Punch Set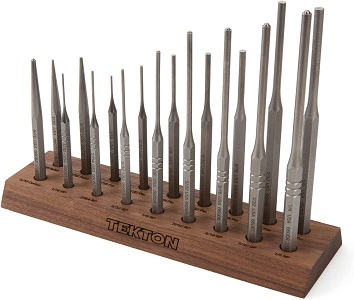 TEKTON Gunsmithing 18-piece Punch Set is a very well-done item that's popular among passionate gun lovers. Aside from its aesthetically pleasing design and nice packaging, this gunsmith punch set is high-quality, and you can expect it to work very well. The punches feel good, and since they feature high carbon heat-treated steel, they promise peak performance in the long run.
This gunsmith pin punch set includes 18 pieces with four punch styles – pin, solid, roll pin, and center. That way, you can use the kit for different purposes and do your tasks efficiently without worrying that the punches would get stuck in pinholes. The pieces are strong and refined, and their premium high-carbon steel ensures durability and long-term use.
Another perk that users love is the walnut bench block, which is included in the kit. It helps you keep your stuff organized and in place. Although it's generally good, this kit is not professional-grade. So, if you're searching for a set for more heavy-duty tasks, keep looking.
PROS// Corrosion-resistant punches; Made in the USA; Walnut bench block included; Great quality for the price; Each punch is individually heat treated.
CONS// The punches' ends will mushroom soon.
2. Grace USA Gun Care Tool Set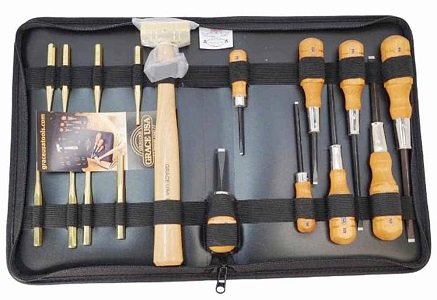 Grace USA Gun Care Tool Set is a 17-piece is a gunsmith brass punch set that delivers quality and convenience to all gunsmithing aficionados. It includes 8 hollow-ground screwdrivers with nicely done hardwood handles, an 8 oz brass hammer, and 8 brass pin punches. Overall, it's an excellent choice for those seeking premium materials at a reasonable price.
This gunsmith hammer and punch set comes with a vinyl pouch to keep your tools organized and protected from potential damages when you're not using them. The pouch is quite compact, and it allows you to carry it in your backpack or glove compartment. Therefore, it's suitable for completing projects outside of your home.
Although this kit tends to be smaller than other choices on the market, it still offers excellent quality and performance you'll notice as soon as you start using the tools. The punches are made from 100% brass, which is why they're much softer than their steel counterparts. For that reason, avoid using them on steel pins, as they'll tear up pretty quickly.
PROS// Premium-quality punches; Brass hammer included; A 17-piece set in a vinyl pouch; Excellent customer service; Polished design.
CONS// Questionable durability due to 100% brass.
3. Starrett Drive Pin Punch Set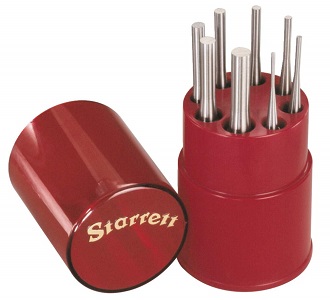 According to the customers, the Starrett Drive Pin Punch Set is the best general-purpose gun punch set on the market. It is an 8-piece set with a metal shank on one side and a metal pin driver on the other end. The steel construction ensures long-term durability, while a convenient storage case allows you to keep your tools well organized.
The overall steel material ensures better wear resistance and incredible strength. Therefore, it's less likely to fracture than its plastic or brass counterparts. You can use it on stubborn pins, but make sure to wear safety goggles when you're working.
Starrett is a reputable name in the gunsmithing industry, and you won't go wrong with a product like this one. The punches are well-crafted and easy to use, and the overall quality makes it professional-grade. For that reason, it's a bit expensive.
PROS// Professional-grade kit; Steel punches; High-quality; Suitable for heavy-duty tasks; Made in the USA.
CONS// A bit expensive for non-professionals.
4. Real Avid Gunsmithing Tools I Hammer Set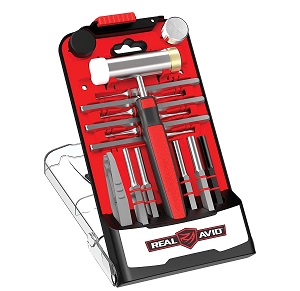 Real Avid Gunsmithing Tools and Hammer Set is designed for firearm disassembly, repair, and custom builds. The set includes several punches to install and remove solid pins, and a broad selection of different lengths and diameters allows you to complete different projects without purchasing separate tools.
The set also comes with an adjustable gunsmith hammer with four interchangeable head tips. This feature delivers metal, brass, nylon, and soft hammers in one. This Real Avid gunsmithing pouch is reliable and incredibly versatile, ensuring maximum precision when dealing with tricky tasks.
You won't go wrong with the Real Avid kit for many reasons. Aside from containing essential gunsmithing tools in a single package, this set allows you to disassemble, maintain, and customize your firearms pretty efficiently. However, some customers claim that punches are not the best quality.
PROS// Top-quality hammer included; Pin alignment tool that prevents damage; A complete gunsmithing tool kit; Gunsmith punch set made in the USA; Reliable and well-balanced.
CONS// Soft steel punches prone to bending.
5. W WIREGEAR Gunsmith Punch Set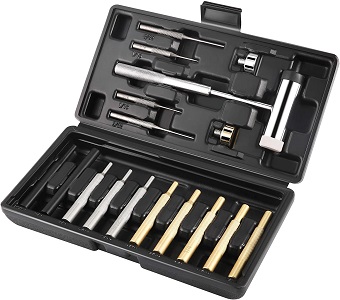 An affordable yet complete W WIREGEAR Gunsmith Punch Set has gone through a lot of improvements, which is why it's worth mentioning. The set comes with a highly efficient hammer, whose head is stronger and heavier, making it easier to perform your gunsmithing tasks. One end of the hammer is made of brass, while another features steel material – and both ends are detachable.
The punch set is pretty durable and strong compared to other brands, and it allows you to tackle different tasks with maximum efficiency and precision. The kit includes several punches of various lengths and diameters, delivering the utmost versatility in dealing with different tasks.
The punches are designed to match different types of guns, and the kit comes with brass, steel, and plastic punches. The punches are sturdy, but the truth is that you can't expect the best quality considering the set's price tag. Still, you get to enjoy a pretty decent experience with this item.
PROS// Affordable; Punches are suitable for different types of guns; Storage case included; Stellar customer service; High-quality hammer.
CONS// Not a premium-quality set.