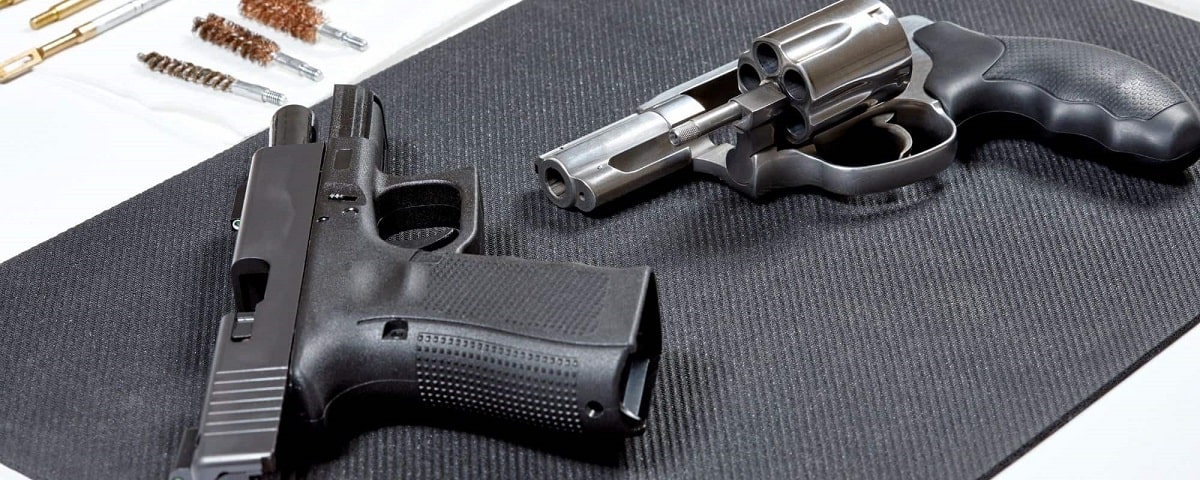 Best Gun Cleaning Mat: How to Choose It and Top 6 Picks to Consider in 2022
| | | |
| --- | --- | --- |
| Best Magnetic | Best Value | Extra Large |
| | | |
| | | |
| | | |
| | | |
Hunters and firearm owners how important it is to have a gun cleaning mat. It is an essential part of your gun maintenance, as its role is to protect the surface on which you're cleaning your weapon.
No matter how precise you are, sometimes you may go overboard with the solvent or damage the table while trying to remove stubborn dirt. If you don't have a dedicated gun-cleaning space in your home, a gun mat is a way to go. It protects your kitchen table, counters, and other common areas from excess oil or gun cleaning solvent, keeping them safe from scratches and gouges.
Gun mats are inexpensive yet efficient items any firearm owner should have. If you don't know how to choose the best quality one, you're in the right place to learn more about the gun mat's features and characteristics worth considering while buying one.
Keep scrolling to discover the best gun cleaning pad mat in 2022 and start cleaning your weapons with peace of mind!
Top 6 Gun Cleaning Mats to Buy in 2022
Are you ready to stop making a mess and switching to a tidier gun maintenance method?
1. Best AR 15 Gun Cleaning Mat: UsefulThingy Gun Cleaning Mat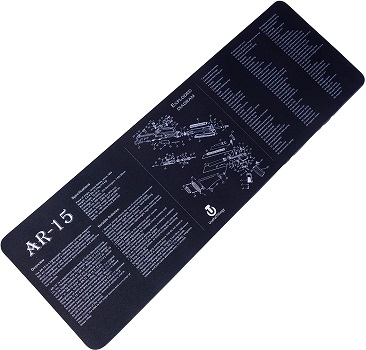 Size: 36.02 x 12.01 x 0.12 inches | Material: Absorbent neoprene base with embedded graphic ink. | Firearm type: Rifle
If you are looking for the best gun cleaning mat for your AR 15, look no further than the UsefulThingy Gun Cleaning Mat. It is big enough to accommodate most firearms, and you will love its neoprene material that soaks up oils and solvents. It is easy to clean and roll-up, making your gun maintenance process more convenient.
This impressive gun cleaning mat offers the utmost protection from scratches and damages while preventing liquids from accessing your furniture. Besides, this item is highly portable, meaning that you can carry it easily wherever you are going.
According to customers, the only drawback of this product is its size. Most of them agree that this mat would be better if it were a bit longer, which would give them more room to place the gun's parts and clean the rifle more conveniently.
Overall, this UsefulThingy's product is incredibly durable and resistant to oil spills and scratches.
PROS// Absorbent material; Multifunctional; Sturdy and well-made; Easy to clean.
CONS// It could be a bit larger.
2. Best Value for Money: Drymate Gun Cleaning Pad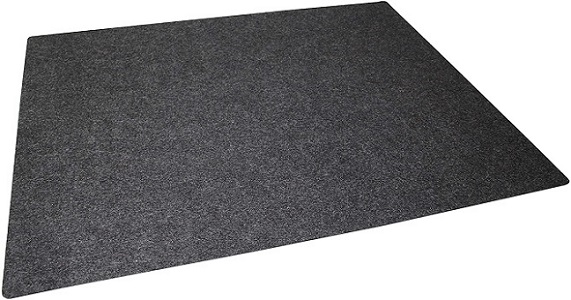 Size: 16" x 20" | Material: Patented Drymate material that absorbs and contains liquids. | Firearm type: Universal
If you don't want to spend loads of money on a gun cleaning mat, we suggest the Drymate Gun Cleaning Pad. It is an affordable yet efficient pad that protects your workbench from oil and solvent spills, keeping it safe from damages and scratches.
This USA-made gun cleaning mat features absorbent material and waterproof backing, specifically designed to protect your surfaces from permanent damages caused by accidental chemicals spills. The fabric wicks away moisture, preventing stains. Additionally, the mat is machine-washable, which makes it incredibly easy to clean. Still, customers would like the mat to be slightly thicker.
In general, this product provides great value for money, and it's worth checking out.
PROS// Easy to clean; Slip-resistant and waterproof backing; Made in the USA; Enough space.
CONS// The mat is too thin.
3. Extra Large : Sage & Braker Gun Cleaning Mat
Size: 69" x 16" | Material: Waxed canvas, heavy wool, and thick leather. | Firearm type: Hunting weapons
Cleaning large hunting weapons requires more space to place the firearm and all its parts. And Sage & Braker Gun Cleaning Mat is all you need for that. It is made from the highest-quality materials that keep your surface and firearm safe from chemicals and sharp objects.
This large gun cleaning mat is also overstuffed, which makes it thick enough to withstand any pressure. Therefore, you can rely on it to hold all of your cleaning gear without problems. It is also quite practical, mainly since all you need to do is buckle it down with the leather straps and carry it wherever you want.
Although this rifle cleaning mat has top-notch characteristics, many users don't like the fact that it is made in China.
PROS// Large gun cleaning mat; Versatile; Classic, aesthetically pleasing look; Top-notch protection.
CONS// The product is made in China yet has a hefty price tag.
4. Best Glock Gun Cleaning Mat: TekMat for Use with Smith & Wesson M&P Shield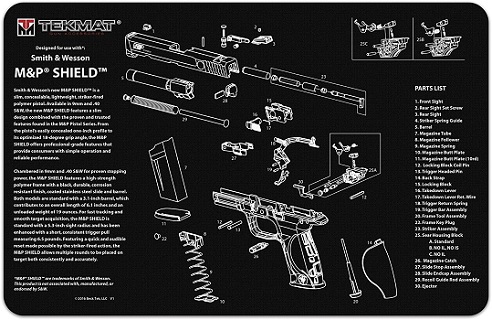 Size: 11 x 0.13 x 17 inches | Material: Soft polyester and the neoprene rubber backing. | Firearm type: M&P Shield and Glock Gen5 pistols
If you are searching for the best cleaning mat for your handgun, this TekMat gun cleaning mat is a way to go. It features an entertaining and educational design that provides clear instructions on how to disassemble your gun correctly.
It provides sufficient space for your firearm, its parts, and the entire cleaning gear. It is thick enough, and you won't have to worry about damaging your workbench or the gun itself. It is also quite practical and easy to store – just roll it up between uses and store it anywhere you want.
Many customers claim that this gun cleaning mat is not suitable for Shield, despite being advertised so.
PROS// Well-made; You can use it as a mouse pad; Soft, oil-, and water-resistant; Suitable for Glock owners.
CONS// Not convenient for M&P Shield, although the advertisement says so.
5. Best Magnetic Gun Cleaning Mat: Real Avid Universal Smart Mat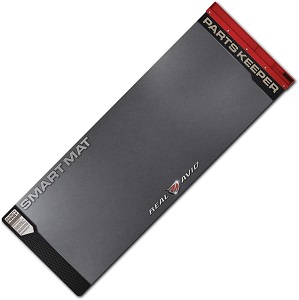 Size: 17.2 x 3.46 x 2.24 inches; Material: Treated rubber/foam | Firearm type: Universal
Real Avid Universal Smart Mat is the best-rated gun cleaning mat Amazon has to offer. It promotes a more organized gun cleaning, allowing you to keep all your tools in one place, reducing the risk of losing them. It also has a parts tray with a small magnetic section to store your pins, springs, and other parts.
One of the best things about Real Avid Universal Mat is the fact that it works on most surfaces, from workbench to kitchen tables. In addition, its non-slip backing ensures the mat won't move around but stays firm on the surface while you're cleaning your weapons.
According to the customers, most of the drawbacks are associated with product delivery. Namely, most of them have received a faulty product with missing parts. Other gun mat's features are as described.
PROS// Magnetic; Large; The attached parts tray to stay organized; Oil- and solvent-resistant.
CONS// Some customers claim the mat is too thin.
6. Best Gun Cleaning Mat for 1911: Pinty Handgun Cleaning Mat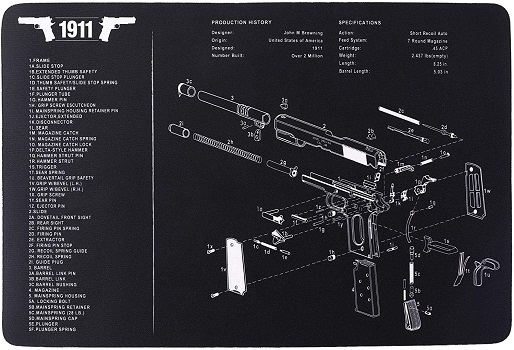 Size: 16.77 x 11.22 x 0.51 inches | Material: Waterproof jersey fabric and natural foam rubber. | Firearm type: Handgun
The Pinty Handgun Cleaning Mat is one of the best gun cleaning mats with diagrams that provide simple instructions for disassembling your 1911 pistol. This rubber gun cleaning mat is thick enough to offer a solid surface to maintain your handgun and all its parts with ease.
Its high-quality performance allows you to reuse the mat multiple times. All you need to do is wipe it down after each use. It will protect your tables and counters from oil and solvent spills, while an easy-to-follow diagram will lead you through the pistol cleaning and disassembling process more conveniently.
However, most users are not satisfied with this gun cleaning mat's durability.
PROS// Contains diagram; Thick; Budget-friendly; Decent quality.
CONS// It is not as durable.
Choosing the Best Gun Cleaning Mat
Not all gun cleaning mats are created equal, although most of them can help you get the job done. However, look at the following factors to ensure you're picking the right gun cleaning mat:
1.      Size
When choosing a gun mat, size is an essential factor to consider. That said, you need to ensure it covers the surface area on which you're working, protecting it from oils and potential damages.
To choose an ideal gun mat size, you'll need to measure the size of your gun. If you possess several weapons, go for a mat that fits the largest one. Besides, bigger mats are more convenient since you'll need extra space for your gun parts. That way, you can go through the cleaning process more comfortably.
2.      Material
Material is another factor that plays a vital role in choosing a gun mat. It needs to be high-quality to protect your home's surfaces fully. Gun mats can be made from different materials, including silicon, plastics, rubber, bamboo, wood, neoprene, and more. Are they all good? It depends.
While some materials protect from solvent leaks, others are great for keeping the surface safe from nicks. According to most gun owners, neoprene is the most versatile solution and material of choice that meets most of their needs.
3.      Parts Bin
You cannot go wrong with investing in a gun cleaning mat with a parts bin included. This feature is excellent for those who want to keep their gun parts, especially smaller ones, in one place.
4.      Top Brand
It is recommended to choose a product regardless of the brand. That said, it is essential to go for a mat made from sturdy and leak-proof materials, even though you haven't heard of the manufacturer before.
Still, notable brands tend to offer more reliable customer support to their consumers.
5.      The Price
A higher price doesn't always mean better quality. Instead, look for the product's main features, materials, durability, and customer reviews. While sometimes it's better to invest in a pricier product, ensure you're not wasting your money on something not worth it. The cost of gun mats may vary from $9 to $245, depending on their size, materials, and features.
Why Do You Need a Gun Cleaning Mat?
Apart from making your gun cleaning process easier and more organized, the right gun mat helps you with the following:
Keep gun parts in one place: Disassembling your gun into smaller pieces may be pretty confusing, especially if you have them all over the surface. Gun cleaning mats, especially those with parts bin features, can help you keep the parts organized without the risk of losing them.
Protect your furniture: The oil and solvent you're using to clean your gun may spill and permanently damage your furniture. Luckily, a gun cleaning mat can prevent these inconveniences.
Where to Buy Plain Gun Cleaning Mat?
Amazon is the best place to buy a gun cleaning mat. Amazon provides a wide variety of products to choose from, allowing you to enjoy fair pricing, fast delivery, and receiving the package on your doorstep.
How to Clean a Gun Cleaning Mat?
Proper maintenance can help you expand your gun cleaning mat's lifespan. All you need is an old towel, a soap (detergent), and water once in a while. Besides, some products can be washed in a washing machine.
However, keep in mind that using harsh chemicals can damage your mat, affecting its embedded fine prints. For the best results, check your manufacturer's instructions and follow the guidelines.
What is a Gun Cleaning Mat?
A gun cleaning mat is a piece of material specifically designed to protect the surface while cleaning the firearms. It is often made of leak- and waterproof materials that prevent oils and solvents from damaging or staining the surface.
What is a Gun Cleaning Mat Made of?
A gun cleaning mat can be made from different materials, including rubber, nylon, polyester, and neoprene. Neoprene is the most commonly used fabric since it absorbs liquids instead of leaving them on the surface.
What Size is Gun Cleaning Mat for a Shotgun?
A pistol cleaning mat is available in different sizes, but it is often smaller than the mat designed for a rifle or a hunting weapon. For instance, you can find 16" x 11" sized mats, but if you are not sure about the exact dimensions you need, it is better to opt for a bigger item.