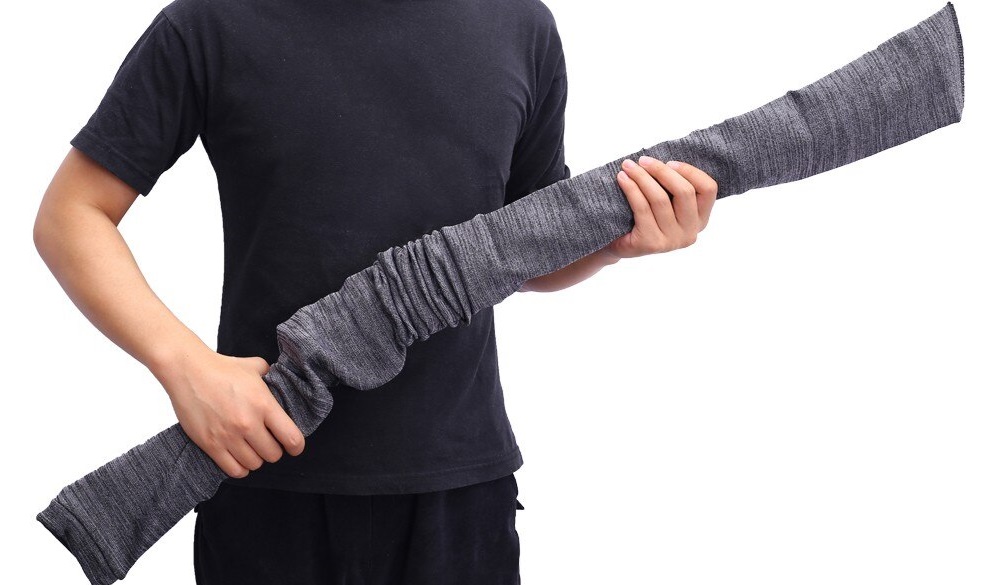 10 Best Gun and Rifle Socks for 2022 and Complete Buying Guide
Gun socks for pistols and other weapon types are the best way to ensure it is properly protected from moisture, dust build-up, corrosion, scratches, and other potential threats. It is a cloth designed to store your riffles securely and protect them from elements.
It is not a literal sock, but it once was. When the battle riffles were made of carbon steel and hardwoods, they were susceptible to rust and rot. Soldiers then used the spare socks to protect their weapons. Now, it is still issued in the modern soldier's TA-50.
The shotgun and gun socks are moisture-wicking and water-resistant. However, it is not a miracle solution that stops the rust, so you should always take steps to insulate your weapon against moisture and rust with a combination of chemical and physical protection. Using protective gun stockings will increase your gun's shelf life and ensure it serves you for a long time. In addition, they will keep your weapon in good shape for the next usage and protect it against scratches during transportation.
This article will present the best gun socks Amazon sells – it offers the largest selection of socks and the best prices.
Top 10 Gun Socks for Sale in 2022
Keeping your weapons in gun cases is the biggest mistake because it traps moisture and can cause rust. They must be kept in dry places to avoid corrosion, so silicone gun sock or silicone-infused sock is the best solution – especially if you live in a humid climate.
We have a list of the 10 best protective gun sleeves depending on the features, specifications, product value, quality, reliability, customer ratings, and reviews.
1. Allen Company Knit Gun Sock for Rifle/Shotguns

These Allen gun socks are silicone treated, 52"x 3.75" knit gun socks available in various colors. Silicone-treated knit fabric will not hold moisture, which prevents rust. It has a drawstring closure, which is great for storage in a safe, gun case, or use in transit.
It fits most guns with or without scopes up to 52″ in length. It is a great investment because of the nice quality and offers the right amount of protection for the wood and metal to keep unwanted scratches and dings away.
WHAT WE LIKED // Stretchy enough, No harsh smells, No sticky feeling
WHAT WE DIDN'T LIKE // Nothing we could think of
2. GUGULUZA Silicone Treated Knit Gun Socks (Pack of 5)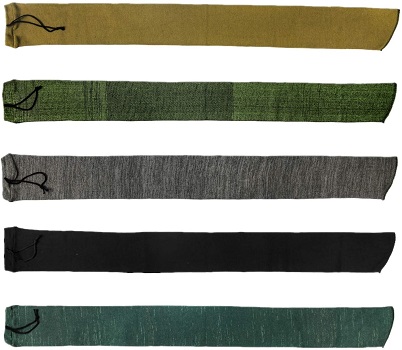 Gun socks for riffles are great for storage in your safe or trips to the range. GUGUZULA riffle sock is no different – it seals out moisture. It is constructed of high elasticity breathable soft knit polyester treated with silicone to help guard against rust, dirt, and scratches.
It comes in pack of 5, so you can choose among various colors, which is very convenient for firearm identification. You can also choose different sizes: 47''x 6''/ 52''x 6''/ 54''x 4''.
WHAT WE LIKED // Good quality, Long enough, Affordable
WHAT WE DIDN'T LIKE // Ends should open wider to accommodate larger scopes
3. Arcturus Pistol Gun Socks (Pack of 4)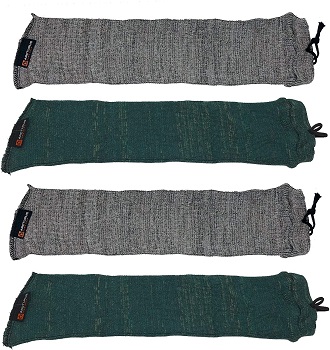 Arcturus gun socks for pistols are built with high-quality protective material. These gun socks are designed to fit the largest commercial and collector handguns; they are sized at 3.5″ x 16″ and easily stretch to fit over aftermarket sights and tactical lights or lasers. In addition, the silicone-treated fabric does not hold moisture and will help protect your gun from oxidization and rust.
Great for long-term storage and transportation or travel – they protect from scratches and dirt. They are sold in a pack of 4, so you can choose from black, gray, green, or a mix of gray and green.
WHAT WE LIKED // Finely crafted, Durable, Plenty of socks for even the largest revolvers
WHAT WE DIDN'T LIKE // Too much sock for snubbies and micros
4. GMW Knit Gun Socks (Pack of 4)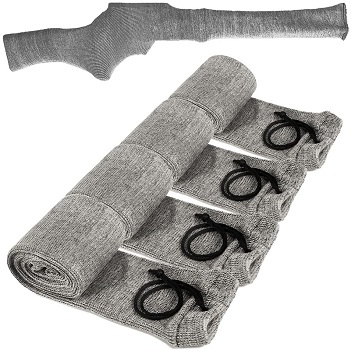 These gun socks for rifles are made with silicone-treated fabric designed not to hold moisture, protecting your firearms from gun rust even in the most humid climates. GMW Gun Socks fit and store most rifles and shotguns with 52″ x 4″ dimensions.
GMW gun socks ergonomic and roll-up sock design allows for portable and convenient gun storage, perfect for long-term, short-term, and in-transit firearm storage. It can be used in gun cases, safes, closets, bedrooms, transporting firearms, and many more.
WHAT WE LIKED // Great elasticity, Soft fabric, Fits fine
WHAT WE DIDN'T LIKE // Slight chemical odor
5. Super Ma Knit Gun Socks (Pack of 2)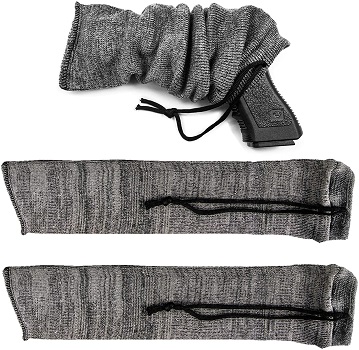 Super Ma cheap gun socks are made of quality silicone-treated material, soft and stretchable. The breathable knitted fabric keeps away moisture and rust and is great for long-term traveling or transportation. In addition, it offers effective covers for your handguns together with dust protection.
These gun socks can fit most standard-size pistol guns or handguns. They are stretchable from 14" length and 4" width. A convenient, tightly drawstring closure design prevents your weapons from dropping off. This gun sock is suitable for most standard-size pistol guns and handguns.
WHAT WE LIKED // Odorless, Soft and stretchable, Excellent price
WHAT WE DIDN'T LIKE // Nothing we could think of
6. Allen Ruger Handgun Sock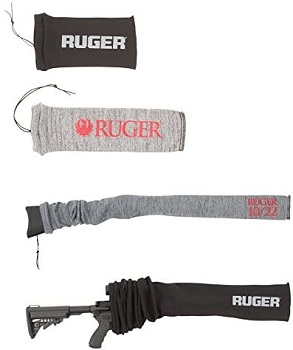 Allen Ruger sock fits most handguns up to 14″. It is made from silicone-treated stretch knit fabric that will not hold moisture and is designed to protect from pitting, dust, scratches, and rust.
It is also good for minimizing the damage of the gun's finish in case of fire – your safe will become like an oven with trapped smoke and moisture inside.
WHAT WE LIKED // Good if you want to identify Ruger in your safe easily
WHAT WE DIDN'T LIKE // Not suitable for larger Ruger frames
7. Oneleaf Gun Socks (Pack of 4)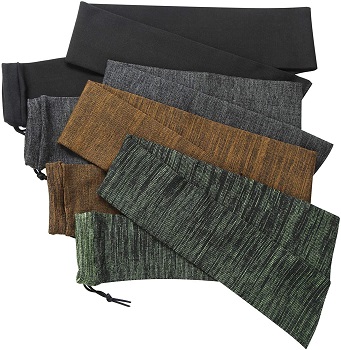 These silicone gun socks keep the moisture out, so you do not have to deal with rust on your favorite weapon. With 52" in length, this sock is made from a stretchy fabric designed to fit over scopes. There is a drawstring on the end of the case so you can protect your gun from end to end. Just scrunch it up like you are putting a sock on your foot, then slide your gun in – easy as that.
WHAT WE LIKED // Stretchy and soft fabric, Flexible for wider areas of the gun, Affordable
WHAT WE DIDN'T LIKE // Not wide enough for some riffle models, Not thick enough
8. Bore Stores Gun Sock P-3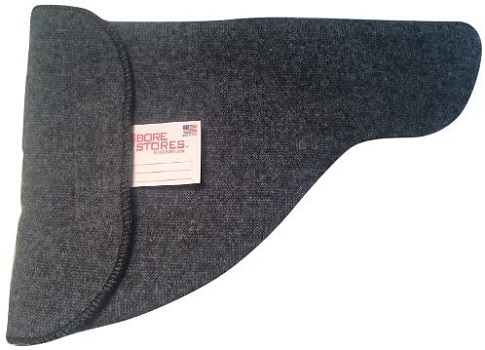 Although in the form of a case, Bore Stores gun socks are individually cut, sewn, and treated with silicone and specifically formulated corrosion inhibitors for years of storage for all types and sizes of firearms. To find the best case for your weapon, it is essential to measure the complete length and height.
They are very soft inside and do not leave a film or any residue on your hands. Bore Stores have some thickness giving them a longer lifespan and actual protection – it keeps scratches and rust off even when storing in safes or putting in cases.
WHAT WE LIKED // Convenient label tags keep your weapon organized, Reasonably priced
WHAT WE DIDN'T LIKE // Fabric not tightly woven
9. Sack Ups Socks for Pistol Care – Model 207 (Pack of 5)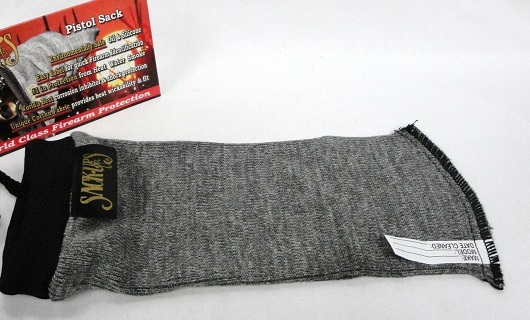 Whether used in target shooting, hunting, or as a part of a collection, Sack Ups Socks provides a defense like no other for your firearms when they are not in use. Provide your weapon the best gun socks for storage from Sack Ups because, for many gun lovers, their firearms are their most treasured possessions.
The unique wickability and fit that this product provides withstand damage such as dirt, rust, and scratches, making it a great addition to your gun care. When it comes to firearms, the value is in their performance, and the proper performance comes from adequate care. The value, protection, and safety of your firearms are adversely affected by how you care for them.
WHAT WE LIKED // Quality material, No rust on the bare steel of the guns whose original finish has been stripped off
WHAT WE DIDN'T LIKE // A little bit on the pricier side
10. TOURBON Knit Gun Socks for Mossberg Shockwave (Pack of 2)
Tourbon gun sock is an efficient and quick way to add a layer of protection to your gun while transporting or keeping it in the safe. It is a must-have for any gun owners who care about keeping their weapons in good condition. Drawstrings allow for the socks to remain in place, also allows you to wrap and stack your guns in a range bag for easier carry.
It offers excellent protection for your shockwave in a gun scabbard case or just by itself. The vertical elongation can reach 6.7″, while horizontal stretching reaches 29.5″.
WHAT WE LIKED // Closes very tightly, High-quality material, Durable
WHAT WE DIDN'T LIKE // Expensive
How to Choose the Best Gun Socks
Having the silicone gun sock is great insurance against minor dings and scratches, so protecting your gun should be a top priority. Here are some most important features you must pay attention to when buying gun socks:
Size
Whether you have a pistol or rifle gun, you need to choose the size appropriate to your gun's length and width. Make sure you measure your weapon before purchasing the gun sock.
Most gun socks are 4″ wide, so if your rifle or pistol has optics, you need to choose a 6″ wide option. For revolvers, the length usually goes up to 14″, while for riffles goes up to 56″.
Material
Do silicone gun socks work? The shortest answer would be – Yes. Let us explain.
Most of the socks are made of thick knit synthetic fabrics (polyester) padded and purposefully hydrophobic, thanks to chemical treatments. These fibers are usually impregnated with silicone, a hydrophobic polymer that keeps moisture from penetrating the fabric and making your weapon corrode. In addition, silicone will not react with metal or wood, so it is completely safe for your firearms.
Silicone impregnated polyester is cheap, durable, and difficult to tear – it is the most economical way to cover your guns.
Silicone impregnated cotton is also used, but it is a weaker material than polyester. Usually, every manufacturer has its unique cotton blend, either with acrylic or spandex, because it adds stretchability and makes sliding gun in-and-out of the sock a breeze.
Another convenient option is to 're-silicone' a gun sock using a silicone-based aerosol spray. First, you need to remove your weapon from a sock before treatment. Then, let the sock dry at least for 2 hours, and do not re-sleeve your gun until the silicone is completely dry.
Drawstring or Velcro Closure
It must be included because it allows you to tighten the weapon firmly for secure storage or transportation, preventing falling off. Bore Stores features a Velcro closure to keep the gun securely in place.
How to Store Gun & Sock
Keeping your gun from falling into the wrong hands is the best way to prevent accidents. Safe is the logical option, but you need to prepare your firearms for storage properly. Follow these several easy steps, and you will use your guns for a long time.
Deep clean your guns, apply a thin layer of oil on all metal surfaces, and wax on wooden ones.
Clean your fingerprints before storing your guns because our hands contain natural salts that can cause rust. Wipe it with a cleaner that does not contain ammonia.
Avoid keeping your guns in gun cases – use some of the abovementioned gun socks.
Limit the moisture in your safe – use a dehumidifier and hydrometer to limit and keep an eye on the humidity, especially if you live in a humid climate.
Do not overcrowd your guns during storage because of the cabinet dings. Instead, carefully plan the placement before the actual time.
Bolt your gun safe down to prevent theft.