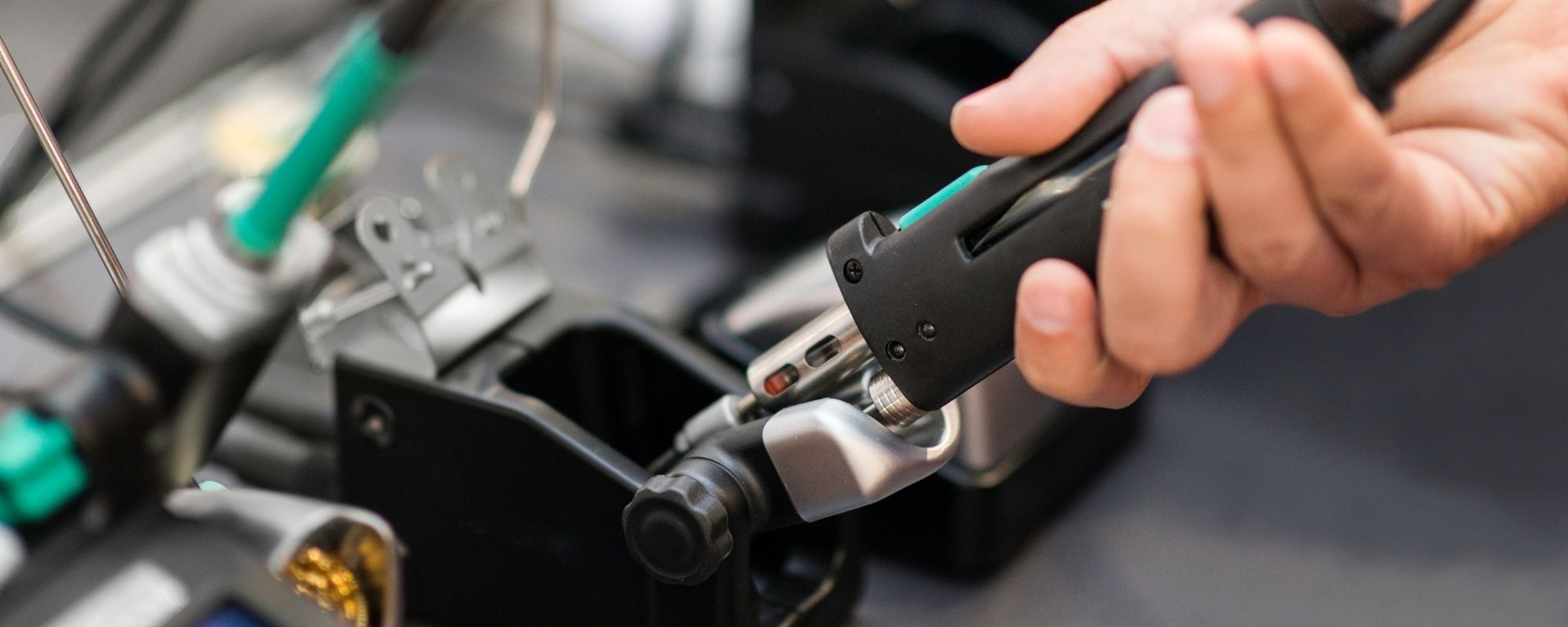 10 Best Desoldering Guns for Effective Solder Removal in 2022
Desoldering is the removal of solder from circuit boards for repair or replacement. The basic concept is simple: first, you need to heat up the solder, remove the wire or the component, and then you need to clean up the remained solder that stays attached to the circuit board.
It looks easy in theory, but it usually takes a lot of practice to be good at desoldering. The best tip you can get is to make sure to remove all the solder from a hole at once. You can desolder with several different tools.
The best desoldering tools are desoldering pump (also called a solder sucker), desoldering bulb, electric vacuum desoldering pump (in the form of a pencil or a gun). Although not a tool, desoldering wire (also called a solder wick) and special alloys are also used for desoldering.
In this article, we will deal with electric desoldering guns and present you 10 best desoldering guns on the market.
1. American HAKKO FR301-03/P ESD Portable Desoldering Tool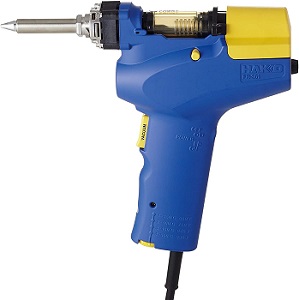 This solder removal tool is a game-changer for those used to manual sucking pumps and wick. American HAKKO FR301-03/P ESD  comes with convenient adjustable temperature. Components are clearly removed, with no ripped traces. The solder collection chamber is easy to clean, with a cleaning pin and replacement filters included in the case. Users say it needs a minute to heat up and 10 seconds to suck the solder. So simple and quick!
2.      YIHUA 948 Desoldering Station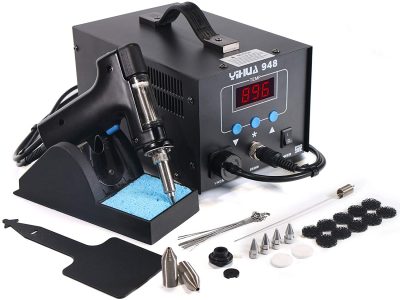 Another efficient, professional desoldering station with desoldering vacuum gun. It allows you to desolder almost effortlessly. YIHUA 948 Desoldering Station combines stabilized nozzle temperature and powerful suction to ensure guaranteed solder suction with just one hand. You can either clean or change the filter tube, depending on your rate of application.
3.      Huanyu Desoldering Gun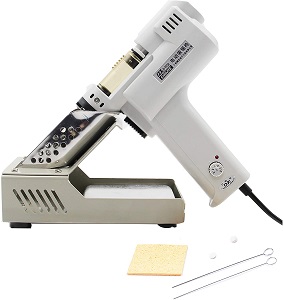 This item is actually a 2-in-1 desoldering gun, including soldering iron and desoldering vacuum pump with strong suction power, making it the only desoldering iron with an electric suction pump on this list. It quickly heats up, has a constant temperature working mode, and comes with a convenient holder so you can put it down safely.
Huanyu Desoldering Gun is a quiet electric desoldering gun with an anti-static design that prevents electronic parts from being damaged by static electricity.
4.      GLTL Desoldering Gun with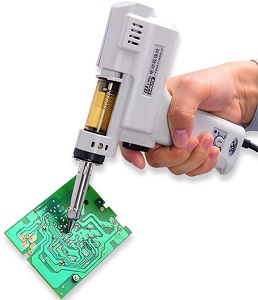 GLTL Electric Vacuum Desoldering Pump is an excellent gun with an electric desoldering pump. Easy to use and easy to clean, it is perfect for usage on a hobby basis. It is comfortable to use, with a durable handle made of silicone with anti-heat properties.
5.      YIHUA 948 ESD W Desoldering Station and Soldering Iron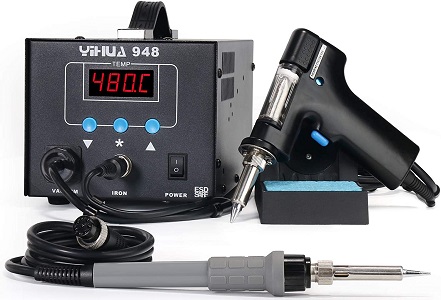 Although combines soldering and desoldering, YIHUA 948 ESD Soldering Station is worth mentioning. It consists of desoldering gun, soldering pencil-style iron, a station, and many spare nozzles, pins, filter, and filter pipes. The desoldering gun works great and is well built; so, it is easy to disassemble for cleaning.
6.      Pro Digital Vacuum Desoldering Station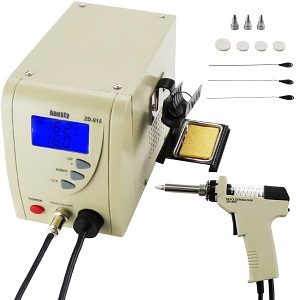 This desoldering station is designed only for lead-free desoldering. It heats pretty quickly and is suitable for the mobile phone repair industry, precision electronic maintenance industry, plug-in elements, and many others.
Pro Digital Professional Removal Rework Station ZD-915  package includes desoldering gun, a station, several spare tips, cleaning pins, and several replaceable filters. It is essential to keep the glass tube clean, but it can become scorching, so be careful when handling it.
7.      Aoyue 701A++ Dual Function Soldering and Desoldering Station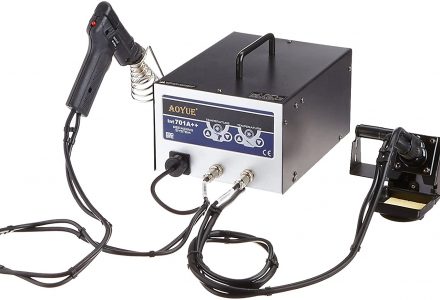 Aoyue 701A++ Desoldering Station with a Smoke Absorber is another soldering/desoldering combination. They are used mostly for desoldering through-hole components without the risk of board damage or warping. The smoke sucker is a very nice addition, and it helps to minimize the hazardous smoke by keeping them away.
It has a high-powered desoldering station with a long-life ceramic heating element and zero-crossing circuitry to prevent electrical surges, which is very helpful. The pump is very quiet; just avoid sucking up the large blobs of solder; it tends to clog the pick-up tube.
8.      Anesty LCD Digital Electric Desoldering Pump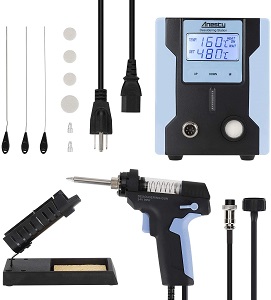 This very powerful station offers you efficient use of the desoldering gun with adjustable temperature from 320 – 896°F and a sleep function. You can easily desolder any hard soldered circuits with single-hand operation. The convenient LCD offers a switch between Celsius and Fahrenheit and a button to tune the temperature up and down as well.
Anesty LCD Digital Electric Desoldering Pump is a desoldering station suitable for various uses, from school teaching to product lines.
9.      YIHUA 948-II 4 in 1 Soldering Iron and Desoldering Suction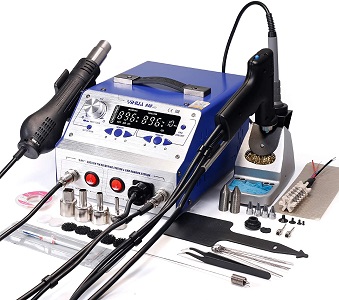 This unit contains four tools – desoldering gun, soldering iron, hot air rework station, and suction pen for more flexible uses. YIHUA 948-II 4 in 1 Desoldering Suction Station  comes with several spare parts and accessories, which is very useful to get you started. The station will preheat for about 5 minutes. It will beep 3 times when ready, so your desoldering gun will not clog due to insufficient heating.
10.      Jameco Benchpro Desolder Pump SA6-R
Although not in the form of a gun, Jameco Benchpro Electric Desolder  is definitely worth mentioning. It heats up quickly and is powerful enough for correcting the soldering mistakes on small devices.
It is used for removing relays and other components from PCBs, unsoldering old wires, resolder mechanical keyboard switches, clean alloy on various elements, and many other inaccessible areas. The sucker's tips are replaceable and have adequate heat, with a soft recoil on the solder suction.
How to Use Desoldering Pump?
Desoldering electric pump (or simply desoldering gun) has a nozzle that heats up the solder. When you press the trigger, it activates the vacuum pump that sucks the molten solder.
Plug in the desoldering gun and let it heat by setting the desired temperature.
Clean the area with isopropyl alcohol.
Place the nozzle over the solder joint, hold it in place. Make sure the nozzle is in complete contact with the solder joint. Wait until the solder melts completely.
The best way to check whether the solder is molten is to move the pin or wire with the gun's nozzle from side to side. If it moves, the solder is ready to be sucked.
When the solder is molten, pull the trigger; it will activate the vacuum pump, and it will suck the solder up.
Desoldering guns are the most useful for desoldering a large number of through-hole components. They should not be used for tiny pieces due to the risk of sucking them up.
How to Desolder Without Pump?
It is possible to desolder without the solder pump. There are few items you can use to make it easier.
One is the abovementioned solder wick. Also known as desoldering wire, or desoldering braid) is a finely braided copper wire usually coated with rosin flux. It is easy to remove the solder from any flat surface; however, it is not recommended to remove the solder from pinholes. You need to cut a few inches from the spool, put it over the joint, and place a hot iron over the wire. After a few moments, the braid will suck up the solder by capillary action. At this point, the braid can be extremely hot, so be careful when removing it. Use needle-nose pliers to minimize the risk of getting burnt.
Another way is using ChipQuik alloy. It is a removal alloy with a low melting point of 136°F. Mixing the alloy with the solder already present on the joints creates a mixture with a low melting point. Using this alloy, you can move large surface mount components that otherwise would need a lot of continuous heat to molten. The best way to use it is to apply the ChipQuik alloy to the joint, use a soldering iron to heat it, and then remove the component with a pair of tweezers or even a toothpick. After the desoldering job, make sure to thoroughly clean the solder pads and surrounding area with isopropyl alcohol.
If you are so desperate or lack an appropriate desoldering tool, you can desolder only with a soldering iron. Heat it, melt the solder joints, tap the board's side on a surface so that the solder falls off. Then remove the components by using pliers to pull them out. This option is risky because heat can damage the components or the board, especially if you reuse the parts.
Helpful Tips on Desoldering
Choose the appropriate desoldering tool for your situation.
Keep the tip of the tool and its spring clean to make it more durable.
If the board's hole is still clogged after the desoldering, just add some more solder on it and start over.
It is easier to desolder if you first snip the component off because it can conduct heat and basically waste the heat you are applying to it.
You can always apply some additional flux to the old solder to encourage the solder to keep flowing off the board.
Be careful because flux fumes are highly toxic; keep your workspace
If desoldering a large continuous area of solder, you can heat it with the soldering iron at the same time to make sure all area melts before sucking it.
Minimize the area gun's tip presses against the board as much as possible; too much heat can damage
Choose the right temperature for different situations/working areas – some boards require low temperature, while others are more heat resistant.