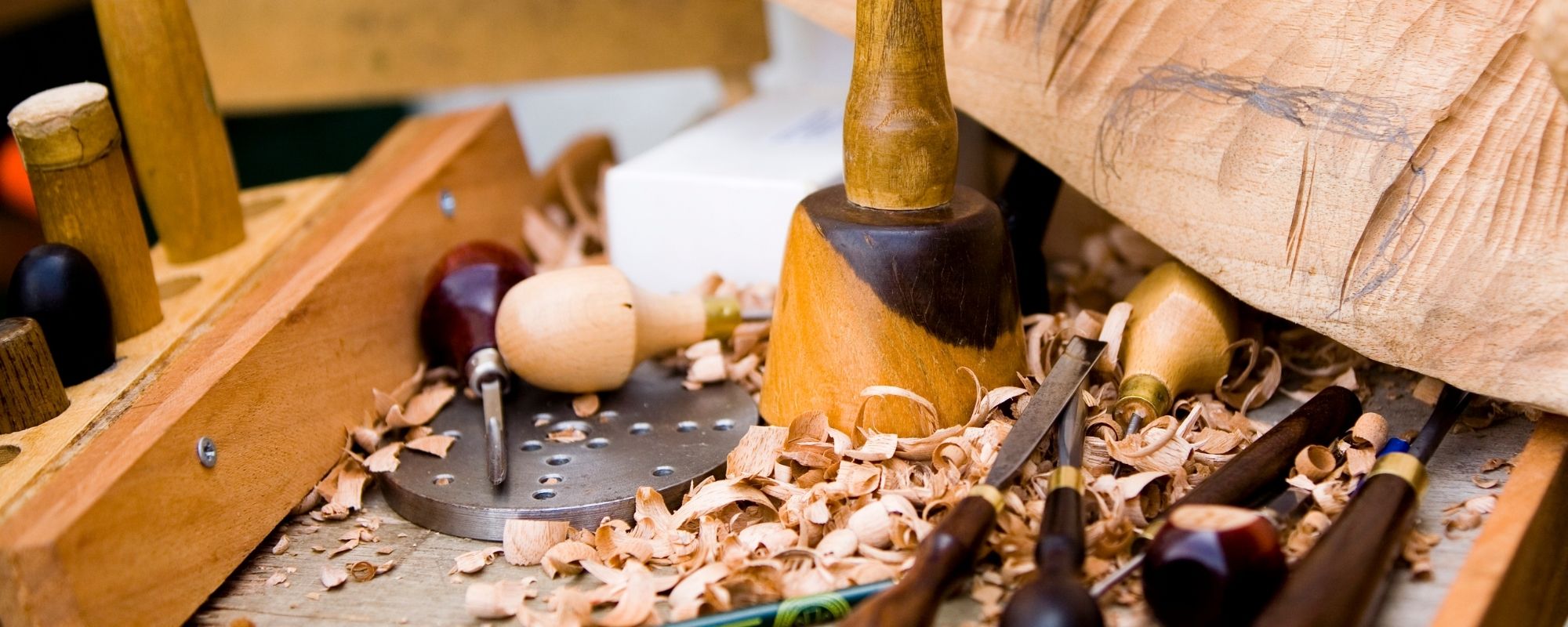 Top 20 Basic Tools for Wood Working Enthusiasts to Boost Your Creativity Level
Woodworking can be creative and fun if you have the right tool in your hands. We have two types of tools for woodworking: hand tools and power tools.



Woodworking has evolved over the past years, so we have some modern tools together with the ancient ones, which are still practical to this day. The right tools can make your project not only easier but significantly better.



If you want to start your woodworking job but not sure where to start, look at this detailed list of the best woodworking tools for any project you can think of.
Woodworking Hand Tools



Hand woodworking tools help us connect with wood on a basic level, so we have:
1.      Chisel set
A chisel is a hand tool with a characteristically shaped cutting edge of the blade on its end for carving or cutting wood. It involves forcing the blade into the wood by using a hammer or mallet.
A chisel is a tool every woodworker will use to clean out joints and saw cuts. It is perfect for wood carving, so choose those made of quality carbon steel or the chromium-vanadium alloyed steel with hardwood grips for durability.
Keep them sharp and occasionally oil the metal part, and they will last you for years.
Our pick: GREBSTK Professional Wood Chisel Tool Set ($19.99)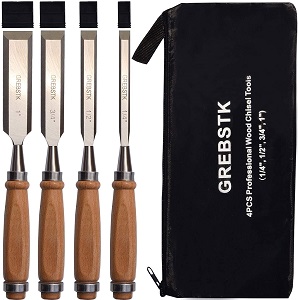 2.      Hammer and Mallet
This pounding hand tool comes in various shapes, sizes, and weights. The head is made of steel and the handle of tough wood.
Finishing hammers have a smooth head and may be your first choice because they are so handy.
Framing hammers are heavy-duty rip hammers with usually a straight claw. They are used for driving large nails quickly into the lumber.
Tack hammer is also known as upholstery hammer. They are used for small work and have two sides without claws.
Mallet is similar to a hammer, but not the same. It has a different application and is made entirely of wood. Mallets are much softer than hammers, leaving minimal striking marks, and are used mostly with chisels.
Our pick: TEKTON 16 oz. Ball Peen Hammer ($16.00)
Our pick: Steel Grip Mallet 8 Oz Hardwood ($7.13)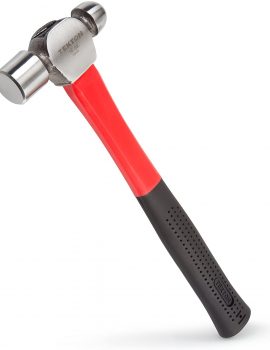 3.      Tape Measure
One of the essential tools for woodworking. There are several different types and styles.
Retractable steel tapes are the most common type. The flexible ruler with linear-measurement markings metal blade can roll back into the plastic housing. They can come in lengths from 12 to 30 feet.
Flexible reel tape comes in fabric, in lengths over 100 feet.
Folding rules are rigid measuring sticks made for high accuracy. They usually fold into multiple sections.
Our pick: CRAFTSMAN Tape Measure 25-Foot ($13.00)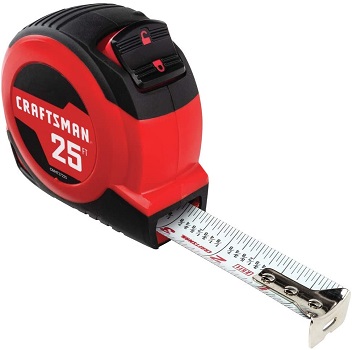 4.      Level
The level is another useful wood tool. You will probably need a couple of them to indicate whether a surface is a true horizontal (level) or a true vertical (plumb). They come in many sizes, but you will probably need an 8" level made of brass-edged wood or metal for a start.
It consists of a central vial filled with liquid with just enough room for an air bubble. The bubble will center itself between two markers when it is completely level.
Our pick: Goldblatt 3-piece Torpedo Spirit Level Set ($69.99)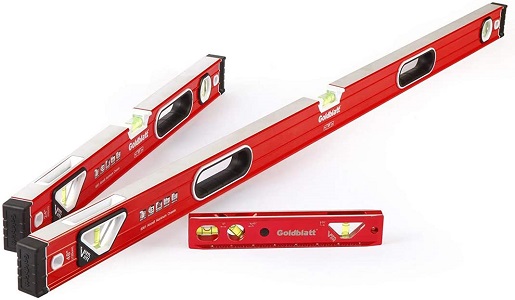 5.      Screw Driver
Choose a high-quality material used for screwdriver's construction to ensure a long life. Invest in a set of several different types of screwdrivers: flathead, star, hex-key, Torx, ratcheting, and Phillips head screwdrivers.
Make sure to choose the right size blade for the screw; for tight places, choose an appropriate screwdriver, for example, with a thin or shorter shank.
Our pick: CREMAX Professional Magnetic Screwdriver Set ($19.99)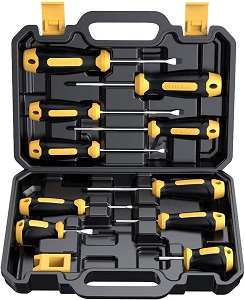 6.      Sliding Bevel
A sliding bevel is an essential tool for woodworking, precisely for marking, laying out, and checking angles. It is adjustable, and you can lock it at the angle you want to mark. You can also transfer angle on another piece.
It is composed of a handle with a metal blade attached to it. One end of the blade is rounded, while the other end is cut at 45o. The handle and the blade are connected with a wing nut which can be loosened, so the blade is free to rotate a full 360o to trace or transfer any degree.
Our pick: SHINWA Sliding T Bevel 8″ Blade ($27.99)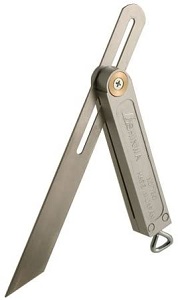 7.      Hand Planer
A hand planer is a specific tool with a wide range of uses like making rabbets, smoothing out wood, or shaving off parts of the wood. How much material can be removed at the time depends on the blade size and depth. All types of planes use fixed blades to shave off wood fibers.
There are several types to consider and investigate: rabbet planes, jointer planes, scraper planes, spokeshaves, block planes, and jack planes.
Our pick: GreatNeck C4 Bench-Jack Plane ($35.97)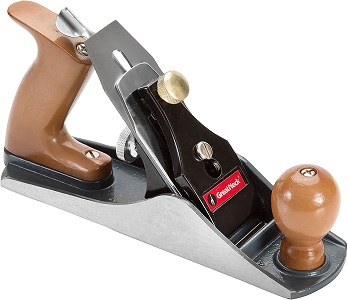 8.      Hand Files
Used for smoothing all kinds of materials, the hand file varies in size, shape, and type. Files can be a single cut, with one set of teeth, and a double cut, with two teeth set. The shape can be flat, round, square, tapered, etc.
They can be used to shape wood and make it smoother, but also some types can sharpen the blades of your woodworking tools.
If you buy quality ones, they can last a very long time. But they need to be replaced occasionally because there is no real way to maintain a hand file.
Our pick: Neiko 00109A Heavy Duty File and Rasp Set ($19.97)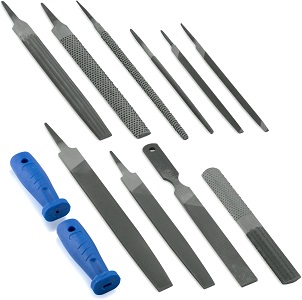 9.      Workbench
A quality workstation is essential for woodworking projects because sitting on the floor is not an option. Find a sturdy workbench, and your job would be much easier.
Your workbench can be fixed or portable, based on the amount of room you may have. A double-sided workbench is nice if you have enough space in your workshop, and shelves under the bench for extra storage place are convenient.
It can be multifunctional, for example, a work table and sawhorse with clamps and holding pegs. There are no rules about measurements or organizational systems; it can be however you want it.
Our pick: WORX Pegasus Multi-Function Work Table and Sawhorse ($119.99)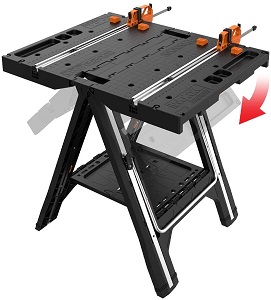 10.      Right Angle Clamp
With the right angle clap, you would be able to join two pieces of wood ideally at a 90o angle, without any help. It consists of an L-shaped arbor that pushes against an L-shaped frame via a handle that attaches to a spindle.
Just slip the pin on the clamp into a pocket hole, close the clamp, and it holds the pieces tightly together. Really handy.
Our pick: Housolution Single Handle 90° Aluminum Alloy Corner Clamp ($16.99)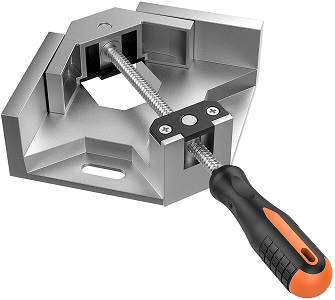 Woodworking Power Tools
Virtually any tool requiring electricity is a power tool. Here are some beginner woodworking tools using electrical power:
11.      Power Drill
When need to drill holes, a power drill is a must-have tool. There is a corded and cordless type. Consider buying a corded drill simply because they have more torque and longevity than the cordless models.
It is a versatile tool; you can buy all sorts of attachments to turn your drill into several different tools, for example, a screw gun to loosen and tighten nuts and bolts. You can also sand or polish irregular shapes by using a sanding drum attachment.
Our pick: BLACK+DECKER Electric Drill ($30.48)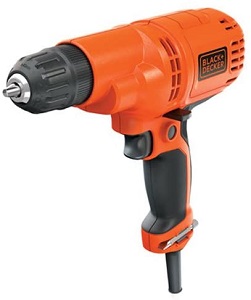 12.      Rotary tool
It is a small handheld device with a fast-spinning motor tip used for carving, grinding, honing, sanding, polishing, and even drilling wood. It accepts a variety of attachments for different tasks.
They come in different power levels, but the design is simple. It consists of the spindle that accepts the collet and the collet nut, which screws it to keep everything in place.
A compact size, versatility, and high speed make this one of the ideal tools for woodworkers. Just do not forget to turn off the tool and disconnect it from the power source when you need to change the attachment.
Our pick: SPTA Rotary Tool Kit 1.3 amp ($39.99)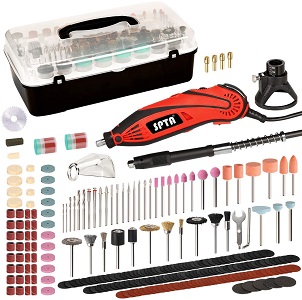 13.      Random Orbital Sander
Great for flat, large surfaces get a completely smooth look without any scratches on the piece of wood. They oscillate in a random manner leaving the surface silky smooth.
The sander has sandpaper disks with various grit sizes attached with pressure-sensitive adhesives or a hook and loop system (a Velcro system).
Our pick: TACKLIFE Random Orbit Sander ($39.97)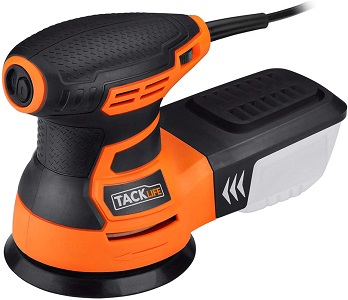 14.      Table Saw
A permanent fixture in your woodworking shop is a table saw. It consists of the circular saw blade that protrudes through the top of the table and is mounted to an arbor driven by an electric motor.
The blade can be adjustable; when it is protruding higher, the deeper the cut will be. Also, you can control the angle of the blade.
The motor must fulfill your needs, so look for the motor that will have enough power to cut through hardwood and make deep cuts. It should start quickly, without any vibration, and must run smoothly. Make sure that the on/off switch is easy to reach if you need an emergency off.
There are several types of table saws, depending on the design: benchtop, jobsite, compact, contractor, cabinet, hybrid, sliding, mini and micro.
Our pick: SKIL 15 Amp 10 Inch Table Saw ($353.02)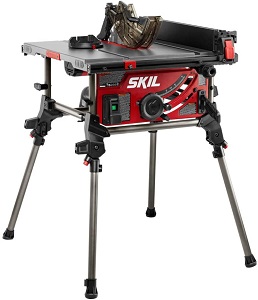 15.      Circular Saw
A circular saw is a power saw that uses abrasively toothed or abrasive disc to cut wood using a rotary motion spinning around the arbor. It can be handheld or mounted to a machine.
Circular saw blades come in three types depending on the teeth design: ripping blades, crosscut blades, and combination blades. All blades have an option on how many teeth-per-inch (TPI) you will use. A blade with a lot of teeth will make smoother cuts.
A circular saw is mainly used for cutting across the broader pieces of wood with straight edges. Still, it is perfectly capable of making various cuts, including bevels, miters, rip cuts, cross cuts, dado cuts, kerfs, and more.
Our pick: TACKLIFE Circular Saw with Metal Handle ($79.97)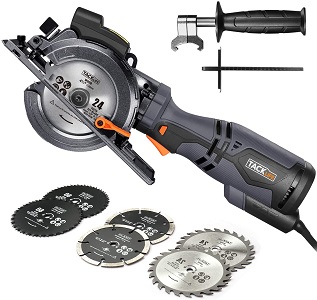 16.      Miter Saw
These electric saws are very versatile tools; they can cut across the board at various angles. A miter saw represents a step up from a circular saw; they are fixed in an arm or a track.
Table swiveling in both directions is possible together with head tilting in one or both directions, so it allows crosscut, miter cut, beveled cut, and compound cut.
The blades come in different sizes, with a different number of teeth, kerf, and hook angle (how aggressively the blade will pull the material in). The blade is so much exposed when cutting, so beware of the chips because there is a tendency to fly about.
Our pick: DEWALT 12-Inch Miter Saw Single Bevel (DWS715) ($249.00)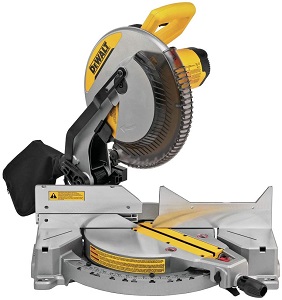 17.      Jig Saw
Another power tool on the woodworking tools list. The jig saw is made of an electric motor and a reciprocating blade. This type of blade is achieving the cutting action through a push-and-pull motion of the blade.
It is mainly used to cut irregular curves (for example, stenciled designs). Straight lines can sometimes be challenging to achieve, depending on the type of wood you are using. Just make sure your blades are always sharp.
Our pick: Meterk Jigsaw, 20V Cordless Jig Saw ($79.98)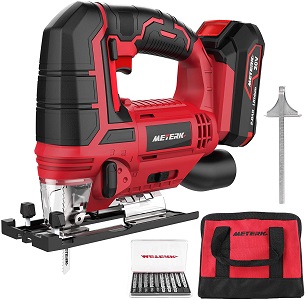 18.      Band Saw
The band saw is one of the woodworking tools that can cut irregular or curved shapes like a jigsaw. Its blade is long and sharp, consisting of a continuous band of toothed metal stretched between two or more wheels. The result is uniform cutting action due to evenly distributed tooth load.
The band saw is a combination of circular and jigsaws, but you have more control and accuracy over the process. It cuts downwards, pulling the dust below the table. One advantage is that you can cut more boards simultaneously, giving your work a consistent look across all the panels.
Our pick: WEN 3962 Two-Speed Band Saw with Stand and Worklight ($390.89)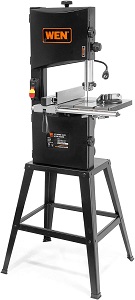 19.      Router
A router is one of the tools for wood that can help you shape the edges. If you are a beginner, a stationary base router will do almost everything you need.
Find the router with the variable speed to prevent the hardwoods from burning. The motor should have at least 2 Horse Power to avoid being underpowered for hardwoods.
Pistol and handle grips are available.
Our pick: Bosch 1617EVSPK Wood Router Tool Combo Kit ($219.00)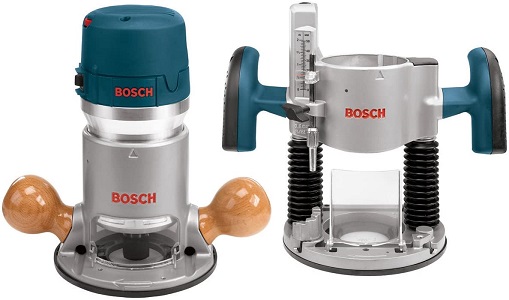 20.      Safety Gear
Although technically not a power tool or tool, it is essential to have proper protection while working with your diy woodworking tools. Safety glasses are #1 in safety equipment. It is crucial to wear them because the eyes are sensitive to the debris flying around.
Ear protection is another safety equipment you will want to have in your workshop, especially if you are working with woodworking power tools. Many of them give off a high decibel noise so that it can harm your ears over time. Choose an ear defender or earplugs to prevent hearing damage.
Woodworking produces a lot of sawdust which is harmful to breathe in, so wearing the face mask is advisable. A dust collection system is also an option.
Our pick: TAVOOL Safety Glasses Anti Fog ($7.59)
Our pick: Mpow 035 Noise Reduction Safety Ear Muffs ($12.99)
Our pick: Reusable and Breathable Face Bandanas with Breathing Valve 4pcs ($17.76)
Our pick: The Dust Deputy Deluxe Anti-Static Cyclone Separator 5 Gallon Kit ($99.97)