Top 10 Belt Sanders to Give Your Wood a Smooth Finish [+Buying Guide]
An electric belt sander is a woodworking tool consisting of 2 spinning drums rotating a loop of sandpaper at high speed. Although it seems essential, it is a highly versatile device for all types of woodworking.



Belt sanders are used for preparing the wood surfaces for further treatment – like painting, varnishing, or removing the old or badly worn layers. They will definitely save you time comparing to manual wood sanding.



There are many models available on the market; the differences between them may seem trivial, but they can affect performance. To help you pick the near-to-perfect tool, here are some belt sander reviews and a buying guide.



Best Belt Sander Review for 2022
Belt sanders come in various sizes, types, and shapes. We will highlight some important features like speed, belt size, weight, and power.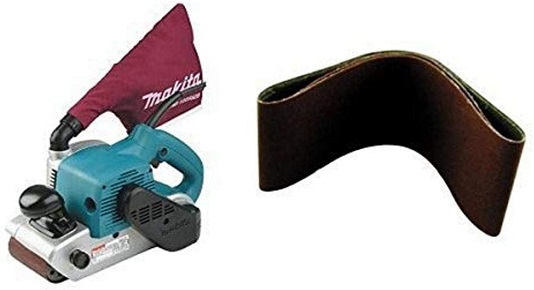 The best 4×24 belt sander on the list is Makita 9403. It is the quietest sander – only 84 dB. It features a powerful 11 Amp motor that has enough power to polish even the most difficult material – it is suitable for both softwood and hardwood.
It does not feature variable speed, but it still provides an effortless sanding with 1,640 feet per minute (fpm). Its sizeable front grip is strategically placed for the operator's comfort. It comes with labyrinth construction that guards the motor against contamination. The dust bag swivels 360o  for extra convenience.
Its weight is 12.6 lbs.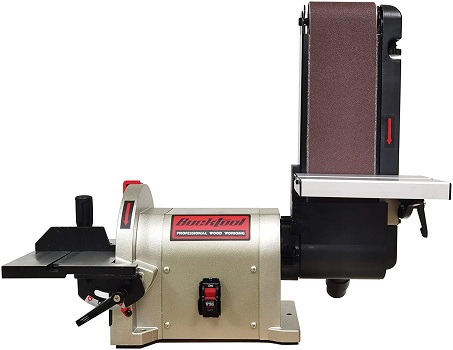 A two-in-one sanding machine includes both a 4"x 36" belt and an 8" disc, with a belt speed of 2161 fpm. The motor shaft directly drives the sanding belt and disc, so it is maintenance-free, and you do not have to adjust the belt tension.
Motor's direct-drive design can increase 25% sanding efficiency than the traditional design. 3/4 HP total enclosed induction motor supplies silent but powerful output.
The vibrations are prevented by the presence of the rubber feet and a sturdy cast aluminum base. The belt can work at 0 or 90o depending on the needs of your project; the driven drum allows for the sanding of curved workpieces.
There are 2 dust ports for dust collector connection for the dust-free operation.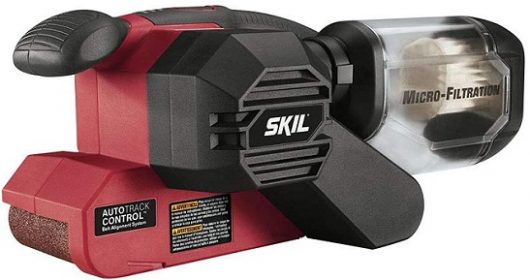 SKIL Belt Sander introduces the innovative pressure control electronic feedback system to warn you when excessive pressure is applied. Featuring a surprisingly powerful 6 Amp motor, this sander is loaded with features that will make your project an enjoyable one.
We liked the auto-track system that keeps the belt centered on the track. The speed of the belt is 1050 fpm, the dimensions of the belt are 3"x 18", and the weight of the unit is 6.4 pounds.
It is a fantastic thing that flush edge sanding sands right up to the edge for the maximum capacity. The micro-filtration and vacuum attachment manage dust particles – it fits standard 1-1/4″ vacuum hoses.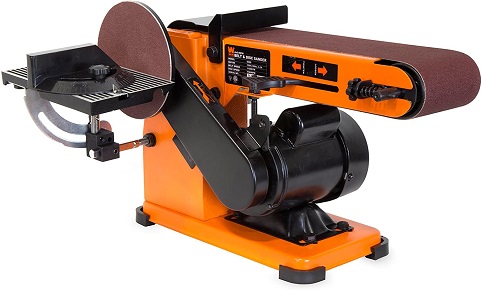 The Wen belt disc sander sands smooth and deburrs jagged edges and splinters on your wood and lumber. With a 3.2 Amp motor, users should anticipate speeds of up to 1150 fpm. Changing the 4″x 36″ belt is fairly easy. It tilts anywhere from 0 to 90o to accommodate all of your needs.
With the 6″ side disc, you will be able to sand whatever you want. A sturdy work table that accompanies the disc will provide reliable support for your workpieces.
It features an open-style steel frame design which is rock solid, as are the adjustments on the side sanding table.
It stays rather true for only having one table mount and does not shake or come out of alignment. The auto tighten feature is excellent, so there is no more cranking until the belt is tight, which we found to be a huge plus.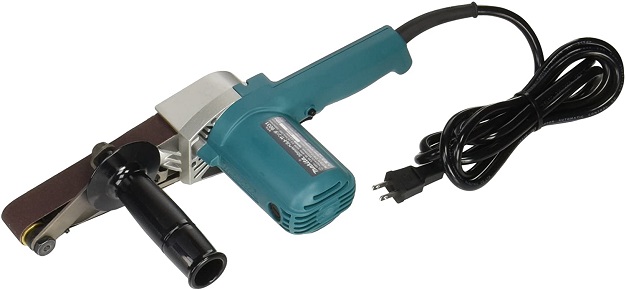 This hand held belt sander combines speed and a compact design with ease-of-use features for sanding in confined spaces. The 9031 is ideal for detail work, including fine carpentry and furniture making.
It features a 5 Amp motor with electronic speed control to maintain constant speed under load – it has variable speed controls that allow the users to adjust the speed from 656 to 3,280 fpm.
Ease-of-use features include a narrow belt and exposed front pulley for use on irregular shapes. The multi-position side handle is designed for easy and comfortable operation, with a lock-on button for continuous operation.
This model is a compact belt sander with less weight (4.6 pounds) for sanding in confined areas. It connects to the dust collector for a cleaner job.
It is important to mention that you can tweak the tension of the front pulley by twisting the large, knurled nut holding spring and pulley arm together, making this narrow belt sander an invaluable tool for every woodworking enthusiast.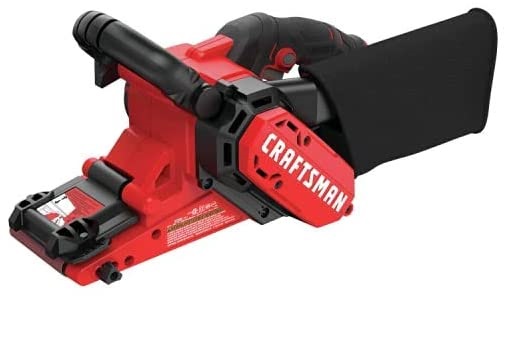 This belt sander with an angled belt design to sand closer to adjoining surfaces is a beast in a small package with a 7.0 Amp motor and 3″ x 21″ belt.
For fast material removal, we have 800 fpm, and for quick and easy belt changes, we have a tool-free belt release. The handle has three positions to improve comfort during use and assist you in working with different elements comfortably.
On-board dust bag is available for the high-performance dust collection, leaving your workplace as clean as you found it. We found it helpful to mention that it is compatible with VERSATRACK Wall Organization System.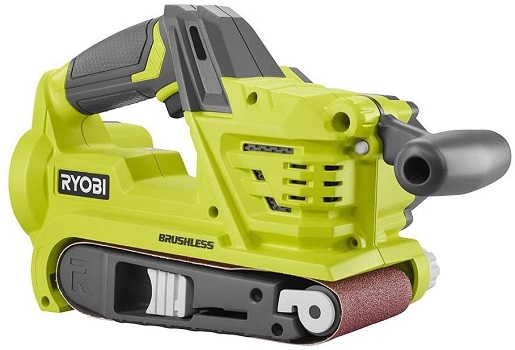 Among the portable belt sanders, RYOBI P450 is the best. This tool has a more significant runtime and lifetime than its brushed counterparts. The brushless motor offers high efficiency, high speed, high power-to-weight ratio, nearly instantaneous control of the speed and torque, and low maintenance.
The motor that works on a 4 ah, 18V battery is located at the front for even weight distribution. While you are sanding at 850 fpm, you can be sure it will be comfortable. It has a rubber grip and adjustable pommel for maximum ergonomics.
This tool is compatible with Ryobi's 18V Lithium-Ion One+ battery line. Compatible models include the P100, P102, P103, P104, P105, P107, and P108.
We recommend this model as a perfect one for small, short jobs where a cord and full-sized belt sander is cumbersome or not practical.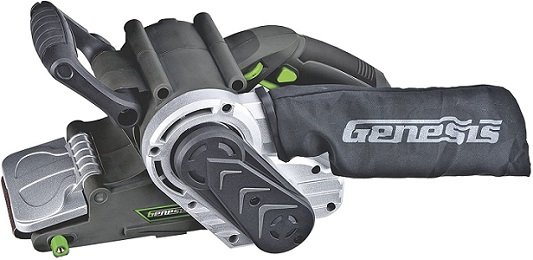 Genesis GBS321A features a variable speed for incredible versatility and a low-profile design to get into tight spots. It has an 8.0 Amp motor with a variable speed of 390-1,180 fpm to match your desired application.
The auto-tracking belt system tracks the belt without adjustment, and an adjustable front grip handle is there for comfortable operation and control. It requires a 3″ x 21″ belt size.
It is designed for woodworkers, carpenters, furniture makers, floor installers, deck builders, and general contractors who require an excellent belt sander with predictable results.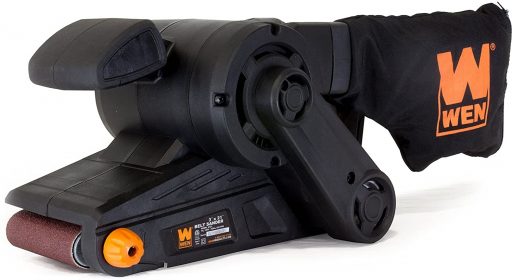 The best belt sander for the money weighs only 6 pounds to limit the fatigue of the user. The Wen 3" x 21", 7 Amp heavy-duty belt sander deburrs jagged splinters quickly, strips paint, and finishes edges with ease. The high-power motor spins the belt at a rate of 820 fpm for fast and easy material removal.
The front roller extends past the top edge of the housing, allowing the belt to reach and sand even the tightest corners.
The included dust bag catches all of the debris of your workpiece, minimizing the cleanup job inside the workshop.
We liked the fact that this model is user-friendly, with easy putting in sanding belts, emptying dust bags, and adjusting the tracking.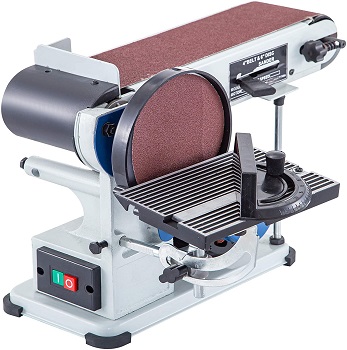 This 4"x 36" belt and disc sander combination is made of heavy-duty steel. The bench belt sander is combined with a belt sander and a 6" disc sander, making easy work of achieving a fine and smooth finish on component pieces.
The belt sander features both horizontal and vertical sanding. The disc sanding tables can tilt 45o.
This 4" belt sander works well with a high-speed pure copper motor of 375W power. The strong motor runs smoothly; however, the energy consumption is low. The maximum rotational speed is 1450 rpm.
A strong base with rubberized pads provides extra stability, avoiding any heavy vibrations during your work. Happybuy Belt Sander is characterized by high strength, hardness and is durable enough, so we hope it will be used for a long time.
How to Choose the Best Belt Sander
There are several details to pay attention to when selecting a specific model. Some units are more suitable for aggressive leveling and flattening, while others are designed for delicate finishing work. Look at our list of key features to consider before buying a belt sander.
Motor Power
The motor is the heart of any machine, and its power is measured in Amps. Most belt sanders run between 4 to 12 Amps. The higher the amps, the higher the power of the motor.
Suppose you are sanding some softer surfaces, or you are working on some smaller jobs. In that case, you can opt for smaller amperage, usually between 4 to 6 Amps. But for some more demanding jobs, you will need a more powerful machine, more than 10 Amps of power.
Belt Size
There are two most common – 3″x 21″ and 4″x 24″ when considering belt size. The smaller size is more popular because it is compact, so it is easy to handle and ideal for regular woodworking projects.
The 4″x 24″ belt sanders are perfect for larger surfaces and are usually for professional use.
Belt Speed
When you need to pick between single and variable speed, we recommend you choose a variable speed because these types of sanders are more versatile; the fact that you cannot change the speed limits their use.
Variable-speed models allow you to adjust the speed according to the demands of your woodworking job. Most variable models have a speed range between 500 and 1500 feet per minute (fpm).
Dust Collection
Using a belt sander can provide a lot of dust and debris. Messy cleaning is really time-consuming, so having the sander with a built-in dust bag or a canister really adds value.
The dust canister must be large enough, so you do not need to empty it while you are in the middle of the sanding job.
The best option is the dust port that allows you to connect the canister to your shop vac, especially if you often use your sander.
Weight
Weight determines the ease of use and convenience, especially if you plan to buy a handheld belt sander.
For vertical or overhead sanding jobs, it is easier to handle lightweight sander. For most horizontal sanding tasks, it is better if you have a heavier sander.
Most Popular Brands
Makita – Makita Corporation was founded in 1915 as an electric motor sales and repair company. As a global brand in over 40 countries, Makita is an innovation leader, manufacturing high-class products at 10 plants operating in 8 countries. Their products deliver the power, performance, and durability that professional users demand. The company specialized in the mass production of electric power tools.
Craftsman – An authentic American icon. For nearly a century, that has been the brand homeowners, auto enthusiasts, home builders, and master mechanics trust. Today the company continues that legacy. Craftsman tools are tested in real-world situations to make sure they exceed your expectations. You can depend on the company for products that work as hard as you do.
Skil – as an inventor of the handheld circular saw, this company knows how to make power tools. Their patented technology and purposeful innovations solve real jobsite challenges. They share your passion for quality and making things that last.
Wen – Founded way back in 1951, Wen has been designing and distributing high-quality and affordable power tools for decades. The company pioneered a random orbital technology. Since then, their expertise has expanded to encompass a wide variety of products, including drill presses, belt sanders, tool chests, bench grinders, nailers, miter saws, hand tools, generators, air compressors, and more.