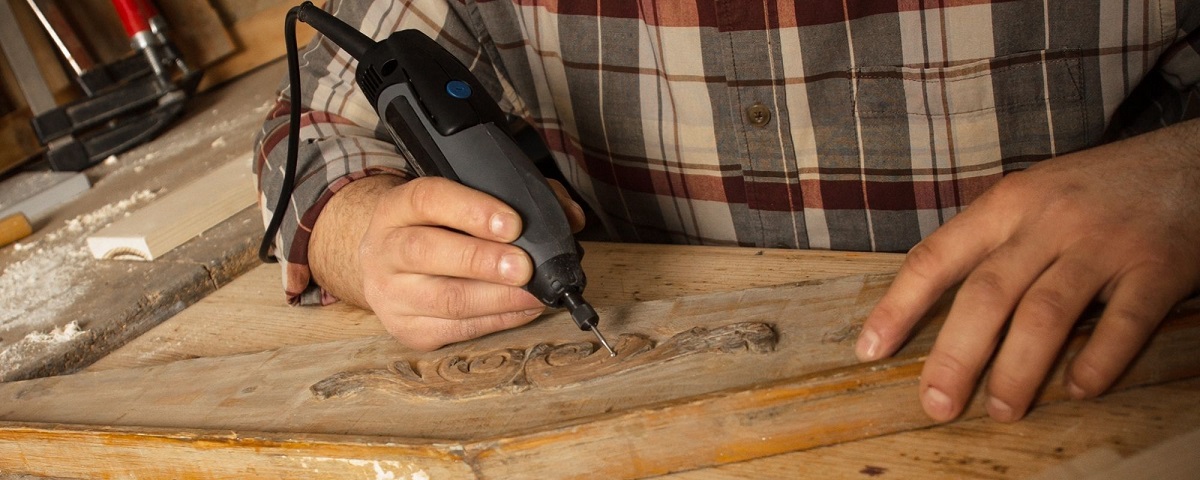 Top 7 Wood Engraving Tools To Achieve the Details You Want [2022 Reviews + Buyer's Guide]
When talking to a wood engraver, you may get the impression that a real artist should never use an electric engraver for wood. However, suppose you are working on a large project with a fast delivery window. In that case, you cannot run without it as those electrical models work as effortlessly as a pen. Just the right wood engraver tool will help you create a piece of art and complete whatever engraving task you want.
Hand held wood engraving machine is a tool similar to a drill but usually much smaller in size. Its main purpose is to engrave, but it can also polish or do the finishing. Besides wood, it can engrave metal, glass, leather, ceramic, plastic, stone, and more with ease. It is a highly versatile item that comes with various interchangeable bits and burrs with specific purposes.
Other than using electric wood engraving tools, you can engrave the wood by hand, creating works with the evidence of tool work and charm of slight imperfections. A laser engraving machine is another option for those who lack the skill or want perfection in their engravings.
But when you are looking for electric wood carving tools, do not settle for any weird gadgets. That is why we have put together a list of wood carving tools and a buying guide to make your task easier.
Tools for Engraving Wood
Engraving surely requires a great deal of skill; however, you will turn your creative ideas into reality with these wood engraving tools. You will turn ordinary objects into extraordinary pieces of art quickly and fast. Look at our list of the 7 best wood engraving tools reviews followed by a detailed buying guide and you will be able to choose the one that suits you the best.
1. Dremel 4300-5/40 – Best Overall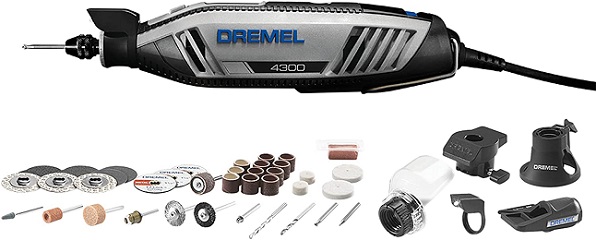 If you want to perform intricate and detailed work, Dremel wood engraving tools are the right choice for you. It features 5,000-35,000 variable speed with electronic feedback for consistent performance in all applications. The replaceable motor brushes extend the life of the high-performance motor. The universal keyless chuck eliminates the collet, collet nut, and wrench when changing accessories, while the quick collet lock is there for fast accessory changes.
The convenient pivot light rotates to illuminate your project even in tight spaces. The innovative airflow system helps prevent heat build-up for quieter, cooler, and smoother operation. Besides the tool itself, it includes 5 attachments, 40 high-quality Dremel accessories, and a plastic storage case.
WHAT WE LIKED // Extremely versatile tool, Easy to use
WHAT WE DIDN'T LIKE // You can feel strong vibrations at about 25,000 rpm
2. Utool Engraver – Best Ergonomic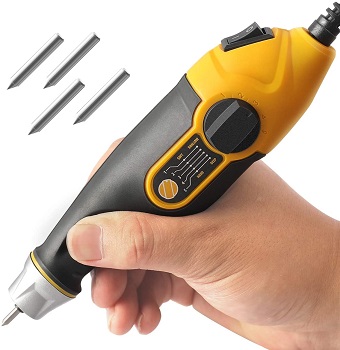 This Utool wood engraver works efficiently with a high power of 24W and 7,200 strokes per minute. It will allow you to decorate, create, or customize diverse materials like plastic, metal, glass, ceramic, wood, etc. The first thing you notice is that Utool is easy to grip and control with a soft rubber-coated handle. You can also regulate the engraving depth, from fine lines to deep grooves by a 5-position dial. Replaceable tungsten carbide steel bits provide stable, smooth, and long-lasting performance. The separate on/off switch allows for easy operation. The multiple functions and high performance will surely meet most of your needs.
WHAT WE LIKED // Excellent price, Strong power, Small and portable
WHAT WE DIDN'T LIKE // A bit loud
3. Uolor – Best Wood Engraving Kit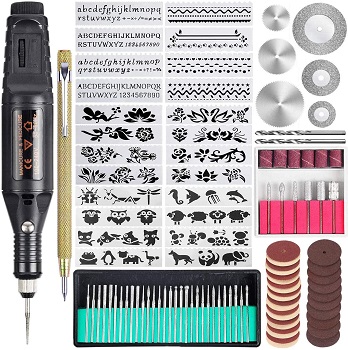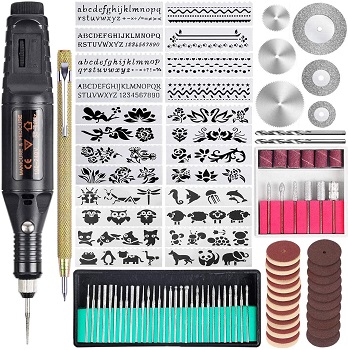 This wood engraver kit lets you engrave, decorate, or personalize almost any surface in seconds. The kit includes 82 accessories and scribers that can be widely used in engraving, carving, sanding, polishing, grinding, etching, etc. With 4 basic letter/number templates, 4 graphic, 8 flower, and 8 lovely animal stencils you can easily personalize your valuables.
The lightweight and compact pen-like design lets you comfortably engrave everything from fine lines to deep grooves. An ergonomic handle is here to add comfort and constant control, while 2 in 1 rotary button controls on/off and speeds. There is no limit to what you can engrave.
WHAT WE LIKED // Lightweight, Easy to use, Affordable
WHAT WE DIDN'T LIKE // Short cable
4. TECCPO Rotary Tool Kit – Best High-Speed Wood Engraver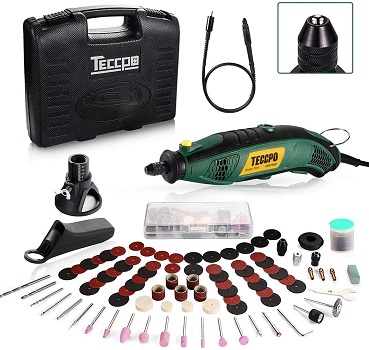 TECCPO engraving pen for wood can reach 8,000 to 35,000 RPM, faster than other rotary tools, which provides the ultimate competitive advantage. The 6-speed shifter accelerates powerfully and evenly. You can easily make fine engravings on wood, glass, metal, plastic, tiles, and other materials by adjusting the speed. It comes with 80 different accessories and 4 useful attachments, and an auxiliary handle that provides stability and tackles the precise projects.
Large area honeycomb vents are suitable for heat dissipation. If you work too long, the motor will shut off. Professional overload protection protects the tool from overheating and extends its life. The body of the rotating tool has a streamlined ergonomic design to make you feel comfortable and easy to use.
WHAT WE LIKED // Does not vibrate a lot, Powerful copper motor, Price
WHAT WE DIDN'T LIKE // Weird smell out of the motor, Issues with speed control system
5. GOXAWEE Rotary Tool Kit – Best Versatile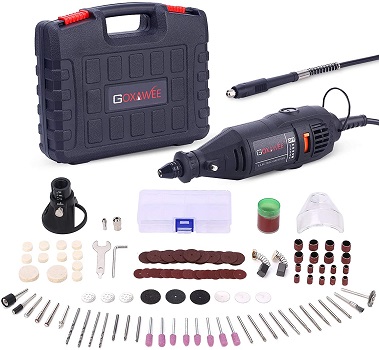 Goxawee wood engraving tool features a flexible shaft that is convenient if you want to reach small spaces and need an extension. The adjustable 5-step variable speed dial goes from 8,000 to 30,000 RPM and is suitable for a wide range of projects and tasks like engraving, sanding, cutting, grinding, etc. You only need to adjust the dial until you get the proper speed.
The 3 jaw keyless drill chuck allows for wider compatibility – you can easily and quickly change accessories without using collets. It accepts accessories for 1/64" to 1/8" shank, and they are standardized, so you can purchase anything from fine to coarse in many shapes and sizes, including cutting discs.
WHAT WE LIKED // Friendly price, Handy, Easy to use, Versatile toolset
WHAT WE DIDN'T LIKE // Flex shaft attachment tends to get loose from the inside
6. LaserPecker – Best Laser Power Engraving Tool for Wood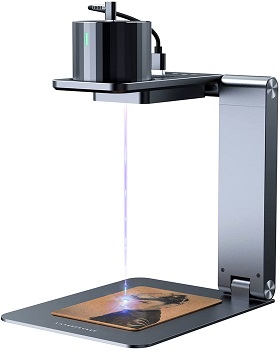 If you want more accurate engravings with a perfect finish or do not have the skill needed, then the LaserPecker is the right tool for you. It is extremely compact and takes seconds to setup. The device is simple and easy to program; you can use the LaserPecker App to connect to the device and program your engravings from your phone with no need for Wi-Fi. It works on any surface and even tiny objects.
One of the best power wood engraving tools has 0.15mm accurate light spot and high quality 405nm blue-violet laser, making accurate precision engraving. It has no limit on engraving heights; it features all the built-in protections to ensure safe use: overheat shutdown, password lock, motion detection, and protective goggles.
WHAT WE LIKED // Portable, Compact, Works with power bank, Wirelessly bluethooth controlled by a smartphone
WHAT WE DIDN'T LIKE // Nothing we could think of
7. Tidalpool Original Easy Etcher – Best Cordless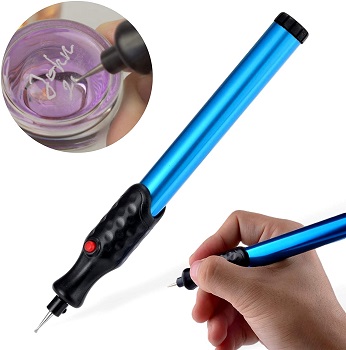 One of the best portable and cordless wood engraving hand tools is surely the Easy Etcher. It works with precision and comfort on nearly every surface – it is super easy to use and is perfect for both hobbyists and professionals. The improved 12,000 RPM motor offers better control and handling, while a durable, lightweight aluminum frame and an ergonomic tri-lobal grip give you precise fingertip control. It simply means clear, crisp cuts on nearly any surface, better engraving, and better performance compared to the competition.
This beginner-friendly wood engraving tool is easy to use – simply hold the Easy Etcher as you would a pencil, then push the button for effortless engraving. Release the button whenever you need to pause.
WHAT WE LIKED // 10 stencils included, Extremely easy to hold, Lightweight
WHAT WE DIDN'T LIKE // Short battery life
How to Choose Woodcarving Tools?
Finding the best rotary wood engraving tool is not an easy task. Various factors must be considered when making a purchase – your budget and the type of your wood carving project. Therefore, in this article, we have introduced some of the best rotation tools for woodworking. Choosing the best wood engraving tool for future projects is entirely up to you, so let us help you make an informed decision.
Performance
The motor is the heart of the tool and needs to be powerful, so the strength of the motor is often emphasized. It should have a minimum of 1.6 amps and 4.8 volts. For large-scale projects, opt for a tool with at least 12v power.
Rotary and vibration motors are two options for engraving tools. Tools with vibration motors must be held vertically. In contrast, rotary tools can be used in any position and are perfect for hard-to-reach areas. The speed of the rotation motors affects their performance, and most motors usually can perform between 5,000 to 35,000 RPM (rotations per minute). Vibration motors, on average, have a speed of 5,000-10,000 SPM (strokes per minute).
Versatility
Most of the versatility of an engraving tool comes from its accessories, range of bits and burrs. These are compatible parts that attach to the tip of the tool. Some bits are made only for engraving certain materials, while others may serve other purposes such as cutting or polishing. The wider the range of bits and burrs that come with the engraving tool, the more versatile it is.
Ease of Use
A good wood engraving tool should be lightweight, easy to control, and convenient to hold. Engraving is a process that can take hours if you want to work on the details and achieve great results. Therefore, it is very important that you can hold the tool without straining your hands and use it effectively without interruptions. The size of the tool, the position of the buttons, and the grip also impact its maneuverability. Bits that are easy to swap without using the wrench (keyless chuck) also add to its ease of use.
Also, if you constantly change your workplace or do not want to be limited in where you can work, the obvious choice will be a battery-powered cordless model. However, you may run out of power before finishing a larger job, so ensure you have spare batteries in hand.
As far as the size and weight are concerned, the lighter your engraver is, the longer you can hold it before your hands get tired. With wood engraving tools that are 2 pounds or more, be sure you will feel hand fatigue very soon.
Budget
There is a huge difference between buying the tools for DIY projects or work. If you are a professional, then spending hundreds of dollars on the best tools for engraving wood is absolutely worth it. However, if you occasionally engrave cute animals or want to personalize your favorite item, the lower-end model should be sufficient.