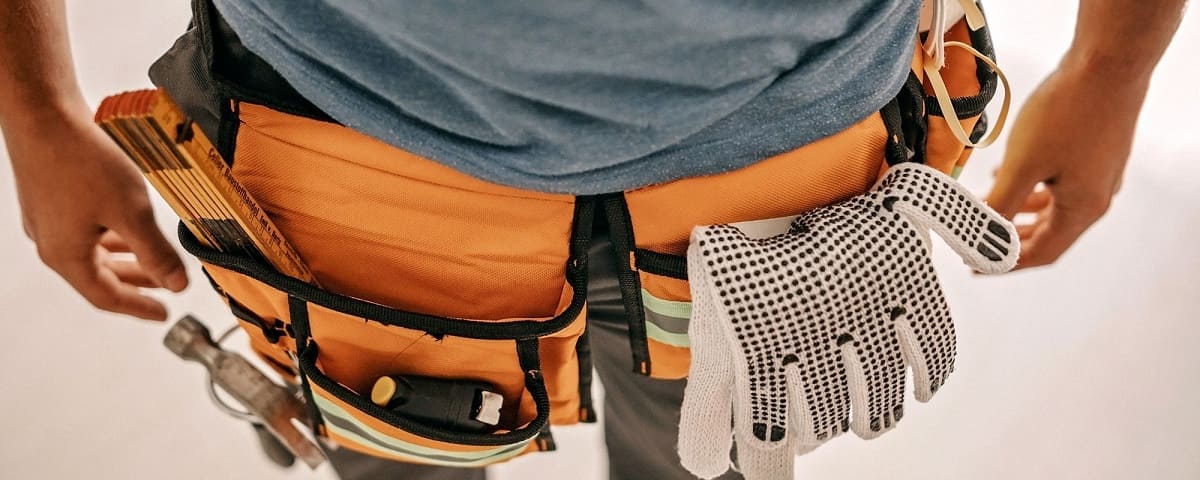 8 Best Tool Belt Reviews in 2022 and How to Choose Guide
Are you tired of keeping your tools in a large and heavy toolbox? Instead of trying to find the tool you need in a messy group of wrenches, hammers, and pliers, we suggest you switch to a tool belt and organize your stuff more efficiently.
Tool belts are quintessential for electricians, carpenters, roof workers, and DIY enthusiasts who enjoy building and creating different stuff. The best tool belt has various-sized pockets to accommodate different tools and have them at hand while working.
While having a tool belt is a must, you should know that these items are not created equal. That said, some belts may have features suitable for one particular job, while others are more versatile and serve various purposes.
We have tested over 15 different tool belts and chosen the top 8 belts for woodworkers, electricians, and others who enjoy DIY arts and crafts but want to keep their equipment better organized.
Why Do You Need a Tool Belt?
Whether you are a carpenter, electrician, or arts and crafts enthusiast, you need a functional tool belt to keep your essential tools at hand. It helps you react quickly and work much more efficiently without worrying about losing your valuable piece of equipment.
Besides, by securing your tools in a belt, you take better care of them. When kept in the box, they are more prone to wear, dents, and other kinds of damages and scratches that could affect their performance. Additionally, you are more likely to lose them.
Another significant advantage of having a tool belt is that it won't put too much pressure on you. Therefore, you'll be able to focus on your work without feeling any tension and with peace of mind.
How to Choose the Best Tool Belt?
Although choosing the best tool belt seems like a piece of cake, you should consider some essential factors to ensure you're getting the most appropriate solution for your needs.
Tool Belt Materials


Tool belts can be made from different materials, where some are sturdier than others. For instance:
Oiled leather and suede are the sturdiest and heaviest materials out there. However, this is an excellent choice to prevent getting poked by screwdrivers, chisels, and other pointed tools. Besides, these materials are more durable.
Synthetic materials, such as lightweight polyester or nylon, won't resist heavy or pointed tools like their leather counterparts. Still, this is ideal for most DIY tasks and infrequent use when you need to carry a couple of basic tools.
Heavy canvas, multi-layered polyester, or "pleather" has the weight of oiled leather and the reduced durability of lightweight synthetics. You can go for a faux leather tool belt if you are a homeowner or DIY enthusiast.
Tool Belt Carrying Methods
While some tool belts have five pockets, others will have more than 30. But some of them include other ways to carry your essentials. For example, you may go for a basic belt with a few open pockets if you use screwdrivers, hammers, a box of nails, and similar tools.
On the other hand, if you need a tool belt to replace your huge toolbox, you may want to consider a more versatile option with a pocket of varying sizes, hanging loops, zipped pouches, clips to organize your tools, and other features that may come in handy.
When looking for the best tool belt, consider the following:
Pocket Placement
Pockets on tool belts come in different designs suitable for various tasks. For example:
Hanging tool pockets over each hip make it easier to climb ladders or lean forward without letting the belt get in your way. These pockets are ideal when painting.
Center, an apron-like pocket can be a bit inconvenient for those who bend or climb often. Still, belts with these pocket models are great for light tasks around the house, and those who wear belts occasionally can also benefit from wearing them.
A one-side pocket model is an excellent option if you carry the basic tools such as hammers, pliers, screwdrivers, and similar. Besides, it allows you to move freely when climbing ladders or performing other tasks.
Tool Belt Size
Tool belts are one-size-fits-all. Still, they are adjustable in length, allowing you to set them to fit your waist and hips.
Tool Belt Clinching Style
You can choose between tool belts that clip around your waist and those with suspenders or attachments that relieve the stress on your back by letting your shoulders absorb tool belt weight.
Best Tool Belts You Can Buy Today
The 8 following tool belts are the best of the best. They are intended for different purposes and are among the best-rated products on Amazon.
1. Best Overall: Occidental Leather B5625 M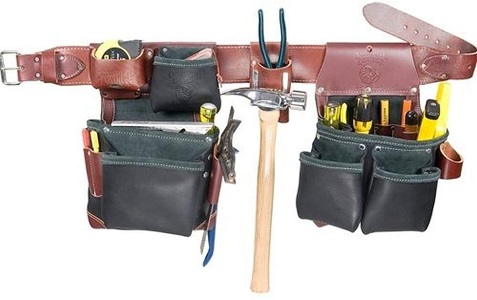 Key features: US-made; No-Spill tool holder system; 24 pockets and tool holders
The Occidental Leather B5625 M features a cutting-edge design and valuable details that make it stand out from other products on the list. All 24 pockets are ideally positioned, and you will have enough room to store all your essential tools.
This is the best tool belt for professional carpenters, electricians, and roof workers who carry the belt frequently. However, it comes with a hefty price tag.
PROS// The best leather tool belt; Durable; Lightweight; Incredibly comfortable.
2. Best Framing Tool Belt: DEWALT DG5641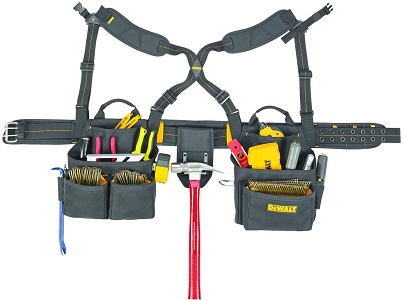 Key features: 20 pockets; Fully-adjustable padded suspenders; Easy access to tools
Comfortable design, multiple pockets for better organization, and incredibly sturdy construction are what make the DeWalt DG5641 one of the best tool belts for framers. It allows you to organize your tools, delivering a more functional space for your equipment.
Since this DeWalt tool belt is highly adjustable, it will fit a variety of body sizes without creating uncomfortable pressure. It has a cell phone holder, which is not big enough to hold today's smartphone models.
PROS// Large pockets for extra capacity; 2 steel loop hammer holders; Buckle that helps keep tool belt staple; Various-sized belts for different tools.
CONS// The cell phone holder is small to hold today's smartphones.
3. Best Carpenters' Tool Belt: Dickies 4-Piece Carpenter's Rig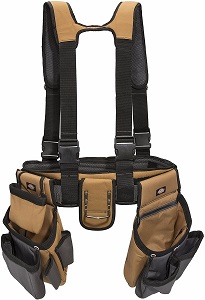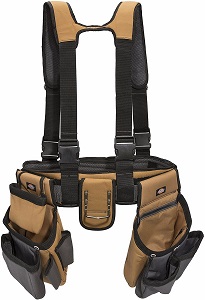 Key features: Moisture-wicking mesh; Durable canvas; 9 pockets, and a hammer loop.
Dickies Work Gear is another prominent name in the industry, and you won't go wrong with choosing its 4-Piece Carpenter's Rig. Aside from being functional and incredibly comfortable, this carpenter tool belt is cost-effective and suitable for everyone's budget.
You will love its moisture-wicking mesh-backed waist belt that enhances breathability while working. The pockets are strategically placed so that you can access your equipment quickly. However, it is not suitable for smaller waists.
PROS// Strategically placed pockets; High-quality and durable design; Cost-effective; Lightweight.
CONS// Not suitable for thinner people with smaller waists.
4. Best Electrician Tool Belt: TradeGear Electrician's Belt & Bag Combo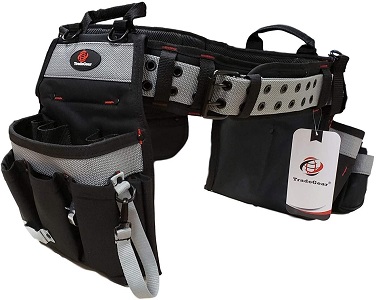 Key features: 27 spacious pockets; Ergonomic design; Easy to carry.
The TradeGear Electrician's Belt & Bag Combo has two large pouches and a steel hammer loop that allow you to carry a whole toolbox on your waist. It is incredibly easy to wear, and it is comfortable enough for an array of demanding jobs.
It is made of heavy-duty materials that won't put extra pressure on you even when it's fully loaded. As a result, you can easily take it off and move around despite its robust design. However, it doesn't come with height adjustment, which might not be convenient for everyone.
PROS// High-quality materials to withstand the most demanding jobs; Comfortable; Money-back guarantee; Made for serious electricians.
CONS// No height adjustment.
5. Best Tool Belt for Cable Tech: Tradesman Pro Electrician's Tool Belt

Key features: Removable pouches; Wide open pockets for drills and spare parts; Hammer holders.
Experienced cable technicians will find the Tradesman Pro Electrician's Tool Belt exceptional for their daily tasks and projects. The pockets are deep enough, allowing you to carry different kinds of equipment, including cordless drills.
The special detail that makes this tool unique is the mesh waist strap, enhancing the overall belt's breathability. Still, it doesn't affect its strength and durability. However, you may find bags a bit bulky.
PROS// Many pockets; Pockets are open for easy access; Hoops for suspenders; Pockets are large enough for different kinds of tools.
CONS// The stitching on the belt loops is not as durable.
6. Best Tool Belt for Roofing: CLC Custom Leathercraft Heavy-Duty Leather Work Apron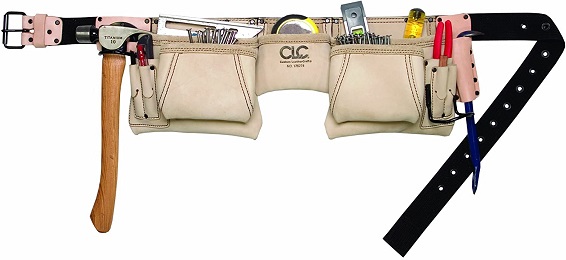 Key features: Reversed heavy-duty leather material; 12 total pockets; Suitable for HVAC projects
CLC is a reputable name on the work gear market for a reason. They produce the best quality products at fair prices, and the Custom Leathercraft Heavy-Dusty Leather Work Apron is no exception. It is a highly durable and cost-effective solution suitable for roof workers.
Overall, this tool belt is an ideal option for carrying nails, smaller tools, and similar supplies, It is made of top-grain heavy-duty leather, which ensures durability and long-lasting performance. While most users find it convenient, left-handed people don't.
PROS// Heavy-duty; 2 hammer loops; Fits most waist sizes; 12 perfectly positioned pockets.
CONS// Measuring tape pouch is not convenient for professionals.
7. Best Tool Belt Suspenders: Ergodyne Arsenal 5560 Tool Belt Suspenders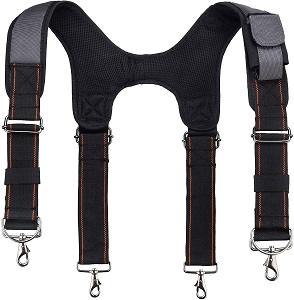 Key features: Versatile; Front pockets for heavy-duty tools; Puncture-resistant ballistic polyester material
If you have to wear a tool belt every day for a couple of hours, you will need the Ergodyne Arsenal 5560 Tool Belt Suspenders to get some relief. Since wearing a tool belt may cause hip pain, attaching suspenders can help you ease back strain and pressure.
A pair of suspenders can withstand the weight of your tool belt, and this model is strong and capable enough to help you with that. These suspenders are comfortable, and once you wear them, you won't want to work without them again. One of the drawbacks is that back straps are not adjustable.
PROS// Thick foam padding; Breathable; Adjustable size from 36" to 48"; Corrosion-resistant clips;
CONS// There is a phone holder on suspenders, but most modern smartphones cannot fit in.
8. Best Value for Money: Bucket Boss – Builder's Tool Belt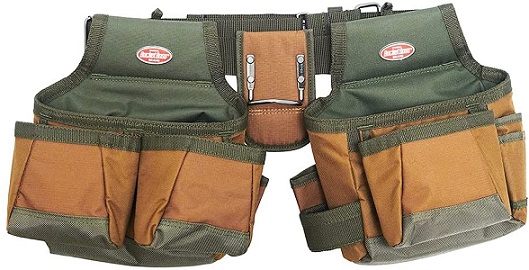 Key features: One-size-fits-all; Two hammer loops for various-sized hammers; Customizable.
The Bucket Boss – Builder's Tool Belt is a high-quality yet affordable item with two adjustable tool pouches with reinforced bottoms. This customizable belt5 allows you to accommodate various-sized hammers and position the pouches to meet your needs and preferences.
The Bucket Boss Builder's Tool Belt has plenty of space to store all your tools, but the truth is that you cannot expect much from it compared to other tool belts on our list. You may notice that the belt sags when you climb stairs and has difficulty holding tools when squatting or moving fast. However, it provides excellent value for money.
PROS// Durable; Lightweight; Adjustable; Reinforced pouch bottoms.
CONS// The belt tends to sag when packed with heavy tools.