Oscillating Tool Blades: Buyer's Guide + Top 5 Oscillating Blades for Your Multitool
If you thought that your multitool couldn't do more than it already does, you are wrong. The multitool or an oscillating tool helps you do different things by changing the tool head – use it to rasp, sand, file, or cut. Therefore, you need the best oscillating tool blades if you want to get the most out of your multitool.
Oscillating tool blades are available in many shapes and sizes, suitable for different types of cuts – from precision plunge to straight cuts. More specific types of oscillating tool blades include blades for cutting through metal, wood or grinding through tile grout.
Since there are so many options on the market, it may be challenging to find the right blade for your oscillating tool. Let's go through this guide to learn more about the essential features worth considering when buying the best oscillating tool blades and see the 5 best choices according to our experts.
Key Features to Consider When Shopping for the Best Oscillating Tool Blades
If you want to get the most out of the oscillating tool blade, it is crucial to understand its consistency and shape. However, their main purpose and type also play a vital role in your final choice.
Let's dive into the oscillating multi tool blades' key features:
Purpose
Oscillating tool blades are perfect for addressing the places where it is not possible to use jigsaws, circular saws, or similar tools that are too large.
While regular multi tool blades can cut through different materials, including wood, plastic, and soft metals, blades designed specifically for metal can tackle harder metal surfaces. Additionally, Japanese-style blades are perfect for cutting through wood.
However, if you need a blade for removing caulk, old wallpaper, or linoleum, you can benefit from special diamond-coated blades. These blades are incredibly convenient for grinding through cement and mortar.
Oscillating tool blades are ideal for small jobs such as cutting pipes, trimming baseboards, lopping off nail heads, and similar projects.
Oscillating Blade Material
Oscillating tool blades can be made from different materials suitable for various purposes. For instance:
High-carbon steel: A higher carbon content makes the steel harder and stronger. A high-carbon steel blade is much sharper and will last longer.
Carbide: What sets carbide apart from other steel alloys is tungsten, which makes it much harder. Therefore, carbide blades are durable and provide a much faster cutting speed.
Bi-metal blades: These blades consist of conventional steel, capable of comprising the saw blade's body, and high-speed steel used for the teeth. High-speed steel will hold its hardness at high temperatures, as well.
Japanese-style blades: Japanese-style blades are characterized by blade teeth that can cut in both directions. They are suitable for cutting wood.
Blades with diamond coating: Oscillating blades with diamond coatings are convenient for grinding through cement, brick, or glass.
You may also find blades with an electrophoretic finish. It significantly improves the blade's wear, protecting it from corrosion at the same time.
Types of Oscillating Tool Blades
There are three different types of oscillating tool blades:
Plunge-cut blades: These blades are characterized by a square shape and a flat edge. They often have measuring strips that help you determine the depth of the cut, allowing you to create more precise plunge cuts.
Segment saw blades: Segment saw blades feature a circular shape, which comes in handy when cutting in the middle of a material. These blades are commonly used for cutting a rectangle out of drywall.
Scarper blades: Scarper blades are similar to the manual scraper. They have a smooth edge that slides under sheet flooring, bathroom caulk, or similar materials.
Features
Some blades come with special features that enhance usability or extend the blade's lifespan. For instance, straight-edge blades often have metrics on the sides, which makes it easier to determine the depth of a cut.
Additionally, most oscillating tool blades feature a quick-release system. It helps users change blades quickly, especially when grinding or cutting metal. Such applications lead to edge wear, which is why a quick-release system comes in handy.
Compatibility
It is crucial to know that not all multitools work with all blades. For instance, some tools use Starlock blades, which rely on a star shape to fit the tool. These fittings foster a tighter connection, resulting in a better power transfer between the tool and the blade. Since it does not require a hex key, the Starlock system makes blade changes much quicker.
5 Best Oscillating Tool Blades for 2022
We have highlighted the 5 best oscillating tool blades for addressing different materials and completing your unique tasks more conveniently.
1. Best Oscillating Multi-Tool Blades for Wood: Dremel MM485B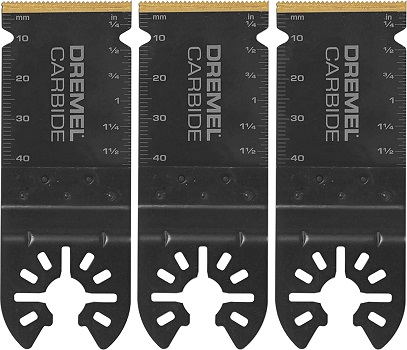 If you are looking for the best oscillating tool blade for wood, take a closer look at the Dremel MM485 3-pack blade set. Each piece features high-performance carbide teeth suitable for cutting through hardened materials. It provides a much better experience than bi-metal oscillating blades.
It fits most oscillating tool brands, including Makita, Bosch, Rockwell, and Milwaukee. You can use it for an array of applications involving drywall, conduit board, hardwood, softwood, copper pipe, and metal.
Most customers complain about the product's incompatibility with the brands like DeWalt and Rockwell.
WHAT WE LIKED // Carbide tooth blade material; Suitable for cutting hard material; Quick-fit system for quick accessory changes.
WHAT WE DIDN'T LIKE // Limited compatibility.
2. Best Oscillating Tool Blades for Tile: DeWalt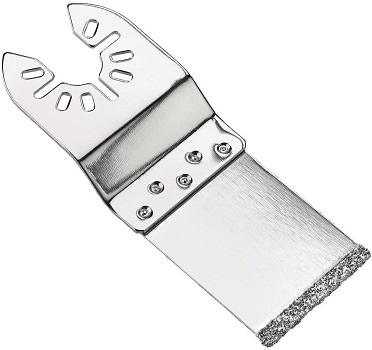 The DeWalt Oscillating Tool Blade can be used for a broad range of applications involving bricks or tiles. Customers frequently choose it for bathroom remodeling, grout removal, and tough applications in general.
In addition to being an ideal blade for tiles, it comes in handy when cutting through cementitious plaster walls. Its diamond grit material ensures durability and prolonged performance for years to come. It is designed to fit most oscillating tool brands.
Some users recommend using water when trying to cut ceramic tiles. Otherwise, it may turn into a quite challenging task.
WHAT WE LIKED // Excellent for grinding concrete; Diamond grit material; Suitable for grout removal.
WHAT WE DIDN'T LIKE // The blade wears out quickly.
3. Best Quick-Release Oscillating Saw Blades: HERKKA Multitool Quick-Release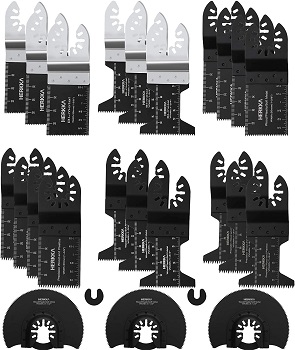 The quick-release feature is an incredibly useful addition that allows you to change the blades smoothly without interrupting the flow of your project. If you are looking for quick-release oscillating tool blades, the HERKKA Oscillating Multitool Quick-Release Saw Blades set is a choice worth considering.
The HERKKA set contains 23 high-quality pieces for the next-level cutting experience. They are made of alloy steel and high-carbon steel, which ensure prolonged lifespan and versatility. Namely, these oscillating tool blades are suitable for an array of applications – workshop, household, and other projects.
While most customers are pretty satisfied with the product, some claim that blades are not durable.
WHAT WE LIKED // Quick-release feature; Excellent cutting experience; Great value for money.
WHAT WE DIDN'T LIKE // The blades are prone to wear.
4. Best Oscillating Tool Blades for Cutting Metal: Adust Blades for Soft Metal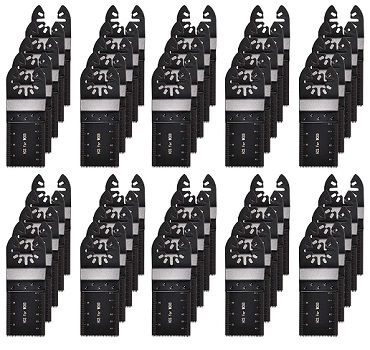 A set of Adust Multitool Oscillating Blades includes 50 pieces suitable for cutting metal, soft metal, wood, and plastic. Each blade features measurements on one side, allowing you to make precise cuts quickly and efficiently. Thanks to the blades' universal design, they fit most oscillating tools.
Aside from being suitable for cutting metal, this great set can withstand the toughest projects and the most complicated materials to work with. Additionally, the beveled-tooth design makes these blades excellent for aggressive plunge cutting. You can use the set for either professional or DIY projects.
Keep in mind that this is a pretty cheap blade set. That said, the blades are easy to break and are not as durable as expected.
WHAT WE LIKED // Suitable for the construction business; Affordable; Compatible with most multitool brands.
WHAT WE DIDN'T LIKE // Not as durable as expected.
5. Best Brick & Concrete Blades for Oscillating Tool: Imperial IBOA640-1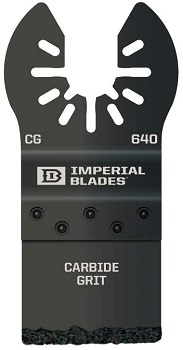 The Imperial Blades IBOA640-1 comes in both carbide grit and diamond coating materials. No matter what choice you make, you will enjoy the long-lasting performance and much faster cuts. This blade is convenient for cutting brick and concrete, but it can serve various purposes.
You can use Imperial Blades IBOA640-1 for household projects, bathroom remodeling, cutting through the plaster, and similar actions. It provides a precise and accurate cut, and its extended lifespan means it is less prone to wear or damages.
According to some users, the blade is a bit slow with bricks.
WHAT WE LIKED // Diamond-coating option; Excellent for tile job; Great for removing the old grout.
WHAT WE DIDN'T LIKE // According to the users, the blade loses its cutting efficiency quickly.
What Can I Use an Oscillating Tool Blades for?
Oscillating tool blades are an essential addition to oscillating tools, which can serve various purposes. An oscillating tool can help you perform different actions, which makes it suitable for either professional or DIY projects. For example:
Sawing
Both handymen and professionals use oscillating tools for sawing. It is essential to choose the right blade for your sawing needs and specific materials you plan to saw – wood, drywall, paneling, etc.
Sanding
An oscillating tool is also excellent for sanding jobs. If you want to use your multitool for sanding, you will need a sanding attachment and pads that come in a circular and triangular shape. They will help you access hard-to-reach areas.
Cutting
An oscillating tool is not commonly used for cutting, but it can be of help for cutting softer materials like leather, carpet, rubber, felt, and similar. Even if you don't plan on cutting such fabrics, it is recommended to purchase a cutting blade. You can use a blade instead of a utility knife to remove old caulk more quickly and efficiently.
Grout Removal
You can benefit from the oscillating tool when you're dealing with a bathroom renovation or similar projects involving grout removal. Special grout removal blades come in diamond and carbide edges.
While the carbide-edged blades can help you with tile joint, concrete, and grout, the diamond-edge blades help you get the job done faster and last longer than their carbide counterparts. However, they tend to be more expensive.
Scraping
A scraper blade comes in handy when pulling up old vinyl flooring, removing adhesive, tile, silicone, glue, paint, and carpet. It will help you remove these items easily, without cutting or damaging your floor.
Polishing
An oscillating tool can help you do the polishing more conveniently. Polishing pads come in different densities, providing a smooth finish on aluminum, chrome, stainless steel, and other materials.
Price Range
Oscillating tool blades are available at different prices, depending on their features, materials, and general uses. While you can purchase 20 pcs sets for $22, some manufacturers offer a single item for $25.
Top-Rated Brands
The most distinguished names in the oscillating blade manufacturing are the following:
Pecham
DeWalt
Dremel
Imperial Blades
HERRKA
Where to Buy?
Check out Amazon to find different types of oscillating tool blades for cutting, sawing, grout removal, and similar professional or household projects. In addition to exceptional quality and a broad range of tools to choose from, Amazon offers great deals, returns, and fast delivery.
Will All Oscillating Blades Fit My Multi-Tool?
While most oscillating multi tool saw blades are universal, remember that not all of them will fit your tool. Don't forget to check the blade's compatibility before purchasing a particular item.
Can I Use an Oscillating Tool to Cut Nails?
You can use an oscillating tool to cut through screws and nails, but you will need an adequate metal-cutting blade for such actions.
How Long Can My Oscillating Blade Last?
An average oscillating tool's lifespan depends on what the blade is cutting. If you use it for metal or drywall, it may wear out much faster than when used for cutting through wood. Besides, running the oscillating tool at higher speeds may also promote faster wear due to a higher temperature resulting from the quick action.
Generally, you can expect your oscillating blade to last for an entire day when using it for light-duty applications. On the other hand, heavy-duty work may lead to blade wear in less than an hour.