Top 5 Hammer Drills in 2022 + A Complete Buyer's Guide
Although it can serve various purposes, a basic drill won't be of much help when you need to drill through tough materials. For example, if you try to drill holes into masonry or concrete using a regular drill, it will burn out or break, leaving you with a big issue. If you are looking for something more robust, look no further than a hammer drill.
A hammer drill is a staple tool for those who regularly work with concrete, masonry, or heavy-duty tasks. The combination of rotary drilling mechanism and hammer thrusts allows it to easily break through hard and brittle surfaces, making your drilling actions smooth.
There are different types of hammer drills available, from heavy-duty and cordless, to cheaper models suitable for beginners or lighter DIY projects. If you are not sure what is the best hammer drill for you, keep reading to learn more about its most distinguished types, features, and uses. Besides, we have chosen the 5 top-rated hammer drills in 2022!
Best Hammer Drill in 2022: Top 5 Models to Deal with Concrete and Masonry
We have tested over 10 hammer drills and chosen the 5 best tools equipped with different features needed for heavy-duty and light-duty drilling tasks.
1. Best-Rated: DeWalt DCD996B 3-Speed Hammer Drill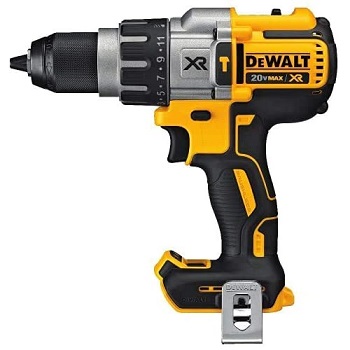 DeWalt DCD996B 3-Speed Hammer Drill is Amazon's best-selling tool for a reason. It provides an incredible blend of speed and efficiency, allowing you to complete your drilling tasks smoothly and in no time. In addition, it features a 3-mode LED light and high-capacity lithium-ion batteries.
This is the best cordless hammer drill with a nice design. At the same time, it is potent, reliable, and suitable for heavy-duty tasks. It can tackle different types of tough materials, including masonry and concrete. It has a long battery life and excellent speed range, allowing you to use the drill for extended periods and get the job done more quickly.
However, you might not like the tool's weight, which is more than 11 pounds.
WHAT WE LIKED // High-efficiency brushless motor; 3-mode LED lighting; Reduces wobbles and breakage.
WHAT WE DIDN'T LIKE // Once you attach the battery, the drill has a slight wobble.
2. Best Corded: ENEACRO Heavy-Duty Rotary Hammer Drill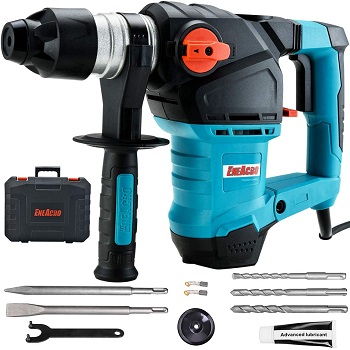 The ENEACRO Heavy-Duty Rotary Hammer Drill is the best choice for advanced drilling tasks requiring high power. It is designed to last longer and penetrate the toughest concrete, mortar, brick, and stone.
It features a drill mode, hammer drill mode, and hammer mode. That said, you can count on this all-encompassing tool to perform different tasks, from jackhammer projects to heavyweight drilling tasks.
Although it has some excellent features, many customers claim that this is quite a cheap hammer drill. However, it can help you get your job done and still provides great value for money.
WHAT WE LIKED // 12.5 amp motor; Safety clutch protection; 3 functions to adapt to different work scenarios (wood, steel, stone, etc.).
WHAT WE DIDN'T LIKE // Switching between functions is a bit confusing.
3. Best for Concrete: Bosch GBH2-28L Bulldog Xtreme Max Rotary Hammer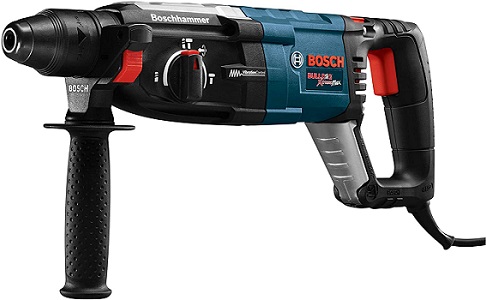 If you are looking for the best rotary hammer drill for concrete, look no further than Bosch GBH2-28L. Although it is a professional-grade tool, it is incredibly easy to use. Besides, it delivers next-level comfort and control.
The Vaio-Lock Positioning feature allows you to tune the chiseling angle, which is convenient for addressing critical angles on concrete walls. Its 8 ft-long cord improves mobility while drilling, while the tool allows you to choose between drilling, hammer drilling, and chiseling.
Since this hammer drill is designed for professional use, you may find it pretty costly. If you are looking for a model for DIY projects around the house, this might not be the right choice for your needs.
WHAT WE LIKED // Vibration control; Variable speed control; 3 working mods.
WHAT WE DIDN'T LIKE // Expensive for DIYers.
4. Best Rotary: Makita HR2475 1″ Rotary Hammer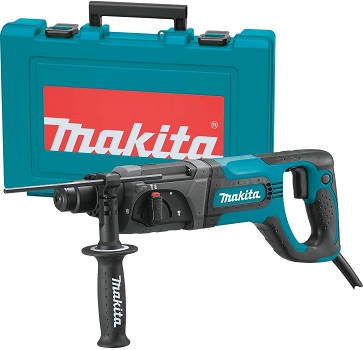 The Makita HR2475 1″ has a rich set of pro-grade features that offer high performance and a great drilling experience. Despite its state-of-the-art mechanism and advanced options, this hammer drill is pretty convenient for small home remodeling jobs and DIY projects.
The motor is incredibly durable and comes with minimal servicing requirements. It maximizes the power available, allowing you to complete your actions better and faster. You can easily switch between 3 modes – rotation only, hammering with rotation, and hammering only. These operation modes deliver versatility while performing different tasks.
According to customers, this drill is too light, which does not seem adequate for heavy-duty jobs.
WHAT WE LIKED // Durable motor; Rubberized grip for more comfort; 13-feet-long cord.
WHAT WE DIDN'T LIKE // Limited vibration control.
5. Best for Home: WAKYME SDS-Plus Demolition Hammer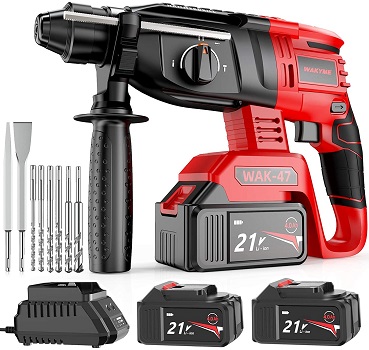 WAKYME SDS-Plus Demolition Hammer deserves the place on our list thanks to its next-level features. Its brushless motor enhances the overall power, ensuring easier and more efficient workflow.
Keep in mind that this is not a high-performance hammer drill. However, it is described as a heavy-duty tool for simple home and yard use. It is convenient for addressing wood, steel, walls, masonry, concrete, and similar tough materials. Thanks to its ergonomic design, you can drill more comfortably and more conveniently.
Since this tool is designed for home use, don't expect the highest performance.
WHAT WE LIKED // Cost-effective; A complete kit; Ergonomic design.
WHAT WE DIDN'T LIKE // The overall quality needs improvements.
Hammer Drill Types
The most common types of hammer drills are corded and cordless.
Corded
Corded hammer drills are a popular choice for their ease of use and consistent power. All you need to do is plug the drill into an outlet and complete your heavy-duty tasks smoothly. Some corded hammer drills come with 6-foot or even longer power cords, delivering more mobility and straightforward work in different areas.
What users love about corded models is the high power resulting from fewer limits. That said, constant power flow delivers more power when dealing with extremely tough materials. However, you might not like that you need an electrical outlet to use a corded hammer drill, which may affect your mobility.
Cordless
Cordless hammer drills are convenient because they don't affect your mobility at all. That said, you can use them anytime and anywhere, as long as your batteries are fully charged. While they tend to be a popular choice for mobility, cordless hammer drills are less powerful due to their battery size limits. While some of them can work for hours on a single charge, you'll need to recharge when you're working all day long.
How to Choose the Right Hammer Drill?
There are various hammer drills on the market. Since they come with different sets of features designed for different purposes, it is essential to choose the one based on your unique needs and goals.
Here is the list of main shopping considerations to keep in mind when looking for the best hammer drill:
Corded or Cordless Hammer Drill
Corded hammer drills are more suitable for heavy-duty tasks due to their consistent power supply. While they might restrict your mobility, you can always plug them into an extension cord and get a longer reach.
On the other hand, a cordless hammer drill is a better choice for those seeking lightweight and easy-to-maneuver models. Cordless models are generally popular among DIYers, who find cordless hammer drills excellent for various house projects.
Power
The power directly impacts the speed at which you'll complete the task. A regular hammer drill has about 7 amps, while more robust motors may go up to 10 amps – in essence, the larger the motor, the more power it will provide. Still, keep in mind that models with bigger motors tend to be larger and heavier.
Handles
A hammer drill used for concrete or other tough materials should contain safety features to enhance your protection while working. For that reason, most hammer drills have two handles. An extra handle delivers stability while working with the drill, while the side handle is usually ergonomic. They should be shock absorbent to ensure a more comfortable action.
Different Working Modes
The best hammer drills offer multiple working modes. This exceptional feature allows you to choose the mode you'd like to use – rotary drilling or rotary-plus-hammer drilling. This is an excellent addition that allows you to pick a rotary drilling mode for your usual drilling needs and switch to hammer drilling for more advanced tasks.
A hammer drill with multiple working modes delivers more versatility, allowing you to enjoy all the features in one single drill.
Drive Modes
Some hammer drills include a drive mode used for driving and removing screws. It helps you drive screws with precision and can be helpful for various tasks. A hammer drill with this feature has a symbol similar to a screw on the mode controlling switch.
Brushless Motor
If you prefer cordless hammer drills, ensure to pick a model with a brushless motor. This type of motor is an excellent power source that delivers more power and more speed. That said, the brushless motor may increase your hammer drill's time by 50% per battery charge.
Variable Speed
Best hammer drills come with multiple speed settings, allowing you to perform various drilling tasks more precisely. Such a model can be used with different drill bits, which is excellent for tackling softer materials, including woods and metals.
Keyed or Keyless Chuck
While most hammer drills come with keyless chucks, which make it easier and quicker to change bits, keyed chucks allow you to tighten the chuck manually. That way, the bit stays solidly in place.
Purpose
How you will use the hammer drill is the most important factor worth considering when shopping for the tool. While small hammer drills are suitable for light-duty and DIY projects, they are not the best choice for more advanced tasks. Don't waste your money on lightweight and small drills that won't do the job if you need a drill for professional use. Instead, invest in a heavy-duty tool that can deal with concrete or masonry.
Weight
Smaller and more compact hammer drills are easier to maneuver than bulky ones. Although hammer drills have become lighter over the years, there are still some heavy models that might not be adequate for working in tight spaces where it's hard to move around.
Heavy-Duty or Light-Duty
Although most hammer drills are advertised as either heavy- or light-duty, don't let that fool you. Whenever you are looking for the best tool for heavy or light drilling, make sure you look at the drill's power, motor, speed, and how many hours it can last without recharging (for cordless models). These details can help you select the best tool for your unique needs and goals.
Accessories
Accessories included in the drill help you use and maintain your tool much easier. You should look for cordless drills with an LED battery gauge, a hard case for storing the drill, and other helpful additions to enhance your overall drilling experience.
How Much Does a Hammer Drill Cost?
Hammer drills are available at different prices, depending on the features they have and their overall functionality. For instance:
$100 and less: Although hammer drills under this price point are not professional-grade, you can find decent models to complete your DIY tasks efficiently.
Between $100 and $200: You can find some of the best hammer drills in this price range. Most of them are heavy-duty, allowing you to complete your tasks quickly and effectively.
$200 and up: If you are looking for additional features and a hard carrying case for a hammer drill, prepare to pay several hundred dollars.
Best Hammer Drill Brands
The most distinguished names in the hammer drill industry are the following:
Black + Decker: Aside from hammer drills, Black + Decker produces lawn and garden items, power tools, and home appliances.
Bosch: The Bosch Group is one of the most recognized brands that became present in North America in 1906.
Makita Corporation: Makita was founded in 1915, and it has been a leading electric motor sales and repair company since then.
DeWalt: In 2018, DeWalt celebrated its 100th-anniversary manufacturing lawnmowers, batteries and chargers, hammer drills, and power tools for outdoor usage.
Porter-Cable: Besides polishers, Porter-Cable manufactures drills, grinders, saws, air compressors, and other tools.
Advantages of Hammer Drills
We already mentioned that a typical drill could not help you with heavyweight tasks involving masonry and concrete. Therefore, some of its most prominent benefits include:
Tougher than a typical drill: A hammer drill is designed to handle the toughest materials, including brick, stone, and concrete, which is not the case with a regular drill. That said, you can use it to drill almost anything.
Quicker and more powerful: Substantial amounts of power delivered by a hammer drill allow you to complete your tasks more quickly and more efficiently.
Suitable for masonry: You can use a hammer drill to tackle masonry without worrying about overheating or potential drill failures.
Where to Buy?
You can find top-quality hammer drills on Amazon. In addition to a wide range of tools for different uses, Amazon offers great deals, returns, and fast delivery.
How to Use a Hammer Drill?
A hammer drill is quite powerful, and it can destroy the surrounding materials if not used appropriately. Here are some tips to help you get the best out of this tool without getting hurt, damaging stuff, or causing other inconveniences.
Wear eye protection (goggles) when using a hammer drill to prevent debris from hurting your eyes. It is also recommended to wear a mask to avoid breathing in dust.
Don't press the hammer drill too firmly to prevent damaging the motors or the drill bit.
Use both hands when working with this tool to ensure stability and accuracy.
Avoid using a hammer drill for driving screws. Use an impact driver instead.
Remove all the wires, pipes, or cables from the drilling area. Since hammer drill is powerful, it can destroy these items.
What is a Hammer Drill?
A hammer drill is a powerful tool that uses a specific type of drill bit designed for drilling in hard materials like stone, concrete, masonry, brick, and similar.
What is a Hammer Drill Used For?
Since a hammer drill delivers more power, it is an excellent choice for drilling in concrete, masonry, or similar materials that cannot be addressed with a typical drill.
How Does a Hammer Drill Work?
Hammer drills feature a so-called percussion mechanism, where two sets of toothed gears interact with each other to hammer. At the same time, they are rotating the drill bit.
What is SDS Hammer Drill?
SDS (Slotted Drive Shaft/Slotted Drive System) bits are inserted into the chuck in order to create a rotary hammer or a hammer drill. SDS drill bits can move forwards and backward within the chuck, applying the force more precisely.
Hammer Drill vs. Impact Driver?
Unlike hammer drills, impact drivers don't have a chuck. They feature a quick-change clamp instead, and they are excellent at directing the force downward. An impact driver is more lightweight and has more torque than a drill.