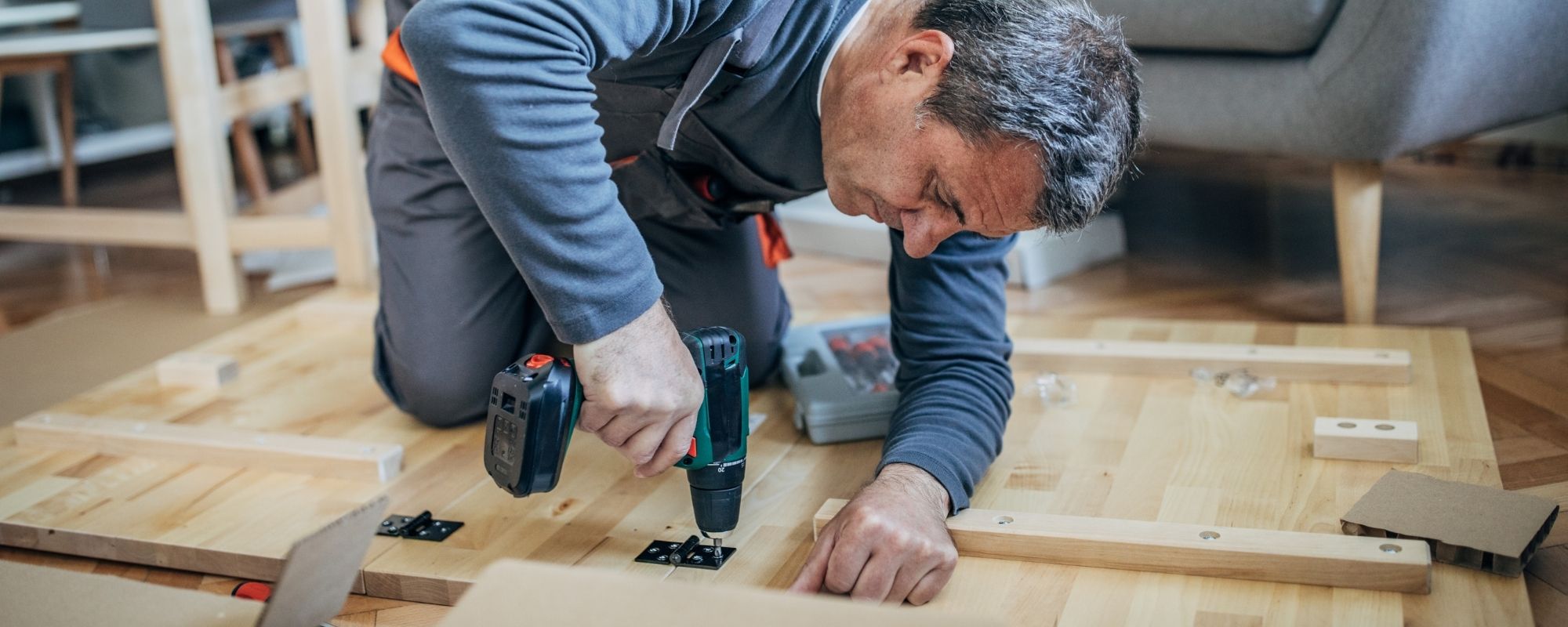 Best Cordless Screwdriver To Buy in 2022 + A Complete Buying Guide
A cordless screwdriver is a potent tool that comes in handy for different DIY projects, including bicycle repairs, outlet replacements, and more. No other tool can remove or tighten screws as quickly and efficiently as a cordless screwdriver, which is why it's the best alternative to a cordless drill so far.
Although it doesn't have enough power to address dense materials, a battery screwdriver is pretty helpful for light and medium household projects. You can use it to hang pictures on the walls, tighten door hinges, or remove objects. Generally, cordless screwdrivers can make any DIYer life much easier and help them deal with projects that would otherwise be much more time-consuming.
With so many different brands and models of cordless screwdrivers, it might be challenging to make the right choice. We tested dozens of tools and chose the 5 best options for your daily DIY tasks based on their features, quality and price. Besides, we prepared a thorough buying guide to help you choose wisely.
People often choose a cordless screwdriver over a drill or manual option because of their ability to fit in tight spots and complete a project more quickly. It is suitable for anyone with wrist pain or mobility issues since it reduces fatigue and prevents the occasional pain from becoming real pain.
Battery-operated screwdrivers are pretty lightweight and don't require an outlet in order to work. Their portability allows you to carry them with you when working on projects outside of the home.
Important Considerations When Buying a Cordless Screwdriver
In order to choose the best cordless screwdriver for your household projects, it's critical to look for the following features:
Speed and Torque
The more powerful your cordless screwdriver has, the faster it will run. If you're shopping for a straight barrel-type tool, go for one whose speed goes between 300 and 500 rpm. This is perfect for loosening or tightening a screw quickly yet not too fast. As for pistol grip models, you can choose speeds that exceed 1,000 rpm. That way, you can control the tool much easier.
Torque plays a vital role in addressing dense materials – the higher the torque, the thicker the material it can drive a fastener into. Heavy-duty screwdrivers often have higher torque, making them suitable for drywall or wood studs. However, it tends to drain the battery very quickly.
Power Source
Most cordless screwdrivers are powered by rechargeable batters, ranging from 4 and 8 volts. These voltages are adequate because a cordless screwdriver doesn't require as much power as a drill.
Cheaper models come with replaceable batteries, which is not the most convenient option. Besides, changing the batteries frequently may be overly expensive.
Battery Life
If you're looking for a screwdriver for a large upcoming project, it's vital to ensure the tool's battery life won't be a problem. Although the best cordless screwdrivers use small motors to operate, it's recommended to purchase a model with a battery level indicator that notifies you when you're running low on battery. That way, you can recharge it during a break.
Maneuverability
A cordless screwdriver can fit into tight places much easier than its manual counterpart. However, not all portable tools are created equal. To get the best out of your cordless screwdriver, it's better to go for a slim and compact design or models with rotating handles. Choose models with a smaller battery size if you seek a tool for extremely low-clearance tasks.
Screw Type
A battery screwdriver is ideal for screws used in automotive parts and appliances, electrical boxes or fixtures, installing door locks, and mechanical settings with threaded holes. That said, cordless screwdrivers are not the best choice for fasteners in dense materials. If you still need to deal with drywall or similar, use a drill or an impact driver.
Clutch
The clutch regulates the amount of torque that's applied to a fastener. Once the set torque is reached, the clutch starts to slip, ensuring the tool doesn't drive the fastener any deeper. It's always recommended to set the clutch to a low setting and increase it slowly if needed.
Keep in mind that too much torque can break low-quality fasteners, especially if they're small and old. Luckily, most high-quality tools have adjustable clutch settings to avoid damaging the fasteners and stop overdriving them too deeply.
Types of Cordless Screwdrivers
There are several types of cordless screwdrivers, and your final choice will depend on how you plan on using it and how much money you're ready to spend on the tool.
Straight-line cordless screwdrivers: This type is pretty similar to a conventional screwdriver. While it's great for various screwing tasks, it's not the best choice for drilling.
Pistol-type cordless electric screwdriver: These tools might remind you of a handgun, especially since they're operated by pulling a trigger. Pistol-type screwdrivers can be used for different tasks, including small or large drilling jobs.
Right angle screwdrivers: Their design is similar to an electric ratchet as they have a long handle and a very short head. They come in handy for loosening or tightening screws in tight areas that are difficult to reach with other types of screwdrivers.
Cordless Screwdriver Price
Although cordless screwdrivers are pretty affordable ($20 – $200), be careful when choosing cheap models. These tend to break quickly, resulting in additional expenses and time waste.
Most Prominent Cordless Screwdriver Brands
When shopping for a battery-operated screwdriver, make sure you choose a model from some of the following brands:
Bosch
DEWALT
Black + Decker
Makita
Milwaukee
Top 5 Cordless Screwdriver Reviews (2022)
We've considered all the most important features during the testing, which left us with the 5 best cordless screwdrivers designed for different purposes. Keep reading to learn more about the best tools for your DIY projects and the features that make them the top choice.
1. Best Overall: DEWALT Cordless Screwdriver 8V MAX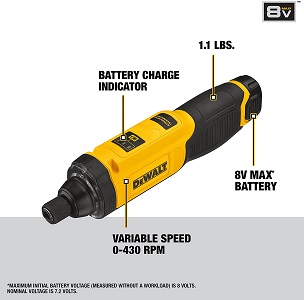 Brand: DEWALT
Head style: Hex
Item dimensions (LxWxH): 9.5 x 2.06 x 7.88 inches
DEWALT Cordless Screwdriver 8V MAX features the speed that allows you to complete your projects efficiently and without any delays. Besides, its intuitive controls allow you to switch from forward to reverse by twisting your wrist in the wanted direction. Although its torque settings are not as prominent as other models, its 8-volt motor provides enough power to deal with different tasks.
It uses rechargeable batteries, whose status you can see on a small display on the tool. It can run for a longer time on a single charge, and it's fully charged within an hour. It also provides illumination in areas with limited lighting, which ensures better visibility without shadowing. This power screw driver is suitable for fastening into wood, plastics, and light-gouge metal.
PROS// Quite a powerful motor; LED light for better visibility; The gyroscopic feature for precision; Practical size; Intuitive design.
CONS// It's a bit heavy compared to similar options.
2. Runner-Up: Milwaukee Cordless Screwdriver M12 12-Volt Kit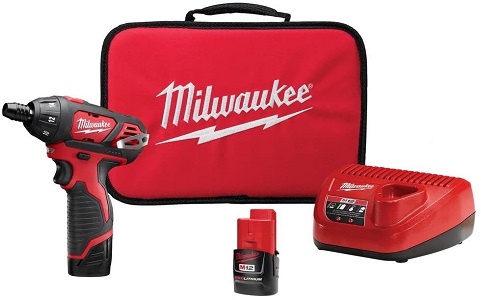 Brand: Milwaukee
Head style: Hex
Item dimensions (LxWxH): 7 x 6 x 2 inches
Although it's heavier than most of its counterparts, Milwaukee M12 fits nicely into the palm while making it easier to complete projects. You can use it to insert screws in drywall, pine, or birch boards.
The benefits of this tool go beyond its appealing design. This is one of those lithium-ion screwdrivers with a 175 inch-pound torque, an rpm range of up to 500 RPMs, and a 1/4-inch quick-change keyless chuck. Additionally, its 15-position clutch makes it easier to regulate torque.
Another feature that makes this Milwaukee cordless screwdriver stand out is fast charging. The battery charges in less than 30 minutes, allowing you to get back to work without losing too much time on battery recharge.
PROS// High torque power; Adjustable clutch; Bright LED light; Ergonomic, non-slip grip; Removable 13-volt battery.
CONS// Expensive.
3. Best for Beginners: Black and Decker Cordless Screwdriver SmartSelect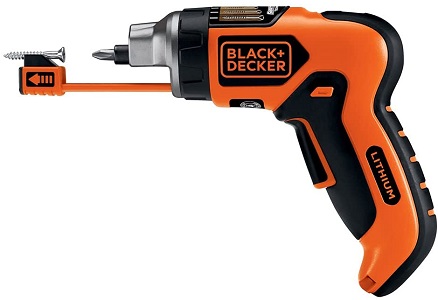 Brand: Black + Decker
Head style: Binding
Item dimensions (LxWxH): 11.25 x 4 x 10 inches
If you are looking for an ergonomic, beginner-friendly cordless screw gun, Black and Decker SmartSelect may be a go-to choice. It is also convenient for those with mobility issues and joint problems, especially since it doesn't worsen the pain but makes it easier to get the job done.
It features a magnetic fastener holder suitable for one-handed driving and a visual clutch guide that makes it easier to figure out which setting works best with a specific fastener size. It also includes a drill bit ideal for drilling small pilot holes.
It's suitable for beginners who don't have a solid bit collection and aren't ready to invest in a more heavy-duty item. Although it lacks some speed settings, it's still a pretty convenient solution for mastering your skills.
PROS// Beginner-friendly; Drill bits and accessories included; Works with small fasteners; Budget-friendly; LED light for increased visibility in darker spots.
CONS// A charging set is too bulky.
4. Best Premium: Makita Cordless Screwdriver TD022DSE 7.2V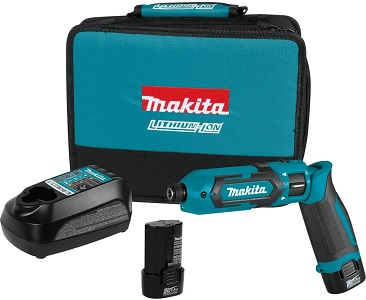 Brand: Makita
Head style: Hex
Item dimensions (LxWxH): 3.82 x 12.09 x 9.61 inches.
Makita TD022DSE is known for its exceptional quality and durability. It's a high-end tool with a hefty price tag convenient for heavy-duty projects that must be handled professionally. It's recognized for its utmost precision and power – its 7.2-volt lithium-ion battery helps it drive screws and fasteners at 220-foot pounds.
Thanks to a ¼-inch hex chuck, you can experience fast drill bit changes. Additionally, a locking mechanism turns it into a hand-driven screwdriver. This tool allows you to experience new dimensions of workmanship and enjoy a robust yet lightweight design.
If you're ready to invest a great deal of money in a professional-grade cordless screwdriver, look no further than Makita TD022DSE. Overall, it's a perfect blend of ergonomic design and unmatched precision and power abilities.
PROS// Lightweight; 3-year warranty; 450 rpm; Great battery power; Impressive ergonomic design.
CONS// 200 lbs. torque, which is pretty low.
5. Best Professional: Bosch Cordless Screwdriver Kit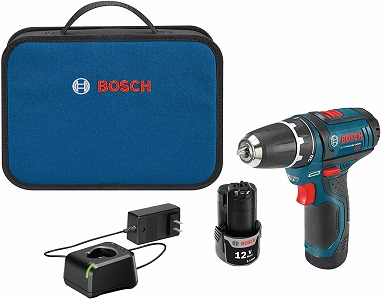 Brand: Bosch
Head style: N/A
Item dimensions (LxWxH): N/A
The Bosch Cordless Screwdriver Kit is one of the best professional tools that feature superior torque, incredibly lightweight design, and robust functions that allow you to use it on drywall, wood, and metal.
It has two-speed options – 350 RPM and 1,300 RPM while a specific clutch setting delivers precise torque management. It is packed with two lithium-ion batteries, ensuring you don't run out of power when you need it the most. In general, this is a versatile cordless screwdriver suitable for different types of projects requiring drilling or driving.
This set is pretty durable and convenient for tasks done in low-light conditions. Thanks to its integrated LED lights, the Bosch kit improves visibility and makes your daily projects easier regardless of the area you're tackling.
PROS// 12 volts; Brilliant LED light; Powerful yet small cordless screwdriver; Cost-effective; Versatile.
CONS// The tool is lightweight until the batteries are inserted.
What is a Cordless Screwdriver?
It is a battery-powered screwdriver commonly used to tighten and loosen screws more quickly and efficiently than its manual counterpart. Unlike a manual screwdriver, a battery-operated tool uses a motor and a trigger to tackle fasteners.
How to Use a Cordless Screwdriver?
As a rule of thumb, a screwdriver should be used this way:
Select a suitable bit and place it in the chuck
Adjust the direction you need to drive the screw with the switch on the unit
Seat the bit entirely into the screw's head
Put pressure on the fastener and squeeze the trigger
What is the Best Cordless Screwdriver?
The best cordless screwdriver is the one that meets your needs in terms of usability and budget. As a rule of thumb, you should go for a rechargeable screwdriver to avoid the high costs of replacing the battery every once in a while. Depending on your goals, you may choose between different types of units available on the market.