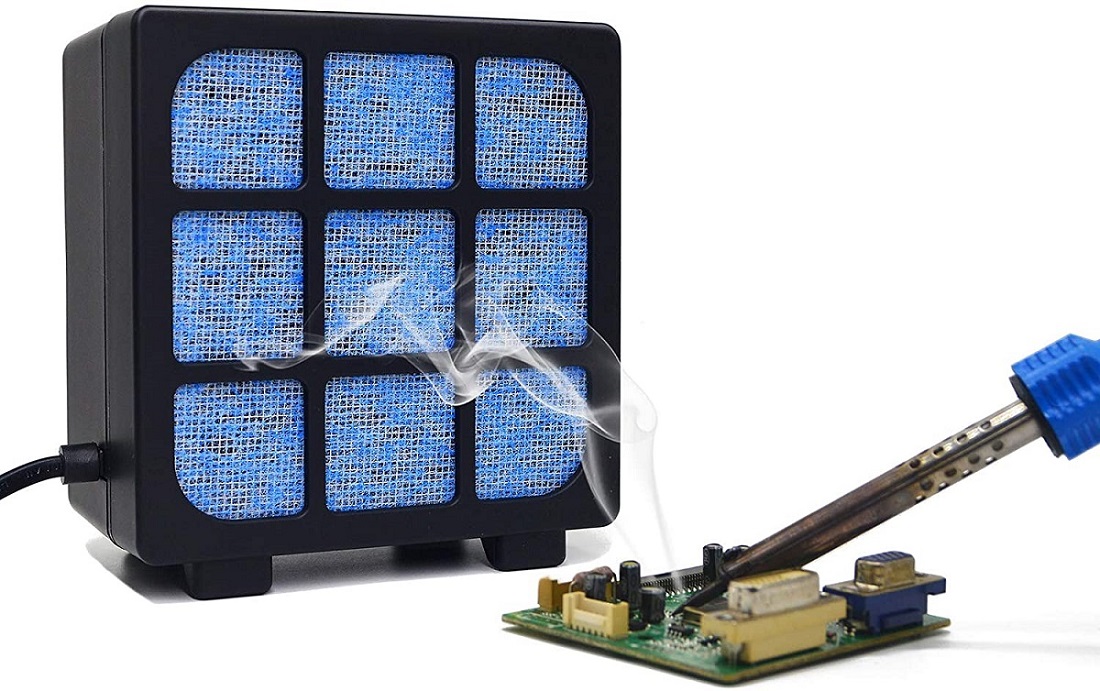 Solder Fume Extractor: Keep Your Working Area Without Hazardous Smoke [Top 8 Picks for 2022]
Soldering can produce some carcinogens and fumes from the burn-off of the various flux chemistries so an effective solder fume extractor will protect your lungs during the hand soldering process.
Soldering fumes are very small particles of metal expelled into the air during the soldering process – they contain both particulate and gaseous matter that comes from the combination of metals and chemical compounds. Heavy metals in fumes are toxic to humans, depending on the type of solder you use. They can cause respiratory problems, skin damage, organ damage, and potentially cancer.
Solder fume extractors are designed to immediately remove the fumes from the air around the workspace. The soldering fumes are sucked up in the soldering exhaust fan. They are taken from the ducting and finally filtered through a filter. The filter of the solder fume absorber is usually a combination of a HEPA filter and an activated carbon base to deal with both gaseous and particulate matter. The clean air is then recirculated into the air.
In this article, we will present our top 8 picks of solder fume extraction units to keep your soldering job safe. We also prepared a full buying guide to help you make an informed decision.
8 Best Solder Fume Extractors in 2022
Balancing your solder fume extractor by your budget and needs is the best path to finding your perfect product. Here are our top 8 picks reviewed to ease your selection.
1. Hakko FA400-04 – Best Overall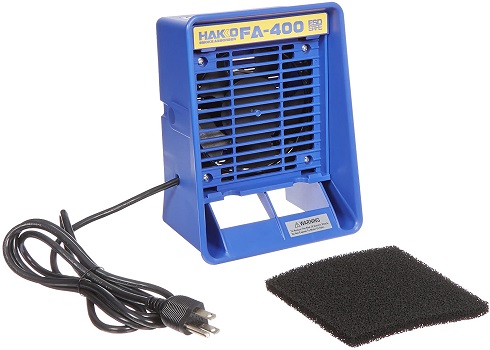 This Hakko FA400-04 solder fume extractor safely, quickly, and efficiently removes soldering smoke. The unit can be used in a low-profile position (laying down) or vertical (standing up) position. What is more, when it is used in the low-profile position, efficiency and airflow are increased by approximately 2-1/2 times.
With a small footprint, it is a nice compromise between safety and footprint. With no more noxious smoke smell, you will certainly feel much safer. The activated carbon filter contains over 8g of highly activated carbon, with easy installation and replacement. Placing the unit close to the soldering location increases its effectiveness.
WHAT WE LIKED // Quick setup and use, High-quality material
WHAT WE DIDN'T LIKE // No spare carbon filters
2. KOTTO – Best Portable Solder Fume Extractor
Kotto is certainly a very quiet unit. Small but powerful, it removes all the fumes and smoke with a 0.4" thick activated carbon filter that absorbs and captures fumes from solder, chemicals, flux, gases and helps to prevent dissipation into the room. Optimized 3000 RPM high-suction low-noise fan allows you to remove fumes 5-6" away. Four non-slip rubber feet anchor the unit to the ground. At the same time, a handy carrying handle adds to portability, allowing you to move the unit around easily.
It features a pure copper motor that is more stable, much less noisy, with a 50,000 hours lifetime. It offers a super-strong suction power well up to a distance of about 12".
WHAT WE LIKED // Strong Structure, Low noise, Stable structure, One spare filter
WHAT WE DIDN'T LIKE // Poor grounding design
3. Weller WSA350 – Best Low Noise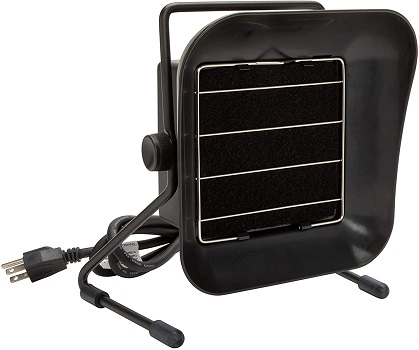 This Weller WSA350 soldering ventilation unit is great for workspaces that use more active fluxes. Fumes are absorbed by the replaceable carbon activated filter (WSA350F) that is ESD safe. Its fan is really quiet and will not add significant noise to the workspace.
The toxic fumes will be drawn from the working area. It needs to be as close to the project as possible. Also, replacing the filter regularly will add to the efficiency – once the filter weights an additional 2.5 grams, it should be replaced. The plastic is very smooth to the touch and feels extremely sturdy.
WHAT WE LIKED // One replacement filter included, Sturdy plastics, Nicely finished
WHAT WE DIDN'T LIKE // Loses suction quickly when the filter starts to clog
4. Anztek Solder Fume Absorber – Best Compact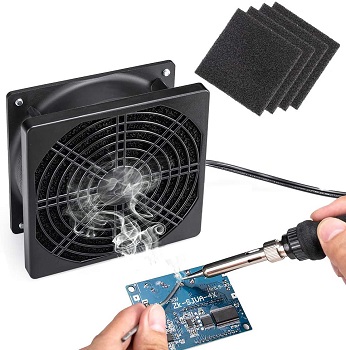 This Anztek fume absorber features a high-performance fan with low noise and strong suction with a simple structure. The 3000 RPM fan allows you to move fumes that are only 4-5″ away. The fan has a long-lasting working time of over 50,000 hours.
The unit comes with three active carbon filters. The filter is made of special foam with refined activated carbon, with high suction and flux absorption properties. It is great for workspaces that use more active fluxes with lead-free solder. The maximum airflow of the fan is 2000L/minute.
WHAT WE LIKED // Feels sturdy and well-made
WHAT WE DIDN'T LIKE // Pins protruding from the fan are very flimsy
5. KOTTO Smoke Absorber – Best Soldering Fume Hood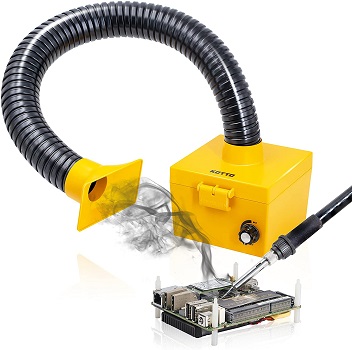 With a 24″ flexible gooseneck tube, this fume hood can adjust its direction according to actual needs. Adjustable optimized 6000 RPM high suction fan allows you to remove fumes 5-6" inches away. The fan speed is adjustable, and the standard nozzle is used for dusting out the whole surface. The exhaust is located on the back of the box.
The Kotto smoke absorber is made of sturdy plastics. With the convenient flexible hose, it is possible to bring the intake very close to work. The replacement filter is included in the package.
WHAT WE LIKED // Nice size filter, Excellent finish, Strong fan, Great price
WHAT WE DIDN'T LIKE // The tube is a little tough to install, A bit noisy
6. Kulannder – Best Cheap Solder Fume Extractor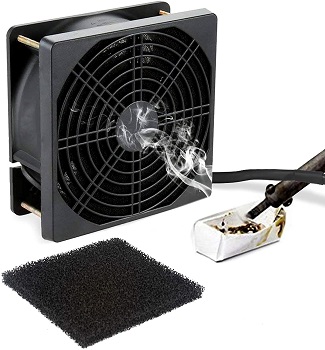 This small and portable but powerful fume extractor absorbs toxic fumes during soldering jobs. Its low-noise high-efficient fan has the best results in suctioning the fumes from 6" to closer, but this unit can suck solder fumes even from 12" away.
What is more, Kulannder soldering exhaust fan sucks the smoke in the filter side of the fan, which is better than the smoke passing through the motor first and then being exhausted out of the filter – it is better for motor longevity not to have smoke passing through it. It also features a unique Kulannder design, with the updated wire straight connection, thanks to customer feedback.
WHAT WE LIKED // Good price
WHAT WE DIDN'T LIKE // Loud fan
7. Aoyue AO486 486 – Best Benchtop Solder Fume Extractor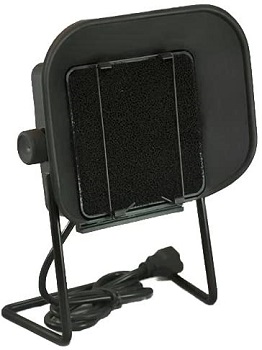 This desktop fume extractor from Aoyue is great for stained glass work, arts and crafts, and of course, electronics. With a quiet yet powerful operation, it has an activated carbon filter (AO3055SP) that is ESD safe. The fan has an airflow of approximately 37 cubic feet per minute. It features a stand with an adjustable pivot – very convenient when you need to keep the fan as close to your work as possible.
Aoyue solder fume extractor benchtop unit has good suction power if you solder right under it. The unit has three options to choose from: standard, standard with the platform, and with exhaust hose. One extra replacement filter is included in the package.
WHAT WE LIKED // Affordable
WHAT WE DIDN'T LIKE // Unit tend to emit a weird chemical smell
8. Best With 3 Stage Filtration – Muin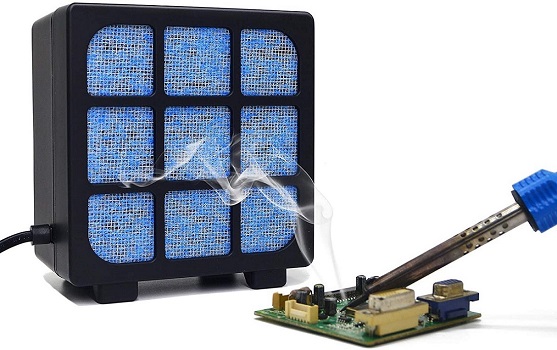 Eliminating irritating odors is not a problem for Muin fume extractors. Featuring a three-stage filter, this fume extractor effectively absorbs and seizes fumes from flux, solder, gases, chemicals and easily overcomes disturbing odors in your working spaces. The high versatility of this fume extractor enables you to stay relaxed and concentrated throughout your soldering, stained glass, crafting, jewelry making, and many other jobs.
This MUIN 3 solder extractor features the predominantly optimized soldering fan that empowers you to remove fumes even 4-5" away with minor noise. You will certainly experience clean and fresh working surroundings with this solder fan.
WHAT WE LIKED // High-efficient fan, High-quality motor, Available in 3 colors
WHAT WE DIDN'T LIKE // The power cable seems a little thin
How to Choose the Best Solder Station Fume Extractor?
Keeping your workplace safe is the main function of any fume extractor. With so many options available on the market, here are some guidelines on what to look for in a soldering fume extractor:
Power and Performance
The power rating of the fan is closely connected to its performance. When you consider purchasing the fume extractor, the first thing to do is to check its power rating, as most units use a 20 or 30-watt fan, which usually offers decent performance. Also, you need to check how close you need to place the unit to get the desired performance. A high CFM rating of the motor is certainly a big plus, as it will ensure that all fumes are efficiently absorbed and processed.
Air Flow
Looking at the airflow rating of the smoke absorber, you can also get an idea of its performance. Besides the already mentioned CFM ratings, some manufacturers mention ratings in RPM or ml/min as well. Either way, good airflow is between 30 and 40 CFM for entry-level models. For heavy-duty usage, aim at higher airflow that ranges between 100 to 150 CFM.
Filter Quality
Charcoal and carbon filters are the most common filter type. MERV 15 and MERV 16 offer the most rated filtration performance. In addition, 'High-efficiency particulate air' or HEPA filters are made of thin glass fibers combined with the activated carbon-based material. Either way, just look for a strong fan to efficiently eliminate the hazardous particles by tunneling through filters.
Size and Portability
Considering the type of work you do and the location, you should consider a fume extractor size. If your working area is stationary, getting the broad and static extractor is the right choice. However, suppose you travel a lot for your soldering work. In that case, having a smaller and portable model is a really convenient option.
Why Do You Need a Fume Extractor?
As we mentioned before, air filtration during soldering jobs is extremely important as the soldering process produces harmful fumes and particles. Those particles may contain dangerous and highly toxic metals and gasses like nitrogen, argon, carbon dioxide, carbon monoxide, and hydrogen fluoride. Prolonged exposure to these fumes can lead to serious health problems, not only with respiratory but also other organ systems.
Using fans, fume extractors pull the fumes through the complex air filtration system and release the clean air back into the area. Using them will keep your working area safe and your organism healthy.
What Is a Fume Extractor?
During many production procedures like soldering, many different harmful particulates are generated into the air. In order to protect the working environment, we use the process of soldering station fume extraction to filtrate the air. The piece of equipment used for air filtration during the soldering process is called a solder fume extractor. It basically sucks the contaminated air and cleans it through a series of filters, so it comes out clean back into the room.
How Do Fume Extractors Work?
By utilizing a fan and its negative draft, the fume extractor pulls fumes and dust particles into a contained complex filtration system and releases clean air into the area. This process efficiently removes harmful toxins from the air.
What Makes an Effective Fume Extraction Filter?
The best filter for fume extractors is the one that leaves nothing behind. The filter that comes with a high flow fan is the best option as the hazardous fumes could not stray away with it. Also, we must mention the importance of the regular filter change to increase the efficiency of the unit. When you notice your filter has become heavier than before, it is time for a change. Most manufacturers offer spare filters that are very easy to change.