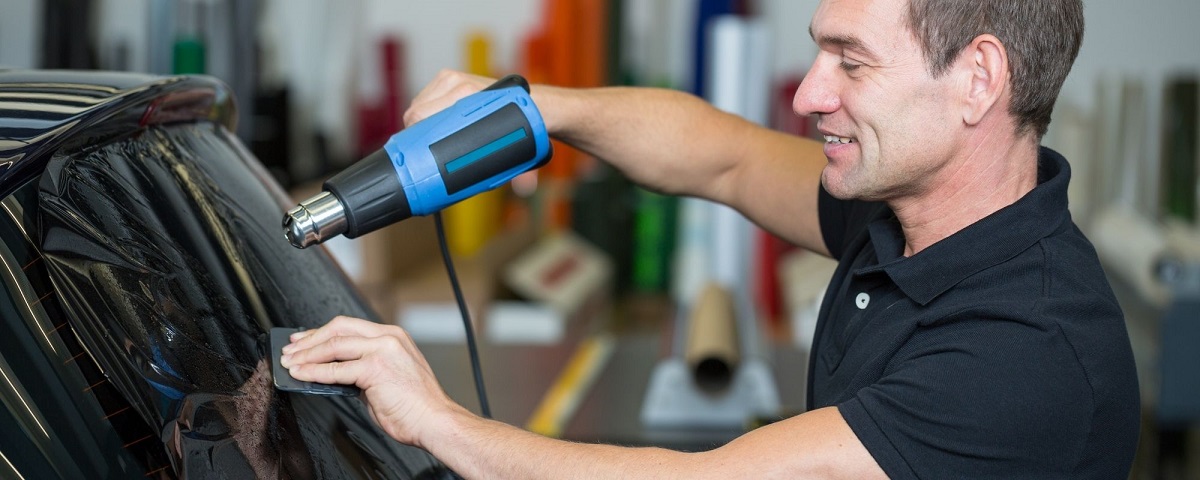 8 Best Heat Guns for Home Improvement Needs in 2022 (+Buying Guide)
A heat gun is such a versatile electric tool that can traditionally remove paint, wallpaper, and varnish. However, modern heat guns are used to dry wood, thaw pipes, and shrink wrapping.
How does a heat gun work? It resembles a hairdryer and operates similarly – it generates a super-heated air pushed through a heated element and a nozzle. Although a heating gun seems harmless due to the flameless heat it produces, it can still cause fire on flammable material or even burn injuries on the skin.
With a range of motors and power settings, you will be able to find the one that will cooperate with your needs. Choosing the heat gun is not so complicated, as soon as you have a clear idea under which circumstances you will be using it. Adjustable temperature control, adjustable airflow, overheating protection, LCD and Led displays, various nozzle attachments are only some of the features available.
Besides reviews of the best heat guns for 2022, we also included a buying guide that can help you choose the right tool for you. Also, feel free to click the button below every product to check the best deal on heat guns Amazon has to offer.    
1. Best for Epoxy Resin – SEEKONE 1800W Heat Gun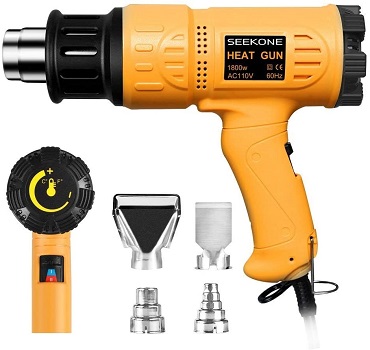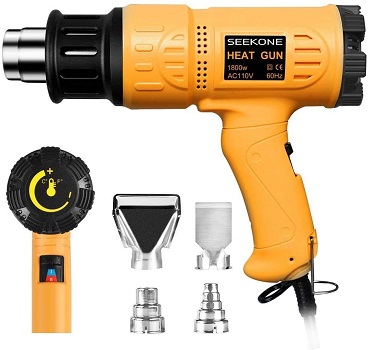 The best heat gun for resin will effectively expel bubbles for your epoxy resin. This heavy-duty hot air gun with variable temperature control heats up to 1202oF in a matter of seconds. The temperature range is from 120oF to 1200oF, with an overload protector to avoid damaging the circuit and the gun's plastic.
This best heat gun for crafts has a deflector nozzle that directs a long, narrow heat pattern to the work surface. Two concentrator nozzles produce a concentrated heat flow to the work surface. In contrast, the reflector nozzle disperses heat flow evenly around the whole work surface. Its ergonomic handle design prevents repetitive strain injury and other disorders.
WHAT WE LIKED // Lightweight, Easy to use, Kickstand
WHAT WE DIDN'T LIKE // Body plastic can melt away, The cable is a bit shorter
2. Best Cordless Heat Gun- Milwaukee 2688-20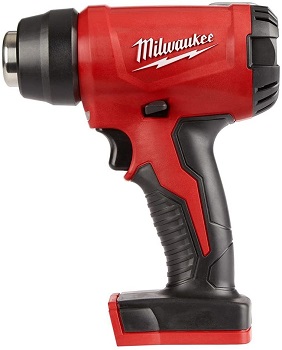 This Milwaukee cordless gun has a very compact design for easier use in tight spaces, with a convenient illuminating LED light that makes it easy to work in even badly-lit conditions. The best thing about this heating gun is that, despite being cordless, it reaches an operational temperature in only seven seconds. The high-performance heating coil is designed for superior functionality. The battery does not heat up even with extended usage.
The airflow of the Milwaukee heat gun is great even the tool is cordless. At the same time, the Redlink Plus Intelligence with a temperature management system provides maximum life. This portable heat gun is compatible with all M18 Redlithium battery packs.
WHAT WE LIKED // Comfortable grip for easy handling, Battery lasts for a long time
WHAT WE DIDN'T LIKE // No additional nozzles in the pack, No carrying case
3. Best Heat Gun for Vinyl Wrap – Porter Cable PC1500HG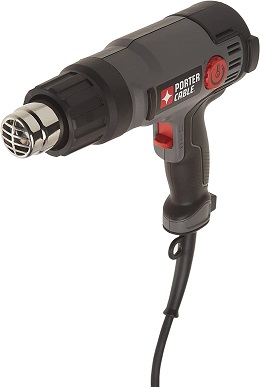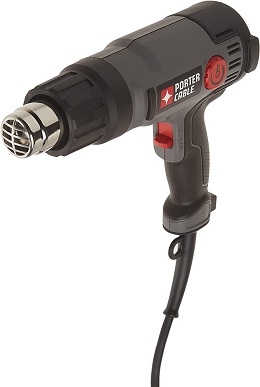 This reliable and versatile tool is surely the best for vinyl wrap as it comes with a variable heat setting. It offers variable temperature settings, enabling you to adjust heat range intensity depending on your vinyl wrapping job with just a tap of your finger. Another convenience is an integrated support stand that allows you to sit the gun upright for hands-free use.   
Porter Cable is also the best heat gun for window tint, as it has dual fan speed – airflow of 10-11 cm and temperature 120-900oF and airflow of 16-19 cm and temperature of 130-1150oF to make sure you have full control over your window tinting or vinyl wrapping job.
WHAT WE LIKED // Nice ergonomics, Thick and flexible cord, Lightweight
WHAT WE DIDN'T LIKE // Too loud, The temperature dial is not easy to turn
4. Best Heat Gun for Removing Paint – Wagner Spraytech 0503008 HT1000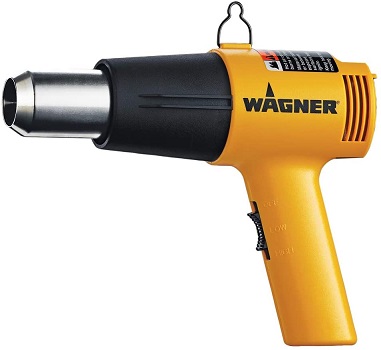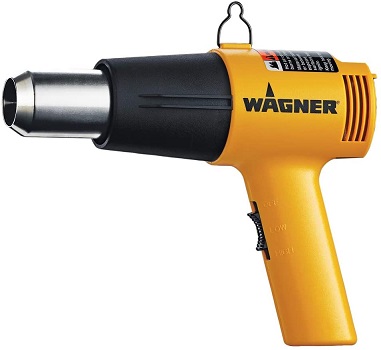 Removing paint is not rocket science with the Wagner Spraytech gun. Its ergonomic design allows for easy holding during long paint removal sessions. The main thing is to heat the paint layers to the point where they begin to melt and can be easily scraped or peeled away. The ideal heat for removing most of the lead paint is 590oF.
Although the choice of the nozzles is a matter of personal preference, the inbuilt scraper nozzle is the most useful nozzle type for paint removal. It looks like a regular scraper, but it is attached to the end of the heat gun, so the scraping attachment heats up to close to 1000oF.
WHAT WE LIKED // Price, Hands-free operation, Corrosion-resistant nozzle, Low noise
WHAT WE DIDN'T LIKE // Long cooldown period, Not so powerful motor
5. Best Heat Gun for Candle Making – Genesis GHG1500A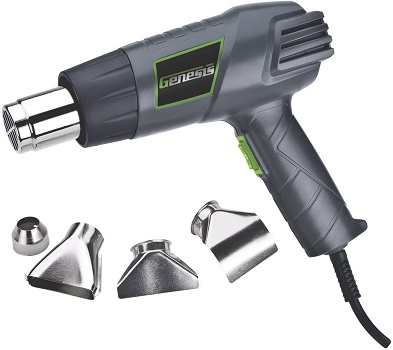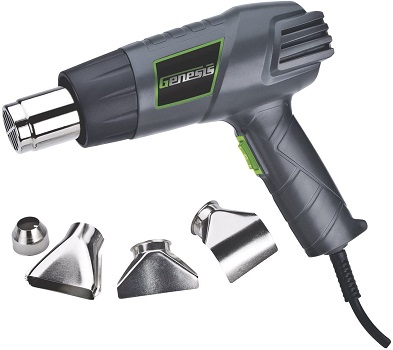 Temperature control with precision and accuracy is one of the most important features of a heat gun used for candle making. The moderate fan speed and safety features are also a good idea, as you do not need a powerful fan speed because you do not need to cover a lot of surface area during candle making.
Genesis GHG1500A offers two air temperatures, 572oF and 1000oF, with an air volume of 10/17 cubic feet per minute. It also has two deflector nozzles, a reflector nozzle, and an air reduction nozzle. It provides a kind of versatility with its temperature and different nozzle options. It protects glass container surfaces very well and allows for easy imperfection fixing.
WHAT WE LIKED // Lightweight, Easy to handle, Body stays completely cool while in use
WHAT WE DIDN'T LIKE // Lack of temperature variance, Does not have a cool-off setting
6. Best Heat Gun for Electronics – Black + Decker HG1300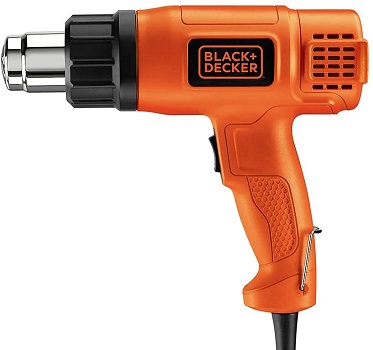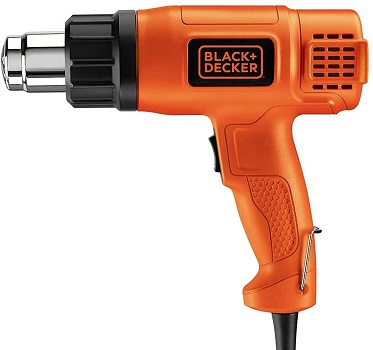 Suppose you are a serious gadget freak and need a heat gun to effectively and safely remove various coatings from circuit boards. In that case, Black + Decker is the right heat gun for you. The powerful 1350W electric motor with an efficient cooling system allows for a heavy workload. It features two temperature settings, 750oF and 1000oF, for various electronic applications.
With its lightweight, compact design, this heat gun is comfortable to use and easy to maneuver, even in tight spaces, making Black + Decker the best heat gun for soldering and desoldering jobs. The built-in stand allows for easy and safe cooling down.
WHAT WE LIKED // Reliable and durable tool, Heats up fast, Lightweight
WHAT WE DIDN'T LIKE // No nozzle attachments
7. Best Mini Heat Gun – Mlife HAG001-GA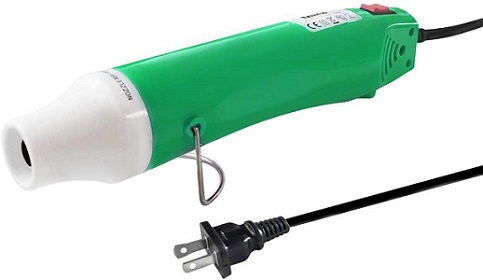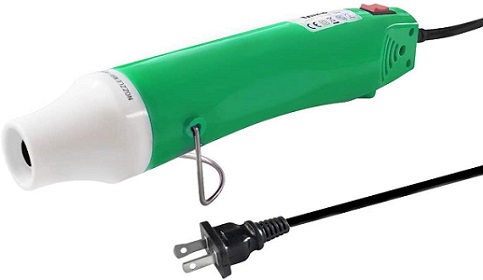 If you are tired of blowing powder everywhere or burning your job, the Mlife HAG001-GA can save you time and effort. This pencil-like heat gun is designed for delicate projects like embossing projects, epoxy resin crafts, small electronic projects, rubber stamps, heating shrinkable film, embossed powder, and many more.
This mini heat gun for electronics has two heat and speed settings options – high heat of 572oF and low heat of 392oC. The lower setting gets plenty hot but does not blow things around with intense air pressure., while the higher setting is perfect for the chunkier or bigger embossing powders. You can start more gently on the more fragile projects and pump up the volume only on parts that were tough to remove.
WHAT WE LIKED // Perfect for popping resin bubbles, Compact
8. Best Budget Heat Gun – Prulde N2190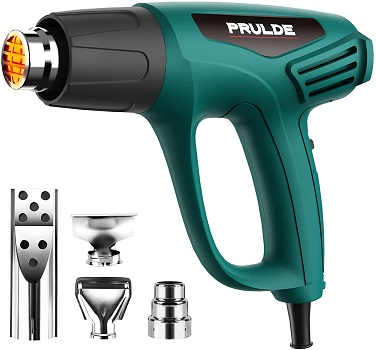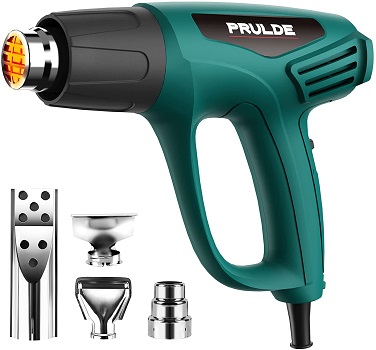 This cheap heat gun has everything you need, from a dual temperature setting to 4 nozzle attachments to meet your different application needs. Prulde N2190 is great for epoxy resin, various crafts, shrink wrapping, vinyl wrap, paint removal, different electronic repairs, etc.
A professional DC copper motor provides a more stable operation; this heat gun heats up to a maximum temperature of 1112oF quickly (the low-temperature setting is 800oF). The dual airflow speed control goes from 300 L/min to 500 L/min, and it will certainly satisfy all your requirements. The professional built-in overload protection prevents electric heat guns from overheating due to misuse and extends service life.
WHAT WE LIKED // Amazing versatility, Allows you to move freely with 6.5 ft power cord
WHAT WE DIDN'T LIKE // No carrying case
Buyer's Guide
You need to consider several key features before starting shopping for the heat gun for electronics or any other use. Here are the most important:
Variable Temperature
Controlling the temperature is an important feature of every heat gun. Basic guns have only one temperature setting – the gun heats up to the maximum temperature, and the only way to control it is to move the gun closer or away from the object. However, modern heat guns have at least two temperature settings, allowing you to choose between high and low heat. Some newer models even have accurate electronic displays so you can set the exact temperature.
120oF – 300oF – Thaw frozen pipes
400oF – 440oF – Bending plastics and softening dry paint
440oF – 550oF – Softening adhesive material
790oF – 830oF – Softening welding material
900oF – 950oF – Loosen rusted material
960oF – 1000oF – Paint removal
1000oF – 1200oF – Qualitative change of material
Adjustable Airflow
By controlling the airflow, you control the force of the hot air that exits the device. Many heat guns have adjustable fan speed because when you work with delicate surfaces and sensitive materials, you want to have a subtle airflow to avoid damage to the surface. On the contrary, some heavy-duty jobs like plumbing or stripping paint may require a greater area to be heated at one time to see the results.
Nozzles and Nozzle Attachments
Nozzles are used to allow the heat gun to concentrate the heat on the particular surface in a controlled manner. They have to be made of solid metal to withstand high heat. Some of the most popular nozzle attachments include:
Reducer or cone nozzles – concentrate heat onto a specific area.
Spoon reflector nozzles – wrap around the pipes to heat the entire pipe evenly.
Flat nozzles – used for horizontal, wide applications.
Glass protector nozzles – designed for stripping paint off of a window without heating the glass directly.
Price
Heat gun price depends on the brand, accessories, and electric motor power. The scope of this review goes from $15.99 for a mini Mlife to $141.99 for a Milwaukee heat gun. We have listed some of the best heat guns for various applications and budgets, so we hope our reviews helped make an informed decision.
FAQs
How to Use Heat Gun?
After putting on some heavy-duty working gloves and a long-sleeved shirt, hold your gun at a 45-degree angle from work, keeping the distance at least 0.4″ from the working surface. Avoid any distractions while working with it because it increases the risk of injury. Allow the heating gun to cool at least 30 minutes before storing it when you finish.
What Are Heat Guns Used For?
Also known as a hot air blower, it is used by professionals, craftspeople, and hobbyists. They have various applications, including:
Thawing frozen pipes
Loosening old screws and bolts
Fixing car dents
Dry wood
Remove old wallpaper
Remove or soften adhesives
Shrink wrapping
Repair leather and vinyl
Candle making
Window tinting
Embossing
Bending plastic and metal
Removing labels and stickers
Car wrapping
Electrical items repair
Where Can I Buy A Heat Gun?
Heat guns can be found in any hardware store, but the best place to look for is Amazon, as it offers a great selection of tools, the best prices, and customer reviews.
How Much Is A Heat Gun?
The price depends on size, brand, and some additional features. Industrial power heat guns are the most expensive, with prices way above $500, while the combination of lower price (around $30) and decent motor power will be enough for most hobbyists and DIYers.