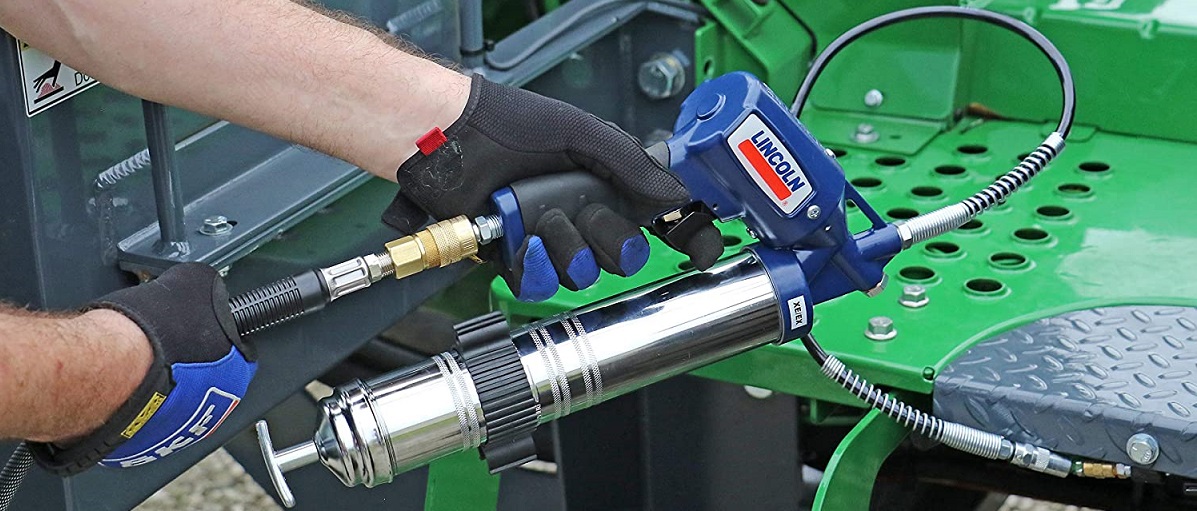 6 Top-Rated Grease Guns to Properly Lubricate Your Tools in 2022
With so many mechanical parts that need to be lubricated daily, a good grease gun is an essential tool so that your moving parts continue to work efficiently. You need to use just the right amount of grease to lubricate the surface properly so you do not waste your product or under grease it.
Lubrication guns are handy tools that help mechanics, engineers, or even hobbyists to squeeze grease into tight spots and with more comfort than manually applying it with your hands. It accurately and quickly distributes grease to provide a layer of lubrication that effectively reduces friction between moving parts to prevent machinery from wearing out or getting rusty.
Choosing the right grease pump that will serve you properly is easy when you know what characteristics to look for in the gun. With so many different options on the market, choosing one can sometimes be overwhelming. By understanding your situation, we have come up with this article that will cover everything you need to know about grease guns before buying one, from reviews to buyer's guide. Check out what grease gun reviews we have prepared for you!
1. Best Cordless Grease Gun – DEWALT DCGG571M1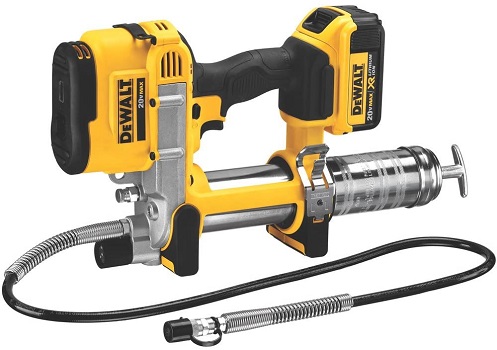 This DEWALT DCGG571M1 cordless grease gun can power through clogged grease fittings with a motor that delivers up to 10,000 max PSI. The high-volume pump of the best battery-powered grease gun pushes up to 5.0 oz/min for high-flow applications. It features a variable speed trigger for precise grease flow control.
You will easily reach hard-to-access grease fittings with the 42" flexible hose. You can also easily locate hard-to-see grease fittings in dark work areas with bright LED lights. A convenient pump filter screen prevents dirt and contamination from clogging the pump mechanism. At the same time, an integrated no-mar foot design allows operators to rest the tool on flat surfaces. What is more, the air-bleeder valve assists in pump priming after cartridge changes.
WHAT WE LIKED // Up to 16 cartridges per charge using 1 battery, Clean and easy to load
WHAT WE DIDN'T LIKE // Almost impossible to remove the factory-installed coupler
2. Best Pneumatic Grease Gun- Lincoln 1162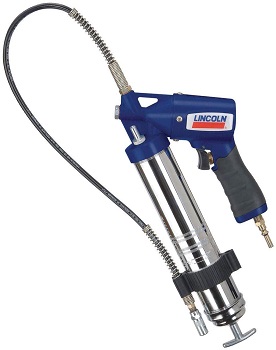 This Lincoln 1162 great gun is fully automatic and includes a variable speed trigger to give you continuous operation and total control when applying grease, so you can use as little or as much as you need with the squeeze of a finger. Its 30" high-pressure hose helps to reach tight fittings. The accessible check valve allows for easy cleaning and removal of contaminated grease or hardened grease. The combination filler coupler and air bleeder enable users to bulk fill the grease tube then easily release any trapped air to keep the grease gun primed. The ergonomic style provides balance and comfort while ensuring uninterrupted grease flow.
WHAT WE LIKED // Loads easily, Consistent pumping, Powerful
WHAT WE DIDN'T LIKE // The rod that pumps the grease tends not to return to the full rear position after each pump
3. Best Grease Gun Coupler – LockNLube XL

This LockNLube XL coupler is rated to 10,000 PSI and stays on, locks on, and does not leak once locked on nor pops off under pressure. It easily releases form fittings with the thumb lever, even at very high pressures. It fits all SAE and Metric Zerk fittings – simply replace your existing coupler. The XL is suited for all machines, but especially useful for U-joints, shielded PTO shafts, harvester heads, and any fittings buried deep behind a shield. With 4″ of reach, you can be confident that you will surely reach your fittings.
Be sure that grease goes in, not on the machine; there is no mess everywhere. Moreover, no hands are needed to align or hold the coupler in place while greasing. You have both hands free to operate your tool.
WHAT WE LIKED // Amazing hassle/time/grease saver, No mess
WHAT WE DIDN'T LIKE // Price
4. Best Electric Grease Gun – Lincoln AC2440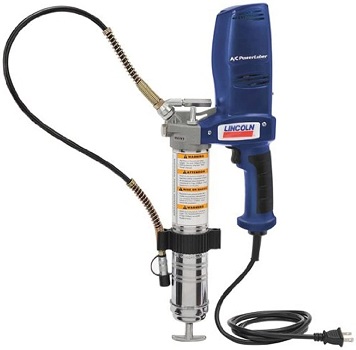 This Lincoln AC2440 electric grease gun delivers 7,500 PSI and high torque values, making it an excellent choice for automotive, industrial, farm, and wind turbines applications. Variable speed trigger combines a 2-speed transmission for superior flow control. The power cord is 6 feet long with 120 volts, while the hose length is 30" with dual spring guards and a coupler with a case.
This corded lube gun will save you hours of pumping a grease and is the best gun for heavy equipment on this list as it gets the job done fast.
WHAT WE LIKED // Powerful, Workhorse
WHAT WE DIDN'T LIKE // Too heavy
5. Best Manual Grease Gun – REXBETI
This new quick-release grease coupler with a 360° swivel ABS plastic handle can withstand a maximum working pressure of 10,000 PSI. With the upgraded design and push operation, it avoids axial bending. Rexbeti easily releases from clogged fittings, even at extreme pressures. The package includes an 18" flex hose, 1 reinforced standard coupler, 2 metal extension tubes, 1 upgraded grease gun coupler, and 1 sharp type nozzle.
With the solid construction of the steel barrel, working pressure is up to 6,000 PSI. A convenient orange rubber sleeve around the barrel provides added grip in slippery situations. At the same time, a strong handle creates plenty of leverage for all-day comfort.
WHAT WE LIKED // Ideal for high-intensity work areas, Built tough and dependable
WHAT WE DIDN'T LIKE // The plunger tends to get stuck when going down inside the tube
6. Best Mini Grease Gun – Lubrimatic Plews & Edelmann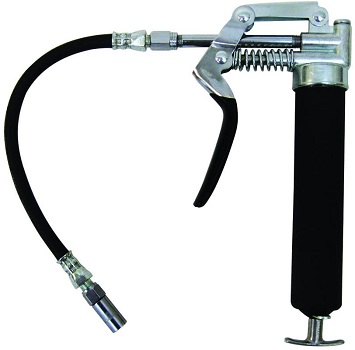 This small grease gun offers more versatility than ever by providing a 4" grease pipe and a 12" flex hose with a coupler. Many of the features seen on full-size guns are provided in a toolbox. Depending on the fitting location, having a pipe or a hose allows the user to reach even the hardest to reach places. It features the spring-loaded lever and transforms this pistol grip gun into a mini grease gun for even more hard-to-reach locations, whether you use the top-mounting port for either the pipe or hose. This 3 oz.  gun on the list serves industries that need professional-grade lubes and penetrants.
WHAT WE LIKED // Conveniently textured barrel for continuous grip
WHAT WE DIDN'T LIKE // Hose tends to create weak spots
In Addition – Best Gun Grease – WD-40 – 300394 Specialist (10 Pack)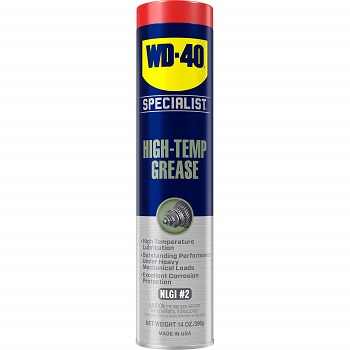 Although technically not a grease gun, WD-40 300394 specialist has all the rights to appear on the list. Engineered to meet the demands of protecting high-speed bearings in applications involving high temperatures, it provides outstanding performance under heavy mechanical loads and offers excellent corrosion protection. This lithium complex grease can resist melting up to 625oF and is perfect in cold weather. It is an effective solution for heavy-duty trucks, farm and construction equipment, and high-speed bearings.
WHAT WE LIKED // It makes grease gun runs smooth and quiet, No leaks
WHAT WE DIDN'T LIKE // Noting we could think of
Buying Guide
Although grease guns are made basically the same way, there are still some differences between them. Being very useful devices with multiple applications, there are some things you need to consider before buying one to avoid making the wrong decision that can hurt you.
Types
There are three different types of grease guns, depending on the pressure delivery.
Manual: Traditional grease gun uses a hand level to pump the grease through the nozzle. Many of them feature a mechanism that prevents the grease from coming out until the user increases the pressure to the correct level. It is the least expensive and does not require an air hose or a power source, although it needs both hands to achieve high precision. On the other hand, pistol-grip grease guns are also manual guns that allow one-handed use.
Pneumatic: This type uses an air compressor to send pressurized air through an air pipe to push grease through the gun's nozzle. What is more, the pressure produced by the air compressor may be difficult to control on smaller equipment.
Battery-powered: When using a rechargeable battery-powered grease gun to perform maintenance on a vehicle, boat, or lawnmower, the user can roam around freely. The batteries, on the other hand, must be recharged. Furthermore, grease guns are usually the most expensive alternative.
Electric: They automatically use the electrical power source to build up pressure for an application via an electric motor. These are also a very expensive option but can save you time and energy in situations when you need to do a lot of greasing.
Materials & Quality
The majority of products on the market are made of metal, which is a tough material that can endure the pressure created during use. Plastic components, prone to wear and fracture, may also be found in low-quality options.
As far as quality is concerned, the smoother the operation, the higher the quality. Working parts in high-quality grease guns make operating the product satisfactory. You will probably want one that is simple to use, distributes grease uniformly and accurately, and has a bleeder valve to remove air pockets.
Leading Brands
Dewalt – If you want the best American made grease gun, this is the brand for you. Dewalt builds quality products that last and is frequently among the top-sellers in several categories.
LockNLube – Although relatively young, this company is specialized in grease solutions for automotive and heavy machinery in the past decade. Their product selection is unrivaled.
Lincoln Industrial – The company has been designing and manufacturing high-quality automated lubrication systems, manual lubrication equipment, and industrial pumping systems since 1910.
Pricing
At a $20 price point, you can find some manual guns with either flexible or straight nozzles. In the mid-range, from $20 – $70, you can find a couple of quality options. The high-end (above $70) includes guns for mostly industrial purposes, so it is suited better for professional mechanics.
FAQs
What is a Grease Gun?
This tool is used for applying grease to machines. It features a hole through which grease can get out by applying the right amount of pressure.
What Are Power Sources of a Grease Gun?
There are fur ways of powering a grease gun: by hand, electricity, batter, and air. The hand-powered grease gun is suitable for smaller and more precise tasks, while big jobs usually require electricity.
How to Properly Store Grease Gun?
The best way to store the cartridge tube is upright, and if you remain inside the gun, make sure that you depressurize it before you store it. When you keep the tool horizontally, there will be no spills.