6 Best Demolition Tools (2022 Reviews & Safety Tips)
Any home renovation involves demolition, which is messy and sometimes dangerous. That job is not always as simple as it may sound, and not everyone can do it. For example, it's not always prudent despite the temptation to pound the wall with a sledgehammer. When a building is demolished, drywall is broken, wood is shattered, and bricks are broken. You may need to use different demolition tools to complete the job based on what you're tearing down. The demo can typically be accomplished with just a few select tools, unlike carpentry.
Hence, demolition requires the right demolition tools. They are ready to cause damage as swiftly and brutally as possible. However, the impact is not one-sided. Suppose you swing a sledgehammer through a water pipe or guide a reciprocating saw through an electrical cable. In that case, the fun will be over fast. Therefore, grab best demolition tools listed here the next time you need to tear apart a room (or several rooms). They will not only destroy whatever you need, but they will also protect your body.
Consequently, demolition tools are likely to be needed to remodel or add on to your home. We created this list of top 6 demolition tools in 2022 that you can buy right now on Amazon, as well as a safety guide to help you prevent any injury.
Demolition Tools and Equipment List
Before we check our demolition tool list of 6 best instruments right now, let's firstly check the tools needed for demolition in general:
Crowbar
For instance, crowbars can be used to remove nails or as levers to force apart objects when rebuilding a deck. Make sure the grip is ergonomic for easy handling.
Hammer
The demolition hammer delivers ultimate control and reduces fatigue for the user. Durable demolition hammers can penetrate even the hardest concrete.
Pliers
Any DIYer should have pliers on hand. To remove carpet or loosen bolts, nuts and screws, you will likely need pliers.
Prybar and nail puller
It is a must-have tool for every contractor's tool belt, whether they are plumbers or painters. The tool's wafer-thin edge gently removes a fragile piece of molding, then the cat's paw nail puller bites through to remove the finished nails buried beneath.
Safety Gear
You need safety equipment before you even begin a demolition project. Leatherwork gloves, safety goggles, helmets and masks are a must.
Screwdriver
Demolition is not always of a large scale. If it is necessary to remove and fix electrical outlets or remove a damaged floorboard, a screwdriver can help.
Sledgehammer
Grab the sledgehammer when you're ready to do a major overhaul. Sledgehammers are an essential tool for DIY demolition, whether you are breaking up concrete or taking down walls.
Safety Precautions for Demolition Work
Safety equipment is perhaps the most important tool for all this messy work. Demolition is potentially the most dangerous part of a renovation project, so having a safety plan is necessary.
To prevent blisters and protect your hands, start with a pair of leather work gloves.
Safety goggles are also essential. If the debris gets near your eyes, you might have to go to the hospital.
Choosing something comfortable to wear will allow you to feel comfy for hours.
Wearing a helmet is smart for demolition work. The nail sticking out of that two by four will make you very glad when it falls on your head.
A good respirator and cotton masks are your final purchase items. When there are dangerous airborne chemicals present, such as lead paint or asbestos, use the thin masks when there is just dust and the respirator when there is more of a risk of inhaling harmful chemicals.
1. BOSCH 11321EVS Concrete Demolition Hammer
The user-friendly demolition hammers reduce user fatigue and provide ultimate control.
BOSCH always has the best concrete demolition tools on the market.  These are the best hammers for demolition. They are ideal for chipping, destroying tile and tough materials, and concrete demolition.
Its circuitry is constant and maintains speed under load, which makes the overload protection as well as smooth startup control.
This concrete demolition hammer is lightweight and provides a power-to-weight ratio of 6.1 feet pounds of impact energy and 2,900 BPM. Also, it has an added rear handle for extra comfort.
The handheld demolition tools package includes an auxiliary side handle, a carrying case, and an auto max speed dial, ensuring maximum speed every time the tool is turned on, matching the hammer power to the application.
Furthermore, various lock positioning provides an optimized work angle for the best chiseling location, making this model one of the best demo tools.
About product:
Brand: BOSCH
Material: Metal, Plastic
Power Source: Corded Electric
Speed: 1300 RPM
Voltage: 120 Volts
PROS // Durable, Good impact power, Good for overhead work, High-quality, Lightweight, Powerful, Value for money
CONS // Expensive, Power switch location
2. Duckbill Deck Wrecker – Deck and Pallet Board Removal Tool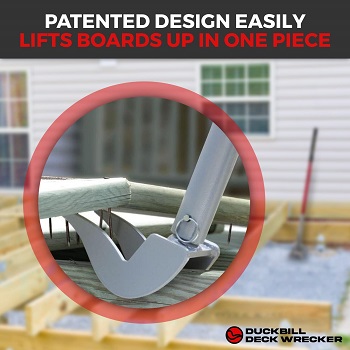 Building a replacement can take much longer than tearing down a building. Removing old deck boards can be tedious with a pry bar and hammer. Additionally, kneeling and bending can be painful. The Duckbill Deck Wrecker solves this problem.
With a steelhead straddling a single or double 2x joist, the Duckbill Deck wrecking tool can help you nail or screw boards with maximum leverage.
The Duckbill is ready for the toughest jobs with its strong fiberglass handle and padded nonslip grip. However, it isn't just useful for decking. This powerful tool can remove roof joists. It can also help for wood siding, pallets, wrecking, and anything else that needs removing. Moreover, this is one of the best floor demo tools.
About product:
Brand: DUCKBILL DECK WRECKER
Dimensions: 5 x 4 x 54 inches
Material: Steel
Weight: 8 pounds
PROS // Durable, Good quality, Easy to use, Sturdy, Value for money, Versatile
CONS // No support for the boards
3. Klein Tools 602-7DD – Demolition Screwdriver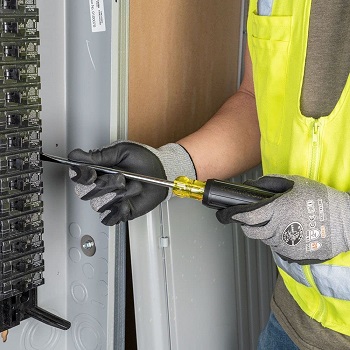 With this Klein's slotted demolition driver, you can easily pry and chisel. It has a heat-treated metal shaft that runs the length of the handle connected to a metal strike cap. As a result, the impact force is directly transferred to the work surface. The plated metal strike cap prevents hammer blows from damaging the handle.
This amazing demolition driver with a 5/16-Inch keystone tip has a 7-Inch round shank. It also has plated metal strike cap to protect the handle from hammer blows. Moreover, the heat-treated metal shaft runs the complete length of the handle to the strike cap to transfer metal strike force.
About product:
Brand: Klein Tools
Dimensions: 13 x 2 x 2 inches
Material: Plastic
Weight: 9 ounces
PROS // Affordable, Durable, Easy to use, Lightweight, Plated metal strike cap, Sturdy, Versatile
CONS // Some customers complained about a glue issue between the rubber handle and the plastic handle
4. Milwaukee 12 Piece Multi-Material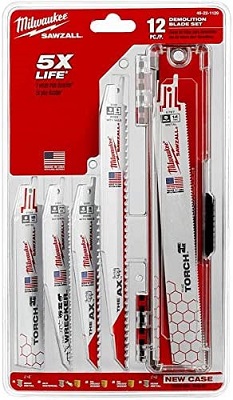 This 12-piece Milwaukee Sawzall blade set features our most popular demolition blades for many demolition applications. Demolition blades manufactured by Milwaukee are thicker, resulting in maximum durability and straighter cuts. An Ax for cutting nails embedded in the wood, a Wrecker for demolition purposes, and a torch for cutting metal. A durable case for blade storage is also included.
Milwaukee's blades are designed and manufactured for the toughest professional applications. Cutting performance is maximized by blade geometry, material, and heat treatment.
This demo tool's thick blade can be stocked for maximum durability. Also, wood cutting blades have raker teeth on the blade tip for easy plunging.
About product:
Brand: Milwaukee
Dimensions: 7 x 0.5 x 11.5 inches
Material: Carbide
Weight: 23 pounds
PROS // Affordable, Durable, Super sharp, Value for money, Versatile
CONS // Some customers complain about the price
5. Stanley 5-in-1 Demolition Tool, Sledgehammer, Nail Remover, Jaws for Timber, and Pry Bar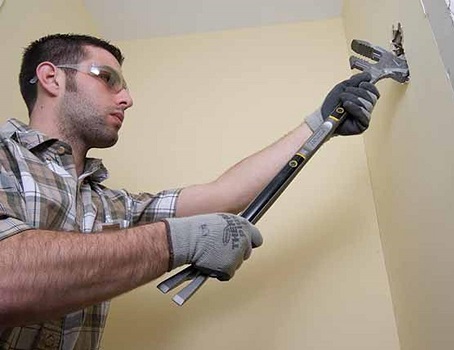 If you are looking for drywall demolition tools, this one is the best choice.
Gifts like this are perfect for the handy guy who seems to have everything. Stanley's demolition tool is useful for knocking down tile shower walls, tearing up interior and exterior walls, removing external brick foundations, and general tom-foolery. No matter what the task, this tool is always a good idea.
In terms of nail pull-outs, finish carpentry, and blending in, this tool does not excel. And what is more important, this is also a bathroom demolition tool.
Though it could be thinner for the wedge/nail puller part for getting into tight spots, the grabber end does an excellent job of moving studs about. The prying end does a fine job of prying off nails, too. As the tool's weight makes even the most tentative swings satisfactory, the hammer end is a true delight.
About product:
Brand: Stanley
Material: Metal
Dimensions: 44 x 8.31 x 1.97 inches
Weight: 8 pounds
PROS // Durable, Easy to use, Good quality, Lightweight, Sturdy, Versatile
CONS // Handling may be problematic
6. Trim Puller – Tile Demolition and Removal Tool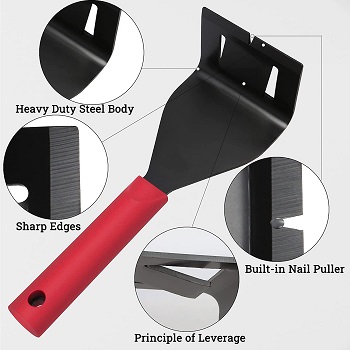 Trim pullers are specifically designed to remove floor coverings, tiles, and door casings safely. This VanKaril's tile demolition tool can be used to install cabinets, countertops, and floors for maintenance and renovation projects. It can easily pry nails out.
The baseboard trim removal tool can disperse stress with its wide and flatter contact area. Its wedge-shaped center will improve safety and prevent decorative panels and walls damage. In addition to making the trim puller easier to place into the gap, the edge grinding treatment is useful as a scraper.
This trim puller is made of 3.2mm thick high-strength martensitic stainless steel, which is extremely durable and wear-resistant, has high hardness and is extremely stable. Under long-term heavy blows, it can still perform well, and it's not easily deformed or cracked.
The handle is encapsulated in EDPM rubber, which has a comfortable grip and anti-slip properties. There is no need to grip it vigorously due to the fear of slipping. This handle provides excellent shock absorption and reduces soreness and discomfort by optimizing ergonomics and design.
About product:
Brand: VanKaril
Material: Stainless steel
Dimensions: 5 x 4.49 x 3.35 inches
Weight: 28 pounds
PROS // Affordable, Durable, Good quality, Easy to use, Efficient, Non-slip, Smooth feel, Stainless steel, Sturdy, Versatile
CONS // Some customers complained about the edge not being too sharp
Final Note
We hope our list was helpful and that you have found the best demolition tool for your needs. If not, you can check more tools on Amazon. Keep calm because Amazon's vendors offer a full refund or a free exchange if a product is defective.